The Canadian dollar  resumed its  losing  ways, dropping over 100 points  last week.  USD/CAD  closed the week at 1.1580, its highest level since July 2009. This week's highlights are Manufacturing Sales, Core CPI and Core Retail Sales.  Here is an outlook on the major market-movers and an updated technical analysis for USD/CAD.
The US dollar pushed higher against the loonie, responding to the upbeat retail sales number  and the excellent consumer confidence report.  In Canada, Building Permits dropped to 0.7%, short of expectations. Despite some mixed figures from Canada, the loonie declined together with the falling prices of oil. The convincing break above 1.15 puts  USD/CAD  at new levels last seen at 2009.
[do action="autoupdate" tag="USDCADUpdate"/]
USD/CAD daily chart with support and resistance lines on it. Click to enlarge: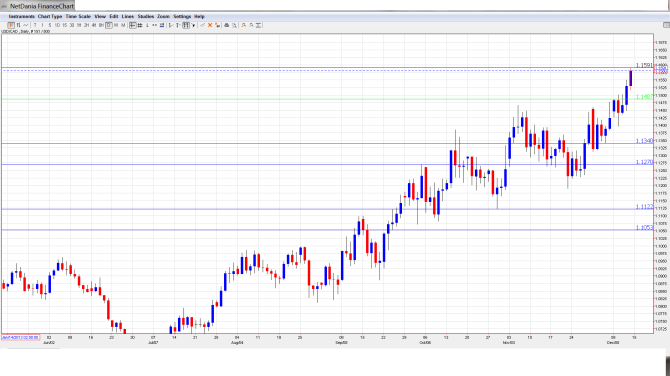 Manufacturing Sales: Tuesday, 13:30.  Manufacturing Sales bounced back in  September with a strong gain of 2.1%, easily beating the forecast of 1.3%. The markets are bracing for a decline in October, with the estimate standing at -0.4%.
Foreign Securities Purchases: Tuesday, 13:30. The indicator dropped to  C$ 4.37 billion in September, well off the estimate of C$ 11.32 billion. A slight improvement is expected in the upcoming release, with a forecast of $5,21 billion.
Wholesale Sales: Wednesday, 13:30. Wholesale   Sales is a key event and an important gauge of consumer sales. The indicator was unexpectedly strong in September, with an estimate of 1.8%, well above the forecast of 0.7%. This marked the strongest showing in 4 months. The estimate for November stands at 0.9%.
Core CPI: Friday, 13:30. Core   CPI is a key gauge of consumer inflation, which has been at low levels for most of the second half of 2014. The index met expectations last month with a gain of 0.3%, and the forecast for the upcoming release stands at 0.1%.
Core Retail Sales: Friday, 13:30.   Core Retail Sales has not been in positive territory since June, pointing to sluggish consumer spending. The indicator came in at a flat 0.0% last month and is expected to improve to 0.2% in the upcoming release.
CPI: Friday, 13:30. CPI is the primary gauge of consumer inflation. The indicator posted a weak gain of 0.1% in October, its strongest gain since May. The markets are expecting a decline in November, with an estimate of -0.2%.
Retail Sales: Friday, 13:30. Retail Sales includes volatile items such as automobile sales which are excluded from Core Retail Sales. The indicator jumped to 0.8% in October after two declines. However, the indicator is expected to slip to -0.4% in the upcoming release.
* All times are GMT.
USD/CAD Technical Analysis
USD/CAD opened the week at 1.1445 and  quickly touched a low of 1.1397, as support at 1.1333 held firm (discussed last week).  The pair  then reversed directions and climbed  to a high of 1.1591. USD/CAD closed the week at 1.1580.
Live chart of USD/CAD: [do action="tradingviews" pair="USDCAD" interval="60″/]
Technical lines, from top to bottom:
We start at higher levels, as the pair trades at higher levels.
1.1975 is the final barrier prior to the psychologically important level of 1.20. This line has held firm since November 2005.
1.1872 was a key resistance line in February 2007. It has remained intact since then.
1.1752 marked  the start of  a  rally  by the Canadian dollar in  February 2007, which saw  USD/CAD  drop below parity.  1.1640 is next.
1.1487 has switched to a support role following the pair's strong gains last week.
1.1340  is providing strong support. 1.1271 is next.
1.1122  marks the low point of a US dollar rally which started late in October and saw USD/CAD climb above 1.14 earlier in November.
1.1053  is the final support level for now. It is providing support above the psychologically important line of 1.10.
I  remain  bullish on USD/CAD
The pair continues to trade at multi-year highs and we could see the trend continue. The markets are expecting weak Canadian inflation and consumer spending releases, so the loonie is ripe for new lows.
In our latest podcast we talk about US jobs, the ECB's dilemma, a run down of slippery oil and an interesting interview with Itai Furman.
Further reading: