The Canadian dollar lost a lot of ground against the US dollar as the Bank of Canada somewhat lowered its tone. Retail sales figures are the highlights of this week Here is an outlook on the major market-movers and an updated technical analysis for USD/CAD.
Last week, The Bank of Canada maintained its interest rate unchanged at 1%. The BOC forecasted a 2.5% growth in the second half of 2013 and a 2.8% expansion in 2014 and 2015. The return to full capacity has been pushed back in the central bank's forecasts. As for Manufacturing Sales, output value jumped 2.6% in February, the largest increase since July 2011, from a 0.6% downturn in January. But new orders slid 4% due to a decline in demand from the volatile aerospace industry.
Updates: Canada will release Core Retail Sales and Retail Sales later on Tuesday. As well, BOC Governor Mark Carney will testify before the House of Commons Standing Committee on Finance in Ottawa. The US dollar continues to put pressure on the loonie, as the pair was trading at 1.0280. Canadian retail sales numbers were positive. Core Retail Sales, a key event,  climbed from 0.5% to  0.7%, beating the estimate of 0.5%. Retail Sales dropped slightly to 0.8%, but easily beat the estimate of 0.3%. BOC Governor Mark Carney  testified before the House of Commons Standing Committee on Finance in Ottawa. The Canadian dollar has improved, as USD/CAD was trading at 1.0202.
USD/CAD daily chart with support and resistance lines on it. Click to enlarge: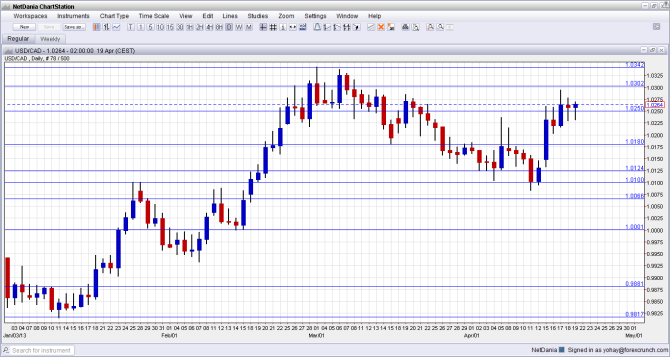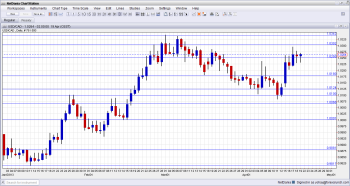 Retail sales: Tuesday, 13:30.

Canadian retail sales rebounded slightly from a 2.3% decline in December, rising 1.0% in January. The increase was due to higher sales at motor vehicle and parts dealers. The reading was better than the 0.6% rise anticipated by analysts. Gains were registered in seven of 11 sub-sectors, representing 52 percent of total retail trade. Excluding the auto sector, sales climbed 0.5% to C$30.15 billion, better than the 0.4% gain predicted. Retail sales are expected to gain 0.3% while Core sales are predicted to increase 0.5%.

 Mark Carney speaks:

Tuesday, 13:45. Bank of Canada Governor Mark Carney  and the next governor of the Bank of England, warned last week the bank could raise interest rates if the growth in household debt will not slow. Canadian economy shows sign of regression. Some analysts believe Carney's monetary policy induced record levels of household debt.
* All times are GMT.
USD/CAD Technical Analysis
Dollar/CAD began the week with a rise from the 1.0125 line (mentioned last week). The pair continued higher and stopped only below the 1.03 line, before closing at 1.0264.
[do action="tradingviews" pair="USDCAD" interval="60″/]
Technical lines, from top to bottom:
1.0523 was a peak back in November 2011 and is minor resistance. 1.0446 was the peak that the pair recorded in June 2012 and is a key line on the upside.
1.0340 was the peak during March 2013 and its position strengthens at the moment. Consequent rises failed to reach this line, and this could be a bearish sign. The round number of 1.03 was resistance at the beginning of the year and now returns to this role. It worked perfectly well during June – over and over again, until finally being run through.
1.0250 was a peak before the pair moved below parity a long time ago, and worked as support quite well in March 2013. It is weakening now. 1.0180 provided support for the pair during March, and late switched to resistance. It is now a pivotal line.
1.0125 gave its support to the pair during April 2013 and remains important despite the temporary break.  1.01, was a trough back in July, and switched to resistance afterwards. The line proved its strength several times in 2013.
1.0066 was key support before parity. It's strength during July 2012 was clearly seen and it gave a fight before surrendering. It has a stronger role after capping the pair during November 2012, but has begun weakening.  The very round number of USD/CAD parity is a clear line of course, and the battle was very clear to see at the beginning of August 2012 and also in 2013. It is a clear separator.
0.9950 provided some support for the pair during November and worked as resistance earlier.  0.9910 remains the chart after serving as a bottom border for the pair in November 2012. It already managed to work as weak resistance in December 2012.
0.9880 showed that it is a clear separator in October 2012. It also had a role in the past. This line switches roles once again.
I remain bullish on USD/CAD
The price of oil, continues weighing on the Canadian dollar, and so does weaker demand from the US. The slightly more dovish BOC certainly makes a weaker CAD more possible. 1.03 is a key line.
 Further reading: