The Canadian dollar showed little change last week, as USD/CAD   closed at 1.0858.  This week's highlights are Core Retail Sales and Core CPI. Here is an outlook on the major events and an updated technical analysis for USD/CAD.
The Canadian dollar managed to hold its own against its US counterpart last week. Unemployment Claims plunged to a seven year low, while housing and manufacturing data was sharp. However, consumer confidence fell short of expectations.
[do action="autoupdate" tag="USDCADUpdate"/] USD/CAD daily chart with support and resistance lines on it.
Click to enlarge: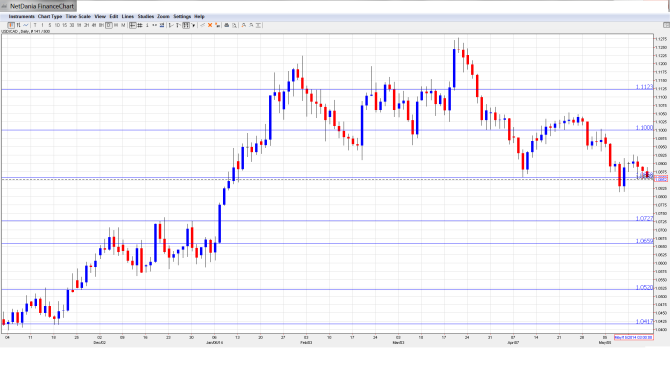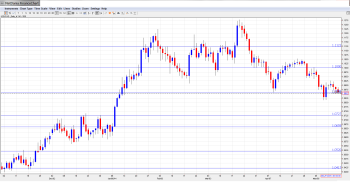 Wholesale Sales: Tuesday, 12:30. This minor report contains articles relating to the economy and central banking. Previously, the report was released on a quarterly basis, but has now changed to a bi-annual format.
Core Retail  Sales: Thursday, 12:30. Manufacturing Sales is the major event of the week. The indicator has posted two strong  gains, each time beating the forecast. The markets are expecting a weaker reading in April, with an estimate of just 0.2%.
Retail  Sales: Thursday, 12:30.
Core CPI: Friday, 12:30. Schembri will address a financial forum in Quebec City. Analysts will be looking for clues regarding the BOC's future monetary policy.
CPI: Friday, 12:30. This indicator is closely linked to currency demand, as foreigners need to purchase Canadian dollars in order to buy Canadian securities. The indicator jumped to $6.08 billion last month, easily beating the estimate of $4.57 billion. The markets are expecting the upward trend to continue, with the April estimate standing at $7.21 billion.
USD/CAD Technical Analysis
USD/CAD  opened the week at 1.0899 and  quickly touched a high of 1.0926. The pair then dropped and hit a low of 1.0852, breaking below support at 1.0853 (discussed  last  week).  USD/CAD  closed the week at 1.0858.
Live chart of USD/CAD: [do action="tradingviews" pair="USDCAD" interval="60″/]
Technical lines, from top to bottom:
We  begin with resistance at 1.1369. This line was breached in October 2008 as the US dollar posted  sharp gains, climbing as high as the 1.21 level. This line has remained steady since July 2009.
1.1124  remains a strong  resistance line. It has held firm since late March.
The  psychological barrier of 1.10 saw a lot of action in April and is currently a strong resistance line.
1.0945  held firm last as the pair briefly pushed into 1.09 territory.
1.0853  was breached but recovered. It starts the week just shy of the closing line of 1.0858, and will likely see action early in the week.
1.0723 was a cap in mid-2010, before the US dollar tumbled and dropped all the way into 0.93 territory.
1.0660 saw a lot of activity in the second half of December and continues to provide strong support.
1.0519 has been a strong support line since late November.
1.0422 is the final support level for now. It  was a  key support line in mid-November.
I am  bullish on USD/CAD
The US economy is relatively healthy, and most indicators, particularly in the employment sector, have been pointing upwards. Inflation has moved slightly higher, so the QE taper train is likely to continue. Canadian numbers have been lukewarm, and the loonie could soften if CPI and retail sales data falls short of market expectations.
Further reading: