Dollar/yen initially found some stability after turbulent times. Yet after the initial trading in the middle of the range, the pair fell as the war of words between  North Korea's Kim and Donald Trump escalated.
USD/JPY  fundamental  movers
Messy week in the US
Fewer US economic indicators and the president's vacation meant some more stability in markets. The greenback extended the NFP gains thanks to an upbeat JOLTs report. However, the poor PPI data already hurt the greenback.
The Japanese yen took advantage of the "fire and fury". The yen is a safe haven and the flows continue coming in even if the trouble is quite close to Japan's shores.
Retail sales, consumer confidence and the minutes
In terms of data, the focus is on the US consumer, which is key to the economy. Retail sales disappointed last time and so did confidence. Will this continue deeper into the summer? Perhaps more importantly, the Fed's meeting minutes will shed some more light on the thinking of Yellen and her colleagues. The Fed decision was quite vague, to say the least. So, the minutes could provide further guidance.
See all the main events in the Forex Weekly Outlook
In Japan, we will get a top-tier figure for a change. Early in the week, Japan publishes its preliminary GDP report. Q1 was eventually quite disappointing, with a modest growth rate of 0.3%. Perhaps we will see a more robust number this time.
Key news updates for USD/JPY
[do action="autoupdate" tag="USDJPYUpdate"/]
USD/JPY Technical Analysis
115.35 is the next line of resistance in case the pair break the cycle high of 114.30 which remains critical resistance after capping the pair back in May. The break to 114.50 did not go very far.
113.50 was a temporary line of resistance on the way up in July. 113.70 was a separator of ranges in June.
112.20 used to be important in the past. It is closely followed by 111.80, which capped the pair in May.
Looking down, 110.70 was a separator of ranges in June and remains important.  109.60 was a gap  line in late April, a gap that was never closed.
In June, the pair found support several times at 109.10 and this also works as support.  Further below, the cycle low of 108.10 is of high importance. Looking lower, we are back to levels seen in November, but the door is basically open to 105.
USD/JPY  Daily Chart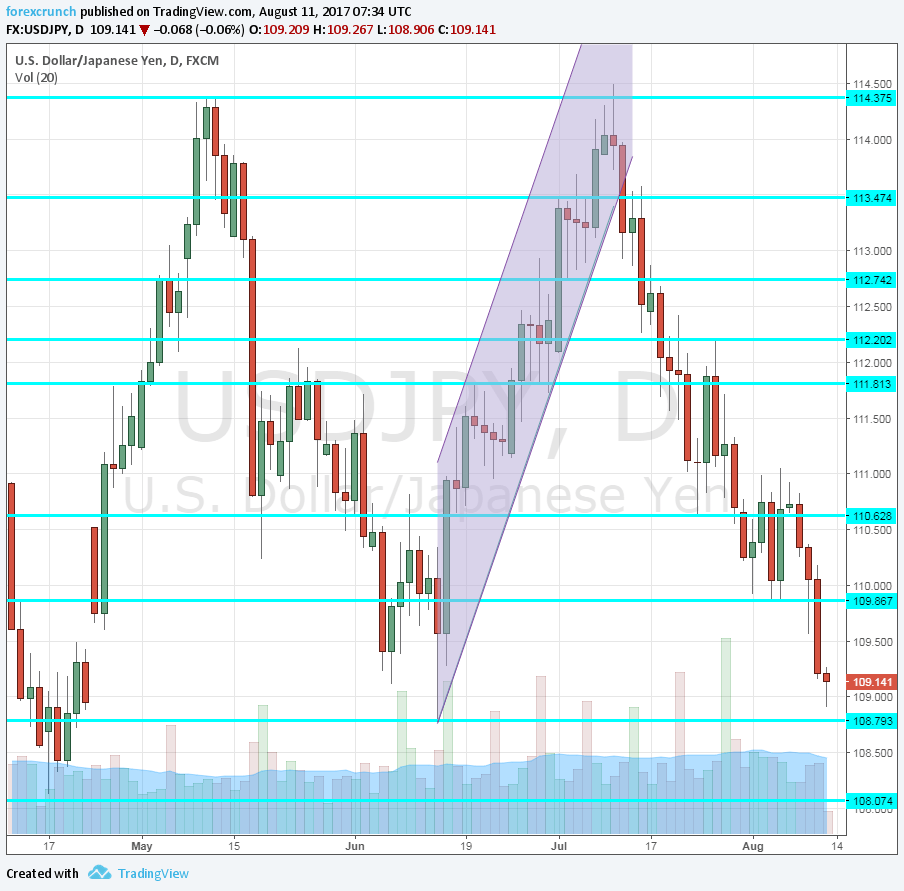 USD/JPY Sentiment
I remain bearish on USD/JPY
The Fed is going nowhere fast. After the NFP-induced recovery, the pair could resume its downtrend. This holds up even if cooler heads prevail around North Korea, which is the more likely scenario. The yen could lose ground against the euro, but not so fast against the dollar.