The yen showed some strength last week, as USD/JPY   dropped about 200 points.  The pair closed the week slightly above the 96 line.  This week's major release is Preliminary GDP.  Here's an outlook for the Japanese events and an updated technical analysis for USD/JPY.
Japanese releases were not particularly impressive but the US dollar was broadly weaker on the absence of some QE taper news out of the US.
[do action="autoupdate" tag="USDJPYUpdate"/]
USD/JPY daily chart with support and resistance lines on it. Click to enlarge: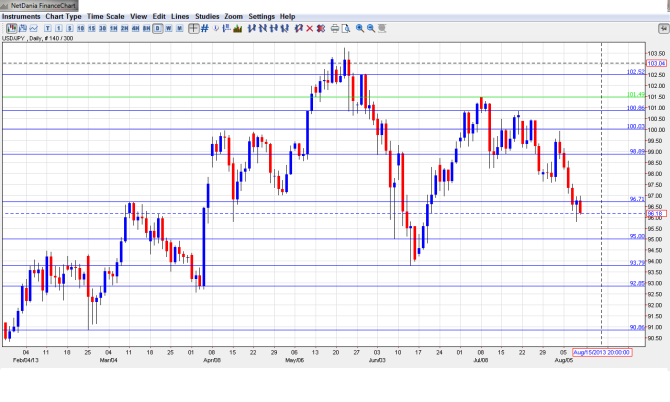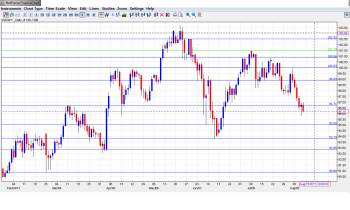 Preliminary GDP: Sunday, 23:50. Japanese GDP is released on a quarterly basis. Preliminary GDP precedes  Final GDP  and is considered the more important of these  two. After two straight declines, Preliminary GDP in Q1  posted a strong gain of 0.7%, beating the estimate of 0.7%. The estimate for Q2 stands at 0.9%.
Revised Industrial Production: Monday, 4:30. This indicator has been steadily moving higher, climbing to 1.9% in July. However, the markets are bracing for a sharp spiral, with an estimate of  a 3.1% decline. Will the indicator surprise the markets with another strong release?
Preliminary Machine Tool Orders: Monday, 6:00. Preliminary Machine Tool Orders is an important manufacturing release. The indicator continues to post sharp declines, and   the July reading came in at -12.4%. Another decline is expected in the August release.
Core Machinery Orders: Monday, 23:50. This indicator has shown strong fluctuations, making accurate forecasts a tricky task. In July, the indicator posted an excellent gain of 10.5%, crushing the estimate of 1.9%. The markets are expecting a steep decline in the August release, with an estimate of -7.1%.
BOJ Monetary Policy Meeting Minutes: Monday, 23:50. This release is a detailed record of the BOJ's most recent policy meeting and is carefully reviewed by analysts. A report which is more hawkish than expected is bullish for the yen.
Jackson Hole Symposium: Thursday-Saturday. The Jackson Hole Symposium in Wyoming is an important  economic  conference attended by central bankers, finance ministers, financial market participants and academics  from around the world.  With speculation that the Fed could taper QE as early as September, the conference could  be prove to be a market-mover and will be carefully monitored by analysts.
*All times are GMT.
USD/JPY Technical Analysis
USD/JPY  started the week at 98.24. The pair touched a  high of 98.58 as the resistance line of 98.90 (
discussed last week
) remained in place.  USD/JPY then dropped sharply,  reaching a low of 95.81.  USD/JPY closed the week at 96.25.
Live chart of USD/JPY: [do action="tradingviews" pair="USDJPY" interval="60″/]
Technical lines from top to bottom
We start with resistance  at  102.50. This was a key resistance line  in late May but has been quiet since that time.
101.44 was the post-crisis high seen in April 2009, and has not been tested since mid-July. 100.85 was busy in July as the dollar pushed above the 100 level.
The significant 100 level  saw a lot of activity in July. It has strengthened as a resistance line as the pair trades at lower levels.
98.90  held firm as the pair moved higher early in the week.   97.80  was  quite busy  in June and in late July.
96.71  has  reverted to a resistance role. This  is not a strong line and could see further action early in the week.
USD/JPY  is receiving support at the  round number of 95, which was last tested in mid-June.
93.79 marked the low point of  a rally  by the dollar which started in mid-June and saw the  pair climb to the mid-101 range in July.
92.86 saw action in early  March and again in early April. The latter date marked the low point of a yen rally which saw USD/JPY climb very close to the 100 level.
The final support line for now is 90.90. This line has remained intact since late January.
I  am  bullish on USD/JPY
The yen looked good last week, managing to post strong gains against the US dollar despite lukewarm Japanese releases. However, market sentiment is strong with regard to the US economy, and strong numbers out of the US  could revive talk of QE tapering, which is a dollar-positive event.