Dollar/yen made a small move lower, defying the wish of Japanese officials. A weaker yen received some support from the IMF, but nothing close to moving this stubborn currency. Masaaki Shirakawa's speech is the main event this week. Here's an  outlook  for the Japanese events and an updated technical analysis for  USD/JPY.
Current account surplus edged up more than predicted in August reaching 0.72T from 0.37T in July but Core Machinery Orders dropped 3.3% after a 4.6% gain in July and service sector activity increased less than predicted in August rising 0.4% following a 0.7% decline in the preceding month. Will the recent monetary easing measures bring a positive shift is Japan's economic activity?
Updates: Revised Industrial Production fell below  the market estimate, as it declined 1.6%.  USD/JPY is choppy, as the pair was trading at 78.87. All Industries Activity will be released on Friday. The markets are expecting better numbers this time around, after a disappointing September release. The yen continues to edge higher, as USD/JPY was trading at 79.30.
USD/JPY  daily chart with support and resistance lines on it. Click to enlarge: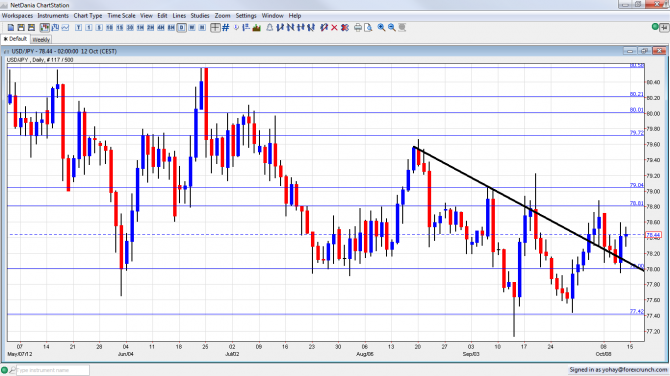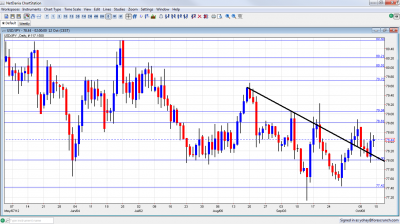 Masaaki Shirakawa speaks: Sunday, 5:30. Masaaki Shirakawa BOJ Governor is due to speak in Tokyo at a high-level seminar co-hosted by the Bank of Japan and the International Monetary Fund (IMF). He may comment on the BOJ last policy meeting decision to refrain from further action to reduce the yen's strength despite pressure from government officials for further easing measures. His words can cause volatility in the market.
Revised Industrial Production: Monday, 4:30. Japan's industrial production dropped less than initially predicted in July, down 1.0% from the preliminary reading of a 1.2% drop. On a yearly basis, industrial production fell 0.8% in July. The upward revision was due to medical goods as well as coffee and other beverage sectors, which were not available when it published the preliminary. Another decline of 1.3% is expected this time.
All Industries Activity: Friday, 4:40. Japanese all industry activity dropped more than expected in July, down 0.6% following 0.3% gain in the preceding month. The weak reading was due to declines in construction and industrial output. Economists expected   a 0.5% decline. On a yearly base, industry activity climbed approximately 0.5% in July after registering a 0.6 % gain in June. A rise of 0.2% is anticipated now.
USD/JPY  Technical Analysis
$/yen slid towards the 78 line (discussed last week) and even dipped under it for several hours. The aftermath was a rise to higher ground, but without any breakthrough.
Technical lines from top to bottom
82.87 is a veteran line – that's where the BOJ intervened for the first time back in 2010. 81.80 capped the pair in April.
81.43 is stronger after serving as resistance for a recovery attempt. 80.60 provided support for the pair around the same time, and served as a bouncing spot for the next moves. It proved its strength as resistance in June 2012, more than once.
80.20 separated ranges in May 2012 and remains another barrier after 80 on the upside.  The round number of 80 is psychologically important, even though it was crossed several times in recent months. It is stronger now.
79.70 was a cap was seen in June 2012. It proved its strength as resistance once again in July 2012 and proved critical before the downfall in August 2012. 79.05 capped the pair in September 2012 and similar levels were seen in the past. Despite being temporarily overrun, the line still matters.
78.80 proved its strength as resistance in August 2012 again and again. The last attempt at the beginning of October should monitored. The round number of 78 is now stronger support after being the bottom of the range  and is becoming stronger after working as a cushion also in September 2012.
77.40 was the extended low line in September 2012, until the pair rebounded. It is followed by 77, which is only minor support.
76.60 was a cushion for the pair at the beginning of the year and is rather strong. 76.26 is the next line on the downside after working as a support quite some time ago.
I am bullish on  USD/JPY.
With some foreign acknowledgement about the need for a weaker yen, there is room for some gains. In addition, the improving situation in the US and Japan's debt provide support on the downside.