If you needed more reasons to understand the euro's move south and EUR/USD grind lower, the team at BNP Paribas provides explanations.
And, they also have a trade setup for EUR/USD:
Here is their view, courtesy of eFXnews:
October's balance of payments data continues to suggest real flow support for the EUR is waning, notes BNP Paribas.
"Deterioration in eurozone portfolio flows is a key transmission mechanism through which falling relative real yields push EUR lower. Friday's eurozone current account data revealed a weaker reading of €20.5bn (SA) for October, down from €32bn in September. However, the current account surplus was easily recycled through portfolio and FDI outflows. The broad basic balance moved further into negative territory, to €-32.5bn, from €-30.6bn in September," BNPP explains.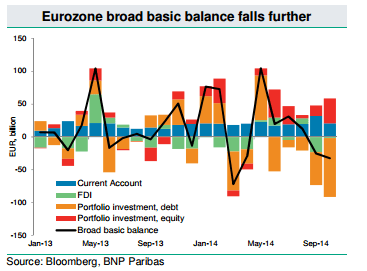 EUR as a funding currency.
"Looking at the breakdown of portfolio flows reveals that the key factor is increasing net debt outflows. The deterioration in the financial account is coming from eurozone investors searching for yield abroad.  Looking ahead, the trend of eurozone investors moving into foreign debt markets and foreign investors cutting holdings of eurozone debt is likely to continue as further ECB easing weighs on real yields," BNPP argues.
Bottom line: weaker EUR in 2015.
"The bottom line from October's data is that the eurozone balance of payments deterioration is accelerating. Combined with the policy divergence between the ECB and the Fed as a driver of EURUSD, Friday's release supports our view for EURUSD moving lower towards our year-end 2015 target of 1.15," BNPP projects.
The trade.
In line with this view, BNPP maintains a short EUR/USD position from 1.2520 targeting 1.18, with a stop at 1.28.  
For lots  more FX trades from major banks, sign up to eFXplus
By signing up to eFXplus via the link above, you are directly supporting  Forex Crunch.