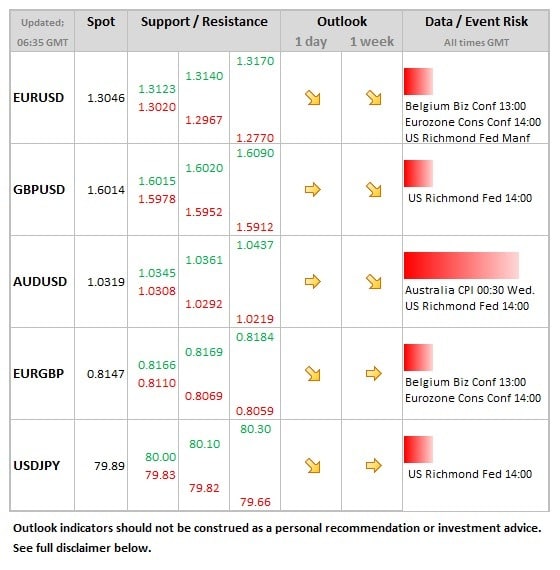 Data/Event Risks
AUD: Quarterly CPI data released on Wednesday. Inflation seen moving higher from 1.2% recorded in Q2 (to 1.6%).   Data has potential to wake up AUD from steadier tone seen this week
CAD: Bank of Canada interest rate decision at 13:00 GMT. No change is expected, rates held steady at 1.00% for two years now. CAD has been weakening recently.
USD: Last month's Richmond Fed was much stronger than expected and this did weaken the dollar as it spurred risk appetite.   Impact likely to be reduced this time.
EUR: The data today unlikely to have a major impact on the single currency.
Idea of the Day
You have to go back two years to find the last time USD/JPY moved up for eight consecutive sessions and March 2005 was the last time that we saw nine straight sessions of up-moves.   Statistically at least there is a case for some yen weakness-reversal today, especially if you are a believer in mean reversion strategies.   But the basis for a weaker yen, both technically and fundamentally, remains fairly solid so any reversal could be taken as a buying opportunity on USD/JPY by the yen bears.
Latest FX News
JPY: Overnight session saw USD/JPY weaken to 80, the lowest level since July 6th.   Data on small business confidence fell for the 5th time in seven months. More noises from economy minister overnight on need for further monetary stimulus.
USD: After the final debate ahead of the presidential election next month, there appears to be little difference between both candidates in the polls and also in terms of last night's debate.
AUD: Little overnight news. AUD more consolidative so far this week.   Technically up-trend from the 1.0150 level reached 8th October remains in place for now. Inflation data the focus Wednesday.