Forex is highly associated with trading. Yes, you can benefit when the market goes up or down, but you need to educate yourself and be an active trader. This doesn't fit everyone. But now, things have changed – you can invest in highly successful forex traders, which were carefully cherry picked.
This is Currensee's Trade Leaders Investment Program – starting today, you can follow and automatically execute trades of these successful traders, which are closely monitored not only for historical success, but for risk management as well. They trade on real accounts. The performance of a trade leader is reviewed every day, to ensure that the investor, that doesn't need to understand anything in forex, can continue profiting.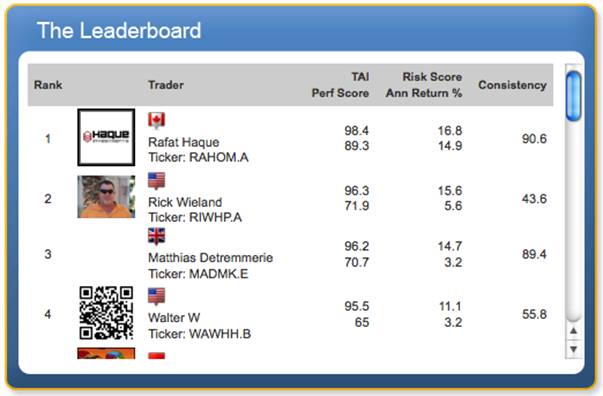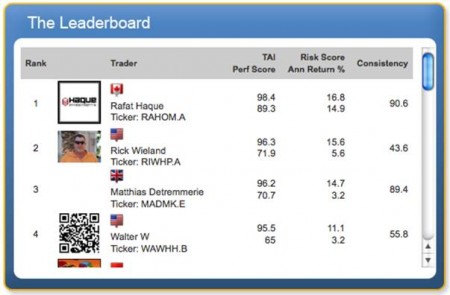 Most trade leaders use relatively low leverages, well under the 50:1 CFTC limit. Also the automatic execution of their followers is limited to risk management rules.
What's in it for the trade leaders? Successful forex traders continue to do what they do best – trade forex, and now they are compensated for successful  trading for  their followers, without having to run after clients.
Here's the full press release:
Currensee Makes Foreign Currency Trading Accessible to Every Investor via Trade Leadersâ"¢ Investment Program
Launches Industry's First Forex Trade Automation Service Enabling Investors to Follow and Execute Trades of Top Currensee Traders
BOSTON, Oct. 28, 2010 –  Currensee Inc., (www.currensee.com), the new way to invest in world currency markets, today globally debuted The Currensee Trade Leadersâ"¢ Investment Program, the first Forex trade automation service that enables investors to follow and automatically execute the trades of some of the most successful traders from the Currensee social network. This new service enables investors of all kinds, in any asset class and on every continent to take advantage of the dynamic foreign currency market.
The growth of the foreign exchange (Forex) market is explosive with an average daily turnover estimated at $3.98 trillion and 20 percent growth from 2007 to 2010. The Trade Leaders Investment Program gives investors the ability to build an automated portfolio of top performing traders called Trade Leaders. These Trade Leaders are carefully selected from the more than 7,000-member Currensee Forex trading social network, which trades approximately $50 billion in volume per year. Trade Leaders are carefully screened for historical performance, risk management and returns versus the S&P500. Investors select and follow the Trade Leaders they want to invest in, add them to their portfolio and Currensee automatically executes the Trade Leaders' trades in the investor's account. Investors access robust trade and performance metrics in real time and always maintain full control over their account.
"The Trade Leaders Investment Program is a win-win for traders and investors. Trade Leaders have a way to create a business doing what they do best – trading – without having to worry about administration, paperwork and finding new clients," said Dave Lemont, CEO of Currensee. "For investors of every kind all over the world, the Trade Leaders program offers the opportunity to invest in the foreign exchange market. Investors in the program are typically looking for investments that are not correlated with the stock market and that give them the opportunity to take advantage of the dynamic growth in foreign exchange. We combine that opportunity with the trust, transparency and control of real performance, real-time metrics and full security and account control. The success of our investors is our top priority."
Trade Leaders are ranked by their Currensee Trader Authority Indexâ"¢ (TAI) score, a proprietary algorithm that combines performance, risk and experience into a single index. TAI is displayed on the Currensee Trader Leaderboard and on every Trade Leader's profile. Currensee assesses each Trade Leader's risk management strategy, background and ability to perform for investors prior to accepting a Trade Leader into the program. Once in the program, every Trade Leader's performance and trading is reviewed on a daily basis to ensure the leader continues to achieve performance and risk targets. Trade Leaders are compensated only on successful trading for investors and are able to create a revenue stream from trading without changing their existing businesses.
"The program has helped me broaden my overall investing strategy," said Alex Neihaus, an early investor in the program. "In today's markets, individual investors like me have to expand our investment strategies to have any hope of increasing gains. Before Trade Leaders, foreign exchange was out of my reach due to my lack of knowledge, experience and time. But with Trade Leaders, I don't have to be a Forex expert and can still benefit by investing in top traders from the Currensee social network."
For more information about the Trade Leaders Investment Program and to start investing, please visit  www.currensee.com.
About Currensee
Currensee.com puts the power of investing in world currency markets in the hands of every investor. With the Currensee Trade Leadersâ"¢ Investment Program, investors follow and automatically execute the trades of top Currensee traders called Trade Leaders. Currensee Trade Leaders are handpicked from the thousands of members of the Currensee Forex trading social network and carefully screened for historical performance, risk management and returns versus the S&P500. By investing in Trade Leaders, investors build their own personal automated Trade Leaders portfolios and have complete control over their investments at all times. Currensee strives to deliver profitability, transparency and control to investors around the world. Currensee is funded by North Bridge Venture Partners, Egan-Managed Capital and Vernon & Park Capital and is a member of the National Futures Association (NFA) and registered by the Financial Services Authority (FSA). For more information, visit us at  www.currensee.com. Find us onFacebook,  follow us on  Twitter, and watch us on  YouTube. It's time to invest in the success of top currency traders.
Full Disclosure: I'm affiliated with Currensee.