The Australian dollar continues looking good. After Australian employment data seemed good enough, figures from Australia's No. 1 trade partner look even better.
China reported a growth rate of 6.7% in Q2 2016 slightly better than 6.6% expected and identical to Q1. Industrial output surprised to the upside with 6.2% instead of 5.9% expected and 6% last time. Also in figures that are more domestic, we have positive news: retail sales are up 10.6% instead of 9.9% and new loans also beat with 1.38 trillion yuan instead of 1 trillion expected.
Is the data accurate? Nobody takes the numbers at face value but markets react nevertheless. AUD/USD advanced to 0.7676 before retreating.
Earlier this week, Australia's jobs came out slightly lower than expected on the headline, but with a healthy dose of full time jobs which shows a strong underlying situation.
There was no big spike in reaction to the news but the uptrend continues. As the chart shows, AUD/USD trades within an upwards channel. Uptrend support is clearer to see with 4 touches while uptrend resistance is just forming after the recent moves.
Can the A$ continue higher? A lot depends on figures from overseas. Another factor helping the Aussie is the global mood. A "risk on" effect coming after the political scene was cleared in the UK also reached the shores of Australia. But now with the terror attack in Nice, France, the mood could sour.
More: Where To Target Rebounds In AUD/USD & USD/JPY? – SocGen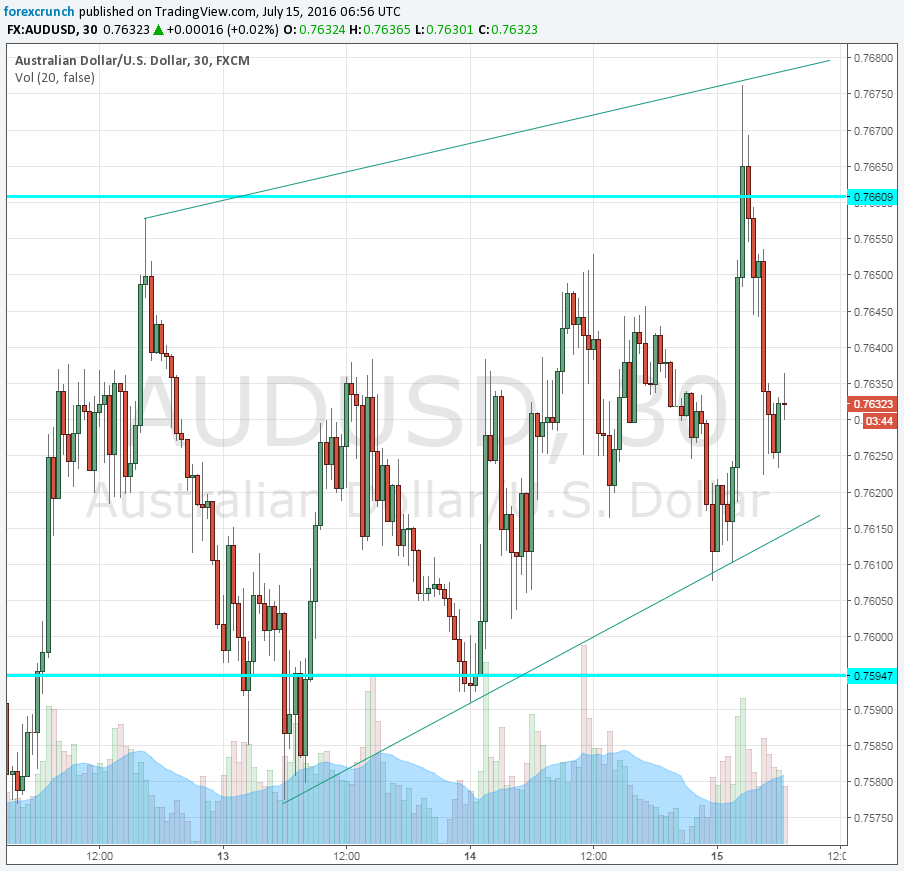 Get the 5 most predictable currency pairs