The Australian dollar was unchanged over the week, as AUD/USD closed at 1.0573. The upcoming week  has six  releases, including Business Confidence and New Motor Vehicle Sales. Here is an outlook of the Australian events, and an updated technical analysis for AUD/USD.
The aussie was trading in a narrow range  throughout last week. Despite better than expected employment data, the Australian dollar did not improve against its US counterpart.
Updates: The RBA issued its quarterly Monetary Policy Statement last Friday. The central bank noted concern about the negative impact that the strong Australian dollar is having on the economy. At the same time, the RBA appears satisfied with the current levels of interest rates and inflation. The Chinese Trade Balance surplus narrowed to 25.1 billion, well   below the market estimate of 35.1B. NAB Business Confidence and New Motor Vehicles Sales will be released on Tuesday. AUD/USD is steady, and was trading at 1.0567. NAB Business Confidence sparkled, jumping to 4   points. New Motor Vehicle Sales declined 0.6%. AUD/USD was down slightly, as the pair was trading at 1.0527. Westpac Consumer Sentiment posted a sharp decline of 2.5%, a five-month low. Wage Price Index gained 1%,  beating  the estimate of 0.8%. MI Inflation Expectations will be released later on Wednesday. The aussie  is sliding  following the weak consumer release, as AUD/USD was trading at 1.0467. MI Inflation Expectations fell to 2.4%, from 3.3% in July. RBA Assistant  Governor Guy  Debelle spoke at a conference in Sydney. The aussie was up slightly, testing the 1.05 line. AUD/USD was tradingt at 1.0490.
AUD/USD graph with support and resistance lines on it. Click to enlarge: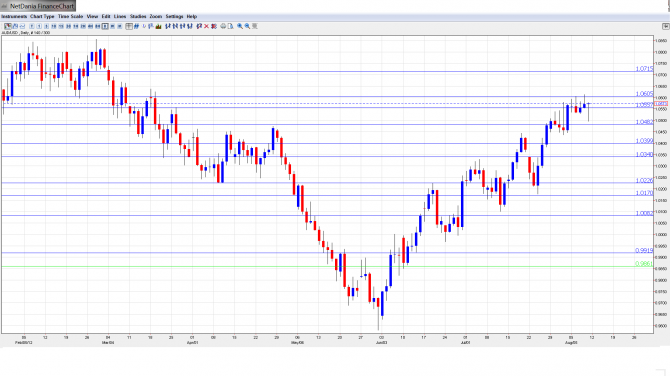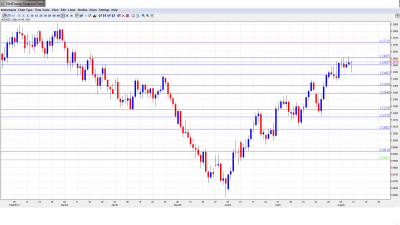 NAB Business Confidence: Tuesday, 1:30. Business Confidence has now posted two consecutive negative readings, with the indicator dipping to -3 points in  July.  Will the indicator bounce back in August?

New Motor Vehicle Sales: Tuesday, 1:30. This consumer indicator shows a lot of volatility, making accurate market predictions a tricky task. The markets are hoping for an improvement from the July reading of -0.6%.

Westpac Consumer Sentiment: Wednesday, 00:30. Consumer Sentiment jumped 3.7% in July, its best reading since February. Another strong reading this month would be bullish for the aussie.

Wage Price Index: Wednesday, 1:30. The indicator showed a modest increase in Q1 of 0.9%. No change is expected in the Q2 release.

MI Inflation Expectations: Thursday, 1:00. This indicator is useful for predicting actual inflation numbers. The indicator jumped 3.3% in July, its highest level since April.

RBA Assistant Governor Guy Debelle Speaks: Thursday, 5:45. The markets will be looking for some clues as to future monetary policy when the Assistant Governor takes part in a panel discussion in Sydney.
* All times are GMT
AUD/USD Technical Analysis
AUD/USD opened at 1.0559, and  climbed to a high of 1.0613.  The pair then  dropped to a low of 1.0496 before retracing. AUD/USD closed the week at 1.0573, as 1.0557 (discussed last week) held firm.
We  begin with resistance at 1.1012, a line which has held firm since last August. The next resistance line is at 1.0874. This is followed by resistance at 1.0718, which last saw action in March. Below, there is resistance at 1.0605, just above the round figure of 1.06. The pair  broke through this line before retracing, and it providing weak resistance for the pair. Look for this line to be further tested if the aussie gains strength.
We first encounter support for the pair at 1.0557, which  continues to provide the pair with  weak support. Next is the line of 1.0482, which held firm as the aussie briefly sagged at the end of the week. Below, there is support at 1.0402. This is followed by 1.0340, which  was last breached in late July, when  the pair surged upwards. We next encounter strong support at 1.0230.
The next line of support is 1.0174. This is followed by support at 1.0080, protecting the psychologically important parity level. The parity line follows, and was last tested in June. The next support level is 0.9917. This is followed by support at 0.9860, which has provided support since mid-June.
I am bullish on AUD/USD.
The volatile Australian dollar has risen close to six cents since mid-July, although  traders should keep in mind that  there was  a sharp decline during that period. Will the aussie continue to sparkle? Given the turmoil in Europe and mixed data out of the US economy, there is room for the  currency to make further gains. Recent employment data was solid, and further strong economic data will be bullish for the aussie.
The Aussie sometimes moves in tandem with gold. You can trade binary options on gold using this technical analysis.
Further reading: