AUD/USD took advantage of a broadly-weaker US dollar, and  gained  about  100 points on the week.  AUD/USD closed the week at 0.7723.  It's a  quiet week ahead, with  just 5  events on the calendar, and only  one of which is a  data release.  Here is an outlook on the major market-movers and an updated technical analysis for AUD/USD.
In the US, employment and consumer sentiment numbers were upbeat, but the greenback wasn't able to take advantage as traders were hesitant to buy the USD ahead of the Fed Statement. The Aussie got some help from excellent employment numbers, as Employment Change jumped to a 6-month high.
[do action="autoupdate" tag="AUDUSDUpdate"/]
AUD/USD graph with support and resistance lines on it. Click to enlarge: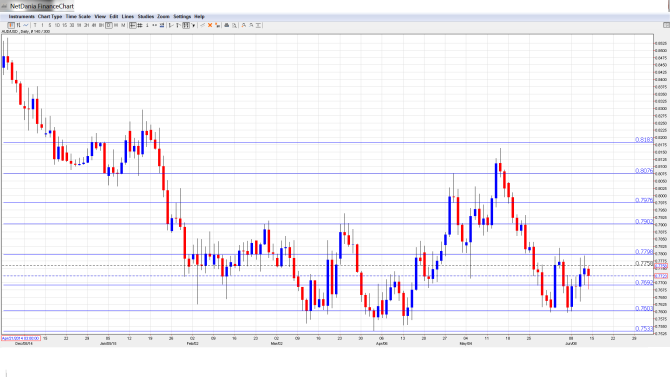 RBA Assistant Governor  Christopher Kent Speaks: Monday, 7:30.  Kent will speak at an event in  Canberra. The markets will be looking for any hints as to the RBA's future monetary policy.
RBA Assistant Governor Guy Debelle  Speaks: Monday, 21:55. Debelle will address remarks at financial forum in Melbourne.  A speech which is more hawkish than expected is hawkish for the Australian dollar.
RBA Monetary Policy Minutes: Tuesday, 1:30. The RBA kept rates at an even 2.0% at its policy meeting early in June. The markets will be carefully, monitoring the minutes, and  any hints about a cut in rates  could push the Aussie lower.
MI Leading Index: Wednesday,00:30. This index is based on 9 economic indicators, but is considered a minor event since most of the data has already been released. The indicator improved to 0.1% in April, and the markets are hoping that the upward trend continues in the May release.
RBA Bulletin: Thursday, 1:30.  This minor event is released each quarter. The report contains statistical material and an analysis  of the condition of the Australian economy.
* All times are GMT.
AUD/USD Technical Analysis
AUD/USD opened the week at 0.7616 and dropped to a low of 0.7603. The pair posted sharp gains, touching a  high of 0.7793,  as resistance held firm at 0.7798  (discussed last week).  The pair  closed the week at 0.7723.
Live chart of AUD/USD: [do action="tradingviews" pair="AUDUSD" interval="60″/]
Technical lines from top to bottom:
We start with 0.8180 was an important cap in January.
0.8077 was an active line in May.
0.7978 is the next line of resistance.
0.7901 was an important cap in March.
0.7798 held firm  as the Australian dollar came close to this line before retracting.
0.7692 has switched to a support level, and is an immediate line.
0.7601 has strengthened in support following strong gains by the pair last week.
0.7528 is the next support level.
0.7403 has  remained intact  since May 2009. At that time, the Aussie was in the midst of a rally which saw it climb above the 0.94 line.
The final support line for now is 0.7283.
I  am  bearish on AUD/USD.
In the US, all eyes are on the Federal Reserve,  and any hints  with regard to a rate hike later in the year could  support the US dollar. With only one data release out of Australia this week, US numbers will likely have a magnified impact on the pair's movement.
In our latest podcast, we bring you up to speed with the Fed decision and the USD impact, and also tackle the Greek crisis from two different angles.
Further reading: