The Australian dollar reversed directions and gained about 150 points last week. AUD/USD closed the week at 0.7761.  The upcoming week has just four events.  Here is an outlook on the major market-movers and an updated technical analysis for AUD/USD.
The Aussie took advantage of broad US dollar weakness after the Federal Reserve statement last week. Although the Fed removed the "patience" guideline from its statement, the Fed certainly sounded more dovish, raising doubts about a June rate hike.
[do action="autoupdate" tag="AUD/USDUpdate"/]
AUD/USD graph with support and resistance lines on it. Click to enlarge: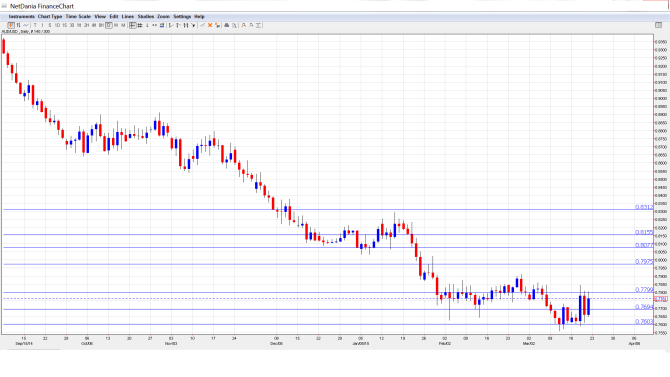 CB Leading Index: Monday, 23:00. This minor index has moved higher in recent readings and posted a 0.4% gain in January. Will the upturn continue in the February report?
Chinese HSBC Flash Manufacturing PMI: Tuesday, 1:45. Chinese key data such as PMIs can affect the movement of AUD/USD, as China is Australia's most important trading partner. The index continues to trade close to the 50 point line, which separates between contraction and expansion. The indicator came in at 50.1 in February, and the forecast for the  March report stands at 5o.5 points.
RBA Assistant Governor Malcolm Edey  Speaks: Tuesday, 4:50. Edey will address a conference in Sydney. Remarks that are more hawkish than expected are bullish for the Australian dollar.
RBA Financial Stability Review: Wednesday, 00:30. This semi-annual report examines the health of the financial  system and risks that could undermine  financial stability.  If there are any surprises in the report,  AUD/USD could respond with volatility.
* All times are GMT.
AUD/USD Technical Analysis
AUD/USD started the week at 0.7615 and  dropped to a low  of 0.7591.  The pair then reversed directions and  climbed  to a  high  of 0.7846. AUD/USD closed the week at 0.7761, below resistance at 0.7799 (discussed last week).
Live chart of AUD/USD: [do action="tradingviews" pair="AUDUSD" interval="60″/]
Technical lines from top to bottom:
We  start with resistance at 0.8313.  This line  has held firm since mid-December.
0.8150 is the next resistance line.
0.8077 was an important resistance line in January.
0.7978 was an important cap in January 2007.
0.7799 was tested and is a weak resistance line. It could see further activity early in the week.
0.7692 was an important support level in early 2007. At that time, AUD/USD  recorded  a rally that saw the pair push above the 0.88 level.
0.7601 is the next support level.
0.7403 has held firm since May 2009. At that time, the Aussie was in the midst of a rally which saw it climb above the 0.94 line.
The final support line for now is 0.7283.
I  am  bearish on AUD/USD.
The Aussie enjoyed a strong week, but this was more a case of greenback weakness rather than strength on the part of the Australian dollar. The Fed may have dampened expectations of a rate hike in the next few months, but if US employment data and the GDP release are strong, the dollar could reverse directions this week.
In our latest podcast we discuss The Fed and the road ahead – all you need to know
Subscribe to Market Movers on iTunes
Further reading: