AUD/USD dropped almost two cents this past week, as the pair fell below 1.02, closing at 1.0182. Employment Change is the major event of the week. Here is an outlook of the Australian events, and an updated technical analysis for AUD/USD.
The main catalyst for the aussie's dive was the rate cut by the RBA, which caught the markets by surprise. The central bank lowered its key interest rate to 3.25%, its lowest level in three years.
Updates: ANZ Job Advertisements dropped 2.8%, its second straight decline below 2.0%. The employment indicator has not been in positive territory since April. NAB Business Confidence improved in September, climbing to 0 points. RBA Deputy Governor Philip Lowe spoke at an event in Horbart sponsored by the Financial Services Institute. Consumer Sentiment will be released later on Tuesday. The aussie has edged upwards, as AUD/USD was trading at 1.0231. Consumer Sentiment dropped, but remained in positive territory, posting a gain of 1.0%. The aussie continues to edge higher, as AUD/USD was trading at 1.0252. MI Inflation Expectations climbed 2.6%, a three-month high. Emplomyent Change recorded its best numbers since June, with an increase of 14.5 thousand newly employed persons. This easily beat the estimate of 5.1K. This good news was offset by the Unemployment Rate, which nudged up to 5.4%, its highest level in over two years. AUD/USD is steady, as the pair was trading at 1.0281.
AUD/USD graph with support and resistance lines on it. Click to enlarge: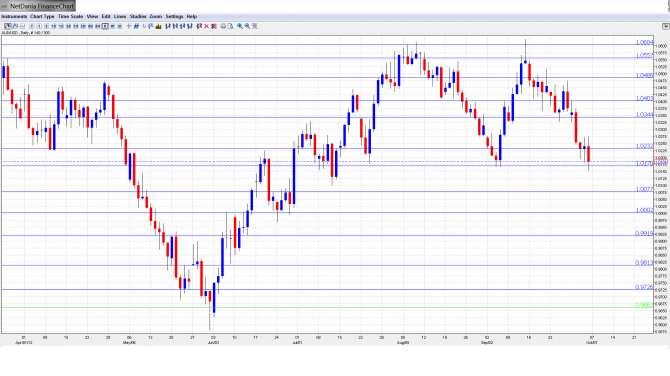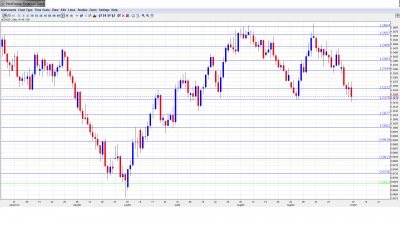 RBA Governor Glenn Stevens Speaks: Sunday, 23:00. Governor Stevens will   testifies before a House of Representatives  Committee in Canberra. If his remarks are more hawkish than forecast, this would be bullish for the aussie.
ANZ Job Advertisements: Monday, 00:30. This employment indicator dropped 2.3% last month. The markets will be hoping for a rebound in the October release.

NAB Business Confidence: Tuesday, 00:30. Business Confidence dropped  sharply in the September reading,  falling to  -2 points. Will the indicator show some improvement this month?

RBA Deputy Governor Philip Lowe Speaks: Tuesday, 1:00. The Deputy Governor is  scheduled to speak at a Financial Services  Institute event in Hobart. Analysts will  be looking for some clues about the  RBA's future monetary policy.

Westpac Consumer Sentiment: Tuesday, 23:30. This consumer confidence indicator rose 1.6% in the September reading. The markets will be hoping for another solid release this month.

MI Inflation Expectations: Thursday, 00:00. This indicator is useful  for inflation forecasts. The indicator has posted two consecutive readings of 2.4%.

Employment Change: Thursday, 00:30. The September release was a major disappointment, as the employment rolls dropped by 8.8 thousand persons.  The markets are predicting a  rebound this month, with an estimate of 4.4K.  The forecast is that the  Unemployment Rate will climb to 5.3%, up from the current 5.1%.

Chinese Trade Balance: Saturday, Tentative.  This key indicator posted a  surplus which  was well above the estimate  in  the previous  reading. Traders should pay close attention to the indicator, as China is Australia's number one trading partner.
* All times are GMT
AUD/USD Technical Analysis
AUD/USD opened at 1.0352. The pair touched a  high of 1.0403, but then dropped sharply. AUD/USD fell as low as 1.0152, and  closed the week at 1.0182, as the support line of 1.0178 (discussed last week) held firm.
With the pair falling  last week, we start at lower levels. There is resistance at 1.0718, which last saw action in March. Next, there is strong resistance at 1.0605, just above the round figure of 1.06. This is followed by resistance at 1.0557, which has held firm since the pair  started a downward turn in mid-September.    This is followed by 1.0482, which saw action two weeks ago. Next, there is resistance at 1.0402, just above the round number of 1.04. Below, there is  resistance at 1.0340. This line has strengthened as the pair trades at lower levels. The next line of  resistance is at 1.0230, which was  in a  support role just last week.
AUD/USD is receiving weak support at 1.0174. This line held firm as the aussie took a tumble this week. This is followed by 1.0080, which is protecting the psychologically important parity level. The parity line, last tested in June, is the next line of support. We next encounter support at 0.9917. This is followed by 0.9815, which has held firm since June. Next, there is support at 0.9726. This is followed by support at 0.9661. This line was last tested in early June, when the Australian dollar started a strong rally. The final support level for now is 0.9537. This level has held firm since last October.
I am neutral on AUD/USD.
The Australian dollar lost some ground this past  week with the unexpected rate cut by the RBA, and is now at the levels where it began a strong September rally. What's next for the volatile aussie? Australian data has been generally weak, and the rate cut could be the start of a drop towards the important parity line. On the flip side, if the US continues to show some improvement, such as recent employment numbers, we may see the Aussie move back up.
The Aussie sometimes moves in tandem with gold. You can trade binary options on gold using this technical analysis.
Further reading: