The Australian dollar  was on fire in a very busy week, reaching new highs. The upcoming week is not as busy but still, consists of the all-important employment report. Here are the highlights of the week and an updated technical analysis for AUD/USD.
The RBA left the interest rates unchanged and tried to talk down the Aussie, but to no success. GDP came out at a robust 0.8%, giving a boost to the currency. On the other hand, retail sales disappointed by remaining flat and the trade balance fell short as well. AUD/USD also enjoyed the weakness of the US dollar, that suffered from the Fed's dovishness.
[do action="autoupdate" tag="AUDUSDUpdate"/]
AUD/USD daily graph with support and resistance lines on it. Click to enlarge: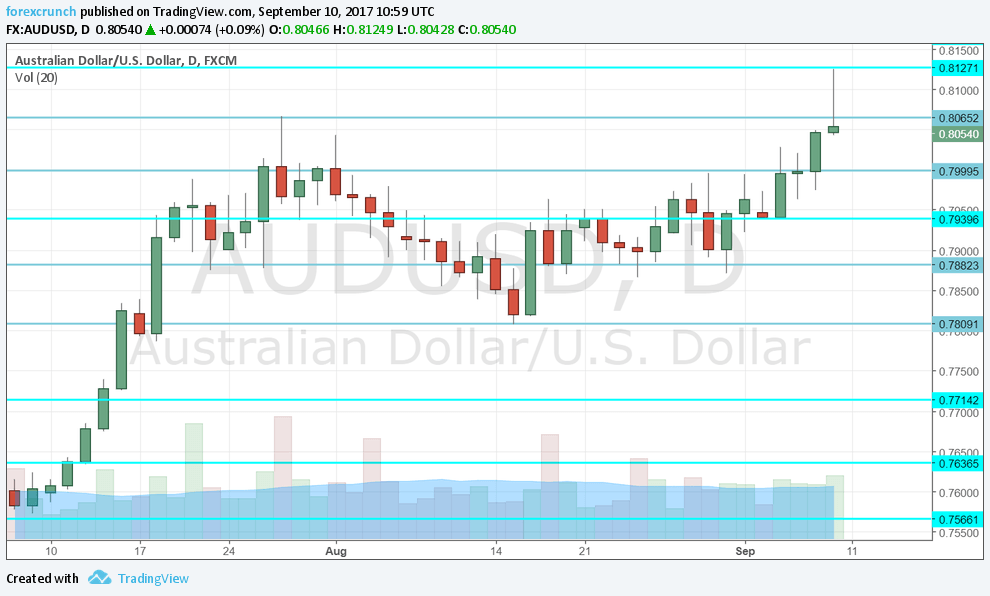 NAB Business Confidence: Tuesday, 1:30. The National Australia Bank has reported a rise in business confidence back in July: a rise from 8 to 12 points. Given the mixed past, we could see a slide now.
Westpac Consumer Sentiment: Wednesday, 00:30. Consumer sentiment has been falling in most recent months. In August, sentiment dropped by 1.2%, after rising in July. We now get the figure for September.
MI Inflation Expectations: Thursday, 1:00. The Melbourne Institute's inflation measure fills the gap: the government releases CPI data only once per quarter. According to MI, expectations for prices rises  remain elevated. An advance of 4.2% was seen in July.
Jobs report: Thursday, 1:30. Australia's job market is quite robust. During most months this year, job gains exceeded expectations. A gain of 27.9K was seen in July. A rise of 19.2K is on the cards. The unemployment rate stood at 5.6%, lower than earlier in the year. A similar figure is expected 5.6%.
Chinese industrial output: Thursday, 2:00. China is Australia's No. 1 trade partner, and a rise in Chinese industrial production implies higher demand for Australian metals. Output rose by 6.4% y/y in July, lower than expected but similar to levels seen earlier in the year. Note that the world's No. 2 economy also publishes fixed asset investment and retail sales. A rise of 6.6% is projected.
AUD/USD Technical Analysis
The Australian dollar traded in ranges described last week, but then shot up and reached new highs.
Technical lines from top to bottom:
0.83 was a swing high seen in early 2015 and is our top line. 0.8165 was another swing high, back in May 2015. The new high of 2017 at 0.8125 is becoming interesting as well.
0.8065 is the previous 2017 high. It is followed by the psychological round level of 0.80.
0.7920 was the low point the pair reached after the pair moved to the highs. The round number of 0.7810 provided support in August and replaces the veteran 0.7835 level.
Below, we find 0.7740, that was a high point in June 2017 and also beforehand. 0.7635 was a stepping-stone on the way up, also in June.
Even lower, we find 0.7565 was a low point before the pair shot higher in July. The last line, for now, is 0.7515.
I remain bullish on AUD/USD
There is nothing to frown about when talking about the Australian economy. While the RBA may be in no rush to raise rates, there is room for a gradual advance of the Australian dollar.
Follow us on Sticher or iTunes
Further reading:
Safe trading!