USD/CAD dropped to its lowest level since February 2018 last week, as the pair fell 1.57%. For the Canadian dollar, it was its strongest weekly gain this year. There are four economic releases in the upcoming week. Here is an outlook for the highlights and an updated technical analysis for USD/CAD.    
In Canada, retail sales sparkled in March, as both the headline and core retail sales rose 4.8%, after declines a month earlier. Canada's GDP posted a gain of 0.4% in February, down from 0.7% a month earlier. On the inflation front, the Raw Materials Price Index gained 2.3% in March, down from 6.6%.
In the US, consumer confidence soared, as the Consumer Board Consumer Confidence Index climbed to 121.7, up from 113.1 beforehand. The US dollar dipped after the FOMC meeting, as the Fed said it was premature to discuss tapering.
US GDP rose 6.4%, beating the forecast of 6.1%. The robust reading was another sign that the US economic recovery is in full swing.
.
USD/CAD daily graph with resistance and support lines on it. Click to enlarge: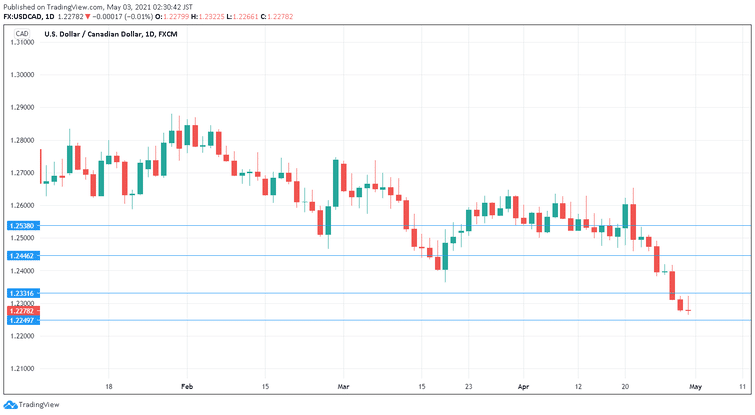 Manufacturing PMI: Monday, 13:30. Manufacturing continues to show strong growth. In February, the index rose to 58.5, up sharply from 54.8 beforehand. We now await the March data.
Building Permits: Tuesday, 12:30. Building Permits rose 2.1% in February. The estimate for March stands at 0.4%.
Employment Report: Friday, 12:30. The labor market has looked strong, as the economy created 303 thousand jobs in March. Will we see another sharp gain in April? The unemployment rate came in at 7.5% in March but is expected to rise to 8.0% in April. Wage growth posted a gain of 2.0% in March and we now await the April data.
Ivey PMI: Friday, 14:00. The PMI jumped to 72.9 in March, up from 60.0 beforehand. The index is expected to soften to 60.5 points in April.
Technical lines from top to bottom:
We start with resistance at 1.2538.  
1.2446 (mentioned  last week) is next.
1.2341 has switched to resistance after the pair posted sharp losses last week.
1.2249 is an immediate support level.
1.1997 is the final line for now.I am bearish on USD/CAD

The US dollar continues to struggle, and risk sentiment is strong, buoyed by the strong US economy. This bodes well for minor currencies like the Canadian dollar.

Follow us on  Sticher  or  iTunes

Further reading:

Safe Trading!