AUD/USD  had another dismal week, losing over 230 points, and closed the week  below the symbolic 0.70 line for the first time  since March 2009.  The  pair closed the week just above the 0.69 level.  This week's key events are NAB Business Confidence and  Employment Change.  Here is an outlook on the major market-movers and an updated technical analysis for AUD/USD.

The uncertainty about the state of the Chinese economy loomed large on the Aussie. A disappointing Australian GDP report hurt the shaky Aussie. GDP gained just 0.2% in Q2, its weakest showing since Q2 of 2013..  US employment numbers were mixed,  last week, which only  complicates things for the  Fed, as it mulls over a rate hike. Manufacturing  PMI was a disappointment, slipping to its lowest level since June 2013.
[do action="autoupdate" tag="AUDUSDUpdate"/]
AUD/USD graph with support and resistance lines on it. Click to enlarge: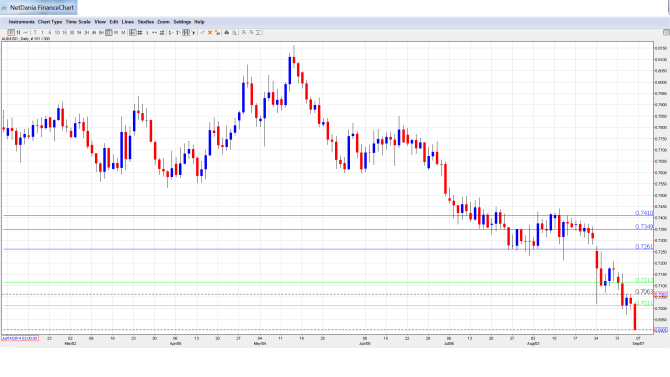 AIG Construction Index:  Sunday, 23:30. After a disappointing slide in June, the index bounced back with stronger reading in July, coming in at 47.1 points. However, this still points to ongoing contraction in the construction industry, as the index has failed to crack the 50-point barrier since March.
ANZ Job Advertisements: Monday, 1:30. This housing inflation index provides a snapshot of the level of activity in the housing sector. The index rebounded in June, coming in at 0.5%. This indicator provides  a snapshot of the level of activity in the employment market. The June report was a disappointment, with the indicator posting a decline of 0.4%.
Chinese Trade Balance:  Tuesday, Tentative. The Australian dollar is sensitive to Chinese key data such as Trade Balance, as China is Australia's largest trading partner. China's trade surpluses have been slipping, and fell to $43.0 billion in July, well under the estimate of $53.4 billion. However, the downward trend is expected to reverse directions in the August release, with the estimate standing at $48.6 billion.
NAB Business Confidence:  Tuesday, 1:30.   Confidence in the business sector often translates into increased spending and hiring, so traders should treat this event as a market-mover. The indicator slumped to just 4 points in July, down from 10 points a month earlier.
Westpac Consumer Sentiment:  Wednesday, 00:30. Consumer confidence is a driver of consumer spending, a key component of economic activity. The indicator was outstanding in August, with a gain of 7.8%.
 Home Loans:  Wednesday, 1:30. Home Loans provides a snapshot of the level of activity in the housing sector. The indicator  improved  by 4.4% in June, shy of the  forecast of 5.2%. The estimate for the July report stands at 0.8%.
RBA Deputy Governor Philip Lowe  Speaks:  Wednesday, 2:00. Lowe will  make a speech about the Australian economy in Melbourne. Analysts will be looking for any hints as to the RBA's monetary stance.
RBA Assistant Governor   Guy Debelle Speaks:  Wednesday, 9:00. Debelle will deliver remarks at a conference in London. A speech which is more hawkish than expected in bullish for the Australian dollar.
MI Inflation Expectations:  Thursday, 1:00. Inflation expectations often translate into actual inflation figures, so analysts keep a close eye on this indicator. The indicator continues to climb and posted a gain of 3.7% in July.
Employment Change:  Thursday, 1:30. Employment Change is one of the most important economic indicators, and an unexpected reading can have an immediate impact on the movement of AUD/USD. The indicator looked sharp in July, with an excellent gain of 38.5 thousand, crushing the estimate of 10.2 thousand. A much smaller  gain of 5.2 thousand is expected in the  August report.  The unemployment rate jumped to 6.3% in July, compared to 6.0% a month earlier. Little change is expected in the August release.
Chinese CPI:  Thursday, 1:30. Despite the Chinese slowdown, inflation has been moving higher, and improved to 1.6% in July. This marked a 9-month high. The markets are expecting the upward trend to continue in the August report, with  a forecast of 0.9%.
* All times are GMT.
AUD/USD Technical Analysis
AUD/USD opened the week at 0.7138 and quickly touched a high of 0.7158.  It was downhill after that, as the pair  dropped sharply and touched a low of 0.6899,  breaking below  support at  0.6931 (discussed last week). AUD/USD closed the week at 0.6905.
Live chart of AUD/USD: [do action="tradingviews" pair="AUDUSD" interval="60″/]
Technical lines from top to bottom:
With AUD/USD posting sharp declines, we start at lower levels:
0.7410 marked a high point for the pair in August.
0.7346 was an important cap in July 2004.
0.7266  has strengthened in resistance as the pair posted sharp  losses last week.
0.7113 was easily breached and has switched to a resistance line.
0.7011 was protecting the symbolic line of 0.70, and has switched to a resistance role.
0.6931 is currently a weak resistance line and could see more action this week.
0.6843 has held firm since May 2009 but is under strong pressure.
0.6733 was an important support level back in October 2003.
0.6622 in the  next support line.
0.6480  is the final support level for now. It has held firm since March 2009.
I am bullish on USD/AUD
The Chinese slowdown continues to weigh on the Australian  dollar, as Australia is heavily dependent on the Asian giant. In the US, mixed data continues to make it difficult to anticipate what the Federal Reserve will do regarding a rate hike. Will the Fed press the rate trigger? In our opinion, there is a good chance of a "dovish rate hike".
In our latest podcast, we discuss if the NFP is  enough for a Fed hike, drill down Draghi and more:
Further reading: