The Aussie had a good, optimistic week. Will this continue? Here's an outlook for the 5 events that will impact the Aussie this week, and an updated technical analysis for AUD/USD.
The Australian dollar enjoyed an upbeat view on the economy in the meeting minutes. Glenn Stevens, the head of the RBA, will have another chance to rock the currency now.
AUD/USD chart with support and resistance lines marked. Click to enlarge: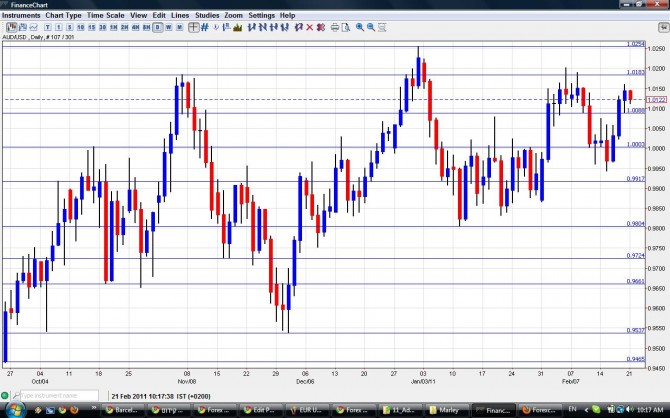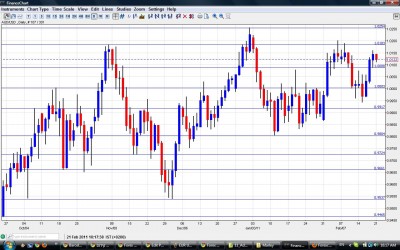 Glenn Stevens talks: Tuesday, 22:00. The governor of the central bank has expressed optimism about the economy in recent public appearances, especially in the rate statement. Speaking in front of a conference in Melbourne, Stevens will have an opportunity to state his views about monetary policy, and to rock the Aussie.
Wage Price Index: Wednesday, 00:30. This indicator is of importance as it's published only once per quarter, and it combines inflation and employment. Q3 2010 saw a significant rise, 1.1%, higher than previous quarters. The growth rate is expected to slow, with a rise of 0.9%.
Construction Work Done: Wednesday, 00:30. Also a quarterly figure, this one deals with the housing sector. Q3 was very disappointing, with a drop of 2.1%, while expectations stood on a rise. A recovery is expected this time – a rise of 1.5%. The housing sector was hit by the rate hikes.
CB Leading Index: Wednesday, 23:00. Most of the 7 indicators that this composite index is built of were already published. Nevertheless, the publication always shakes the Aussie. Last month saw a stable growth rate of 0.3%. A similar rise is expected now.
Private Capital Expenditure: Thursday, 00:30. Perhaps the most significant figure this week, this gauge of the private sector, on a quarterly scope, has significant correlation with GDP. After a whopping leap of 2.% in Q3, a more moderate rise is expected now – 2.2%.
* All times are GMT
AUD/USD Technical Analysis
The Aussie began the week in a bad way, falling below parity. A recovery followed and the pair settled above the 1.0080 line (mentioned last week). It's now back in the high range.
Looking up, there aren't too many resistance lines. 1.0180 was the top border of that November range, and also provided tough support now. It serves as immediate resistance.
Above, the multi-year high of 1.0254, reached at the end of 2010 is he next resistance line. Beyond, it's unchartered territory.
Looking down, 1.0080, which was resistance for quite some time, now turns into support after having this role just now. It's followed by the obvious line of parity, although it is less important than beforehand.
Lower, minor support is found at 0.9915, which was a peak on the way up.  It's followed by 0.98, the lowest level in 2011 so far. It prevented further falls
Below, 0.9724, that  was a tough line beforehand and is minor support now.  , 0.9660 worked in both directions, and especially as a cushion back in October.
Further below, 0.9540 which was the bottom in November and also in September  serves as important support. There are further lines below, but they're too far at the moment.
I remain bullish on AUD/USD.
The strength of the Australian economy still pushes the pair higher, despite the Chinese tightening moves.
Further reading: