The Australian dollar pushed higher during the week, but gave up most of those gains, to close the week at 1.0058. The upcoming week has  only three releases  . Here is an outlook for the Australian events, and an updated technical analysis for AUD/USD.
Housing Starts were very weak, and Chinese data indicated further contraction in the manufacturing sector, which is weighing on the Australian dollar.
Updates: RBA Assist Governor Guy  Debelle will deliver a speech in Adelaide on Tuesday. AUD/USD has dropped, as the pair  dipped below the parity line,  and was trading at 0.9996. There are no economic releases scheduled until Thursday. AUD/USD climbed above the important parity line, and was trading at 1.0051. HIA New Home Sales, which looked sharp in May, will be released on Thursday. The aussie has strengthened slightly, as it continues to stay above parity. USD/AUD was trading at 1.0075. After a terrific reading in May, New Home Sales declined sharply, but still managed to stay in positive territory. The indicator posted a modest 0.7% gain. Private Sector Credit will be released on  Friday. The  aussie briefly crossed above the 1.01 line, but then retraced, as AUD/USD was trading at 1.0057.  
AUD/USD graph with support and resistance lines on it. Click to enlarge: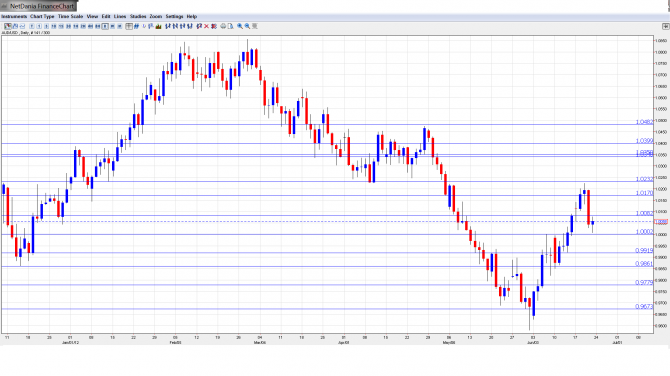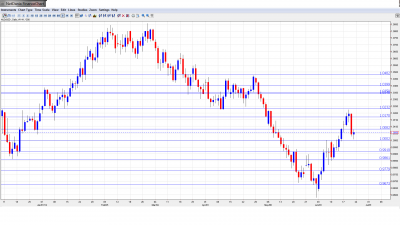 RBA Assist Governor Guy Debelle Speaks: Tuesday, 3:50. The markets will be  looking for  clues as to the central bank's future monetary policy when  the  Assistant Governor speaks. A speech that is considered more hawkish than expected is bullish for the Australian dollar.

HIA New Home Sales: Thursday, tentative. This  leading indicator is highly volatile, making accurate market forecasts tricky. New Home Sales was up 6.9% last month, its best performance in 2012. Will we see another strong reading in June?

Private Sector Credit: Friday, 1:30. This indicator has been very steady, with the past three consecutive readings posting figures of 0.4%. The market forecast for June is up   notch, at 0.5%.
* All times are GMT.
AUD/USD Technical Analysis
AUD/USD opened at 1.0113. The pair climbed to a high of 1.0224, as the resistance line of 1.0230(discussed last week)  held firm.  The pair then    retraced, as it dropped perilously close to parity, reaching 1.0008. AUD/USD then moved up, closing the week at 1.0058.
We  start with strong resistance at 1.0482. This line has held firm since March. Below, there is resistance just above the 1.04 line, at 1.0402. This line saw a lot of movement before the aussie's sharp slide in May. Close by, 1.0340 is the next line of resistance. Below, the line of 1.0230 held firm this week as the  aussie showed  some strength before retracting.  Next,  1.0174 was   briefly breached by the pair, but continues to act in a resistance role. Below  is the line of 1.0080, which is providing weak resistance.
AUD/USD is now finding support at the parity line. This  important level  could be tested if the aussie  continues to weaken.  The next support level is 0.9917, which was recently in a resistance role. Below, there is support at 0.9860. This is followed by 0.9780, which has held firm since last November.
The next support line is 0.9668. This is followed by support at 0.9580. Since dropping to this level in the first week of June, AUD/USD has rebounded in impressive fashion. Next, there is strong support just above the 0.94 level, at 0.9405. Our final support line for now is at 0.9294, which has held firm since September 2011.
I am  bearish on AUD/USD.
The Australian dollar has looked like a rollercoaster ride in the months of May and June.  Economic  data  has been mixed, but  recent Chinese data indicates slower growth in the Asian giant's economy. This is  of particular concern  to Australia, given that China is the country's number one trading partner. With the turmoil in the Euro-zone and weakness in the US economy, investors may stick with the safe haven currencies, at the expense of the Australian dollar.
The Aussie sometimes moves in tandem with gold. You can trade binary options on gold using this technical analysis.
Further reading: