After we've seen signs of strength from the Australian economy in the past week, Aussie traders await another busy one with employment figures being the highlight. Here's an outlook for the Australian events and an updated technical analysis for AUD/USD.
The Australian economy grew at a stronger pace than expected in Q4 – 0.7%. Together with solid retail sales, the Australian economy continues to shine. Will this be expressed in a serious breakout as well?
AUD/USD daily chart with support and resistance lines on it. Click to enlarge: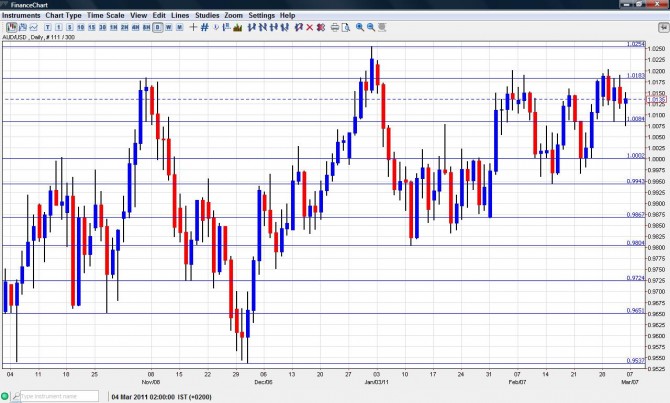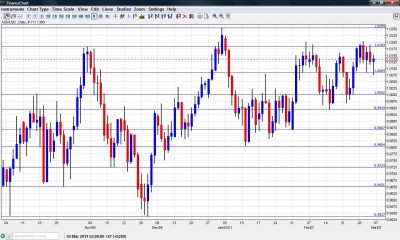 AIG Construction Index: Sunday, 22:30. The Australian Industry Group completes its PMI-like indicators from last week with the construction sector. According to AIG, this sector is contracting – the figure is at 40.2 points, quite far from the 50 point mark that separates contraction from growth. A small improvement is likely now.
ANZ Job Advertisements: Monday, 00:30. The number of jobs advertised in the media serves as an excellent indicator for the official jobs figure later in the week. The number of positions grew by 2.4% last time, and paved the way for a nice gain in jobs. A more modest growth rate is due now.
NAB Business Confidence: Tuesday, 00:30. National Australia Bank surveys around 350 businesses for this important gauge. After a drop under 0 two months ago, the indicator leaped back up, showing expectations for improving conditions. The result is expected to rise from 4 points reported last month.
Westpac Consumer Sentiment: Tuesday, 23:30. This bank looks to consumers. The survey of 1200 consumers tends to be quite volatile, yet important for the Aussie. Following a rise of 1.9% last month, consumer sentiment is expected to fall this time.
Home Loans: Wednesday, 00:30. The number of loans is directly correlated with activity in the housing sector and the situation in the economy. Recent months have been great, with the number of loans exceeding expectations and even seeing upwards revisions. After a rise of 2.1% last month, the number of loans is expected to grow again, but at a slower pace this time.
Employment data: Thursday, 00:30. The key event of the week. The Australian job market is booming – unemployment rate is only 5%, and the Employment Change figure is on the rise, usually beating expectations. The unemployment rate is expected to remain unchanged at 5% and a nice gain of 20K jobs is likely. Any result will rock the Aussie.
Chinese Trade Balance: Thursday, 2:00. Australia's main trade partner saw its huge surplus undergo significant squeezes. From 27 billion four months ago to only 6.5 billion last month. A rise back above 10 billion is expected now. If the outcome is above 20 billion, the Aussie will enjoy it.
Glenn Stevens talks: Thursday, 13:15. The governor of the central bank is due to travel to London, and speak there at a conference. Past public appearances have always rocked the Aussie. Stevens is expected to keep up his positive tone about the economy.
Chinese CPI: Friday, 2:00. Also this Chinese figure has an impact on the Australian dollar. There is fear that China is overheating – food prices are on the rise. After inflation passed the 5% mark (annually) it fell just below it last month, to 4.9%. A rise above 5% means more tightening measures that might hurt the Aussie, while a drop under 4.5% will aid it.
AUD/USD Technical Analysis
Range trading  characterized the Australian dollar in the past week. The 1.0080 and 1.0180, both discussed last week, played a major role in limiting the moves. It finally closed at 1.0135, slightly lower than last week.
Looking up, we don't find too many resistance lines. 1.0180 was the top border of  a range now and also back in November. It managed to prevent leaps very recently. It's a stronger resistance line now.
Higher, the multi-year high of 1.0254, reached at the end of 2010 is he next resistance line, the highest level since the Aussie began to float. Beyond, it's unchartered territory.
Looking down, the initial line of support is 1.0080, which cushioned any falls just now and also was resistance for quite some time.It returns to be a strong line. Below, the obvious line of AUD/USD parity is the next support line, although it isn't that significant.
Lower, we find support at 0.9940, which was a bottom in recent weeks. It's followed by the minor support line of 0.9866, which was a stepping stone before the recent move.
Further below, 0.98, the lowest level in 2011 so far. It prevented further falls.  It's followed by 0.9724, that  was a tough line beforehand and is minor support now.
Even lower, 0.9660 worked in both directions, and especially as a cushion back in October.  Further below, 0.9540 which was the bottom in November and also in September  serves as important support. There are further lines below, but they're too far at the moment
I remain bullish on AUD/USD.
The strength in the Australian economy,and the stability in the Chinese one are likely to eventually provide a breakout. Employment figures are the key, as they are the key also in the US.
Further reading: