The  Aussie  continued its huge rally. Has it reached the limit for now?  The meeting minutes from the recent rate decision is the highlight of this week's Australia events. Here is an outlook for the Australian events and an updated technical analysis for AUD/USD.
Job figures came out better than expected, but they might be a correction, rather than a change of course. AUD/USD enjoyed the high hopes for Europe in the past week and reached parity once again. Will this optimism prevail?
AUD/USD daily chart with support and resistance lines marked. Click to enlarge: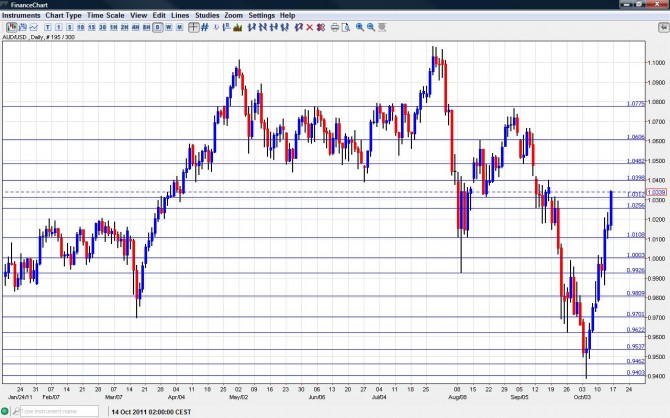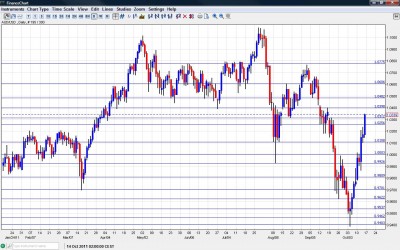 New Motor Vehicle Sales: Monday, 00:30. Sales of new vehicles provide a good gauge for the performance of the whole economy. After three months of rises, sales are expected to drop now.
Monetary Policy Meeting Minutes: Tuesday, 00:30. In the recent rate statement, there was a small hint about cutting the rates in the future. We'll now get the full details of this recent meeting, and see how close the rate cut is.
Chinese  GDP: Tuesday, 2:00. Australia's main trade partner continues growing at a rapid pace of close to 10% – 9.5% in Q2 and 9.7% in Q1. Growth is likely to have slowed down in Q3. Chinese growth is necessary for Australia's economy.
MI Leading Index: Tuesday, 23:30. The Melbourne Institute combines 9 economic for its monthly report. While a little outdated (for the month of August) this publication still has a significant impact on the Aussie.
NAB Business Confidence: Thursday,00:30.  National Australia Bank will now release its quarterly report for Q3, and this is of high importance. The index dipped from 11 to 6 in Q2, indicating a slowdown but no contraction. Another small drop is likely now, but the figure is expected to remain above 0.
Import Prices: Friday, 00:30. This is the first official inflation indicator for Q3, before PPI and CPI reports are released. After two quarters of rises in prices of imported goods, a drop is likely now.
* All times are GMT.
AUD/USD Technical Analysis
Aussie/dollar began the week with a surge. The first significant resistance was at the line of parity (mentioned last week). After the rest, the pair continued higher and ended the week with an impressive gain.
Technical levels from top to bottom:
Due to the extreme volatility of the pair, many lines are included.
We start from high ground this time: 1.0775 was encountered on the way up and was the peak of a surge in August. The round number of 1.06 worked in both directions in recent months.
1.0480 was weak support in August. The round number of 1.04 was a swing low in June and also the peak of a failed recovery attempt in September.
1.0314 was a stepping stone on the way up many months ago and also a line of support in August. The 2010 peak of 1.0254 is now weaker than earlier, but it is still of high importance.
1.01 was the area of a cushion around July and also provided support after the recent surge in October.  The next line is obvious: AUD/USD parity. The very round number has strengthened in September after capping a recovery attempt. It also proved its importance in October.
Below parity, 0.9930 is weak resistance after holding back in August. 0.9880 was a swing high in October and is another line of resistance.
The 0.98 line served as support early in the year, and serves as weak another weak line of resistance.  The next round number of 0.97 was a swing low in March and also worked as support in September.
0.9622 was a fresh low in September and is immediate support right now. This was also a line of support back in September 2010.  Lower, 0.9540 was a stepping stone on the way up back in the fall of 2010 and then provided critical support in November.
0.9460 capped the pair on the way up and then turned into support – it has the same role now.  The fresh low under 0.94 makes this round number a strong support line.
0.93 – which was a clear gap line in September 2010 and is very important support on the way down.  The last line for now is 0.9220, which was resistance more than a year ago.
I am neutral on AUD/USD.
Despite the recent surge and the better than expected job numbers, the Aussie still remains very sensitive to events in Europe, that aren't always favorable. The high volatility calls for caution.
Further reading: