The dollar is beaten across the board as expectations for QE3 mount towards the Fed decision. One of the currencies that enjoys dollar printing is the Aussie. However, this time is somewhat different, with the Aussie lagging instead of leading.
The blame partially falls on China, but not only on the economic giant. The pair is also limited by downtrend resistance.
Update:  Fed Announces QE3: $40 Billion in MBS, Open Ended, Low Rates Through 2015
AUD/USD is now trading around 1.0450, after falling from above 1.05. During the summer, the Aussie was struggling to break above 1.06.
Note the downtrend support line starting from the peak of 1.0856 at the end of February and was formed in the summer around the aforementioned 1.06 line: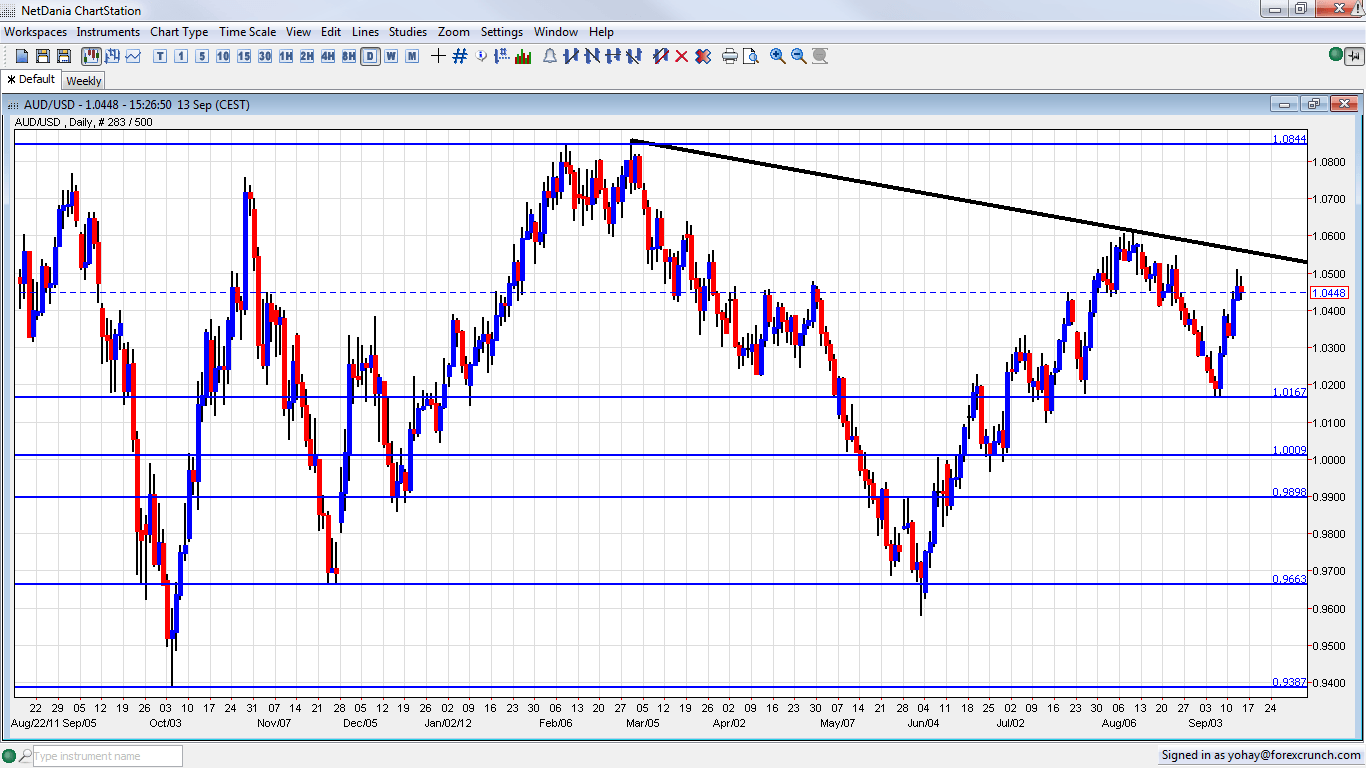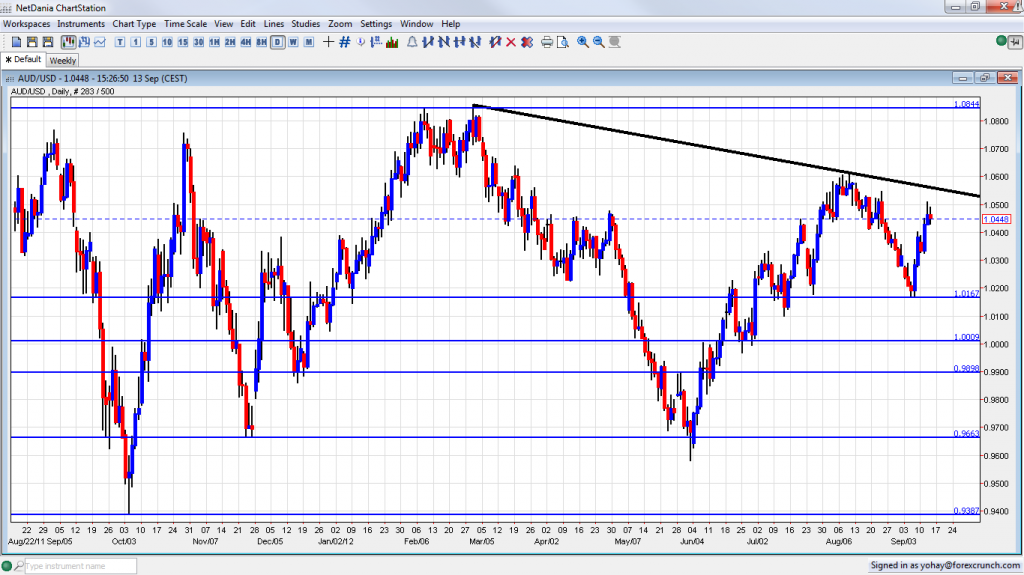 More:  EUR/USD is flirting with uptrend support
What's happening in other currencies? USD/CAD is at a one year low. NZD/USD is at the highest since April. Also outside of the commodity bloc, other currencies are at highs against the greenback:  USD/JPY is at a 7 month low and it might face intervention from the Japanese authorities.  GBP/USD is on a roll.
China and Iron
The world's No. 2 economy is slowing down. What began as an orchestrated effort to curb inflation hit the whole economy. In addition, the leadership change that the country faces isn't going so smoothly. A date for the Party's Congress is still pending and rumors about the disappearance of China's next president  Xi Jinping circulated.
But it's not only China: prices of iron ore have fallen off a cliff, and not only due to the lack of demand but due to abundant supply: mining capacity is near or at a peak.
The intense debate about the "end of the mining boom" started with the cancellation of some future projects and intensified with reports about the financial distress of Fortescue, who used to be a shining mining star.
Outside the mining sector, the Australian economy isn't that strong: housing is falling and so is retail. Employment remains very healthy and so does Australia's perfect credit rating and sound fiscal situation. However, it seems that good points about Australia were already priced in, and the troubles are now beginning to mount.
An announcement of QE3 could send the pair to challenge downtrend resistance or even the 1.06 line. A disappointment could see AUD/USD parity tested.
For more, see the AUD/USD forecast.