Inflation data is the major event this week. Here is an outlook on the major events ahead and an updated technical analysis for USD/CAD.
The BOC held its key interest rate steady at 1 percent predicting growth acceleration in 2011 although also warned that a strong Canadian dollar will detain the wishful recovery in exports. It is forecasted that the BOC will resume its tightening cycle in May, taking the overnight rate to 2 percent by year-end.
USD/CAD daily chart with support and resistance lines marked. Click to enlarge: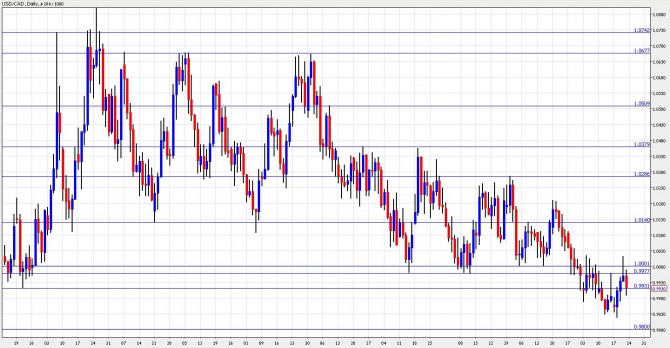 Inflation Data: Tuesday, 12:00. The consumer price index rose 0.1% in November after a 0.4 percent gain the previous month and lower than 0.3% rise expected. CPI is expected to increase by 0.2% this time.Core consumer price inflation in Canada was unexpectedly flat in November, after rising by 0.4% in October.   Analysts had expected core CPI to increase by 0.2%. A drop of 0.1% is predicted now.

World Economic Forum (WEF) Annual Meetings: Wed-Sat. WEF annual meetings are held in Davos and attended by central bankers, prime ministers, finance ministers, trade ministers, and business leaders from over 90 countries. The World Economic Forum has offered its annual evaluation of the economic situation around the globe pointing to three major problems: macroeconomic imbalances between the increasing wealth and influence of emerging economies and high levels of debt in advanced economies. Risks of illicit trade, organized crime and corruption and the gravest of all is food and water problem where Crop production cannot keep up with the predicted rise in demand. Most meetings are open to the press and officials usually talk with reporters throughout the day. Comments from central bankers and other influential officials can create significant market volatility.
*All times are GMT.
USD/CAD  Technical  Analysis
USD/CAD temporarily went deeper and reached a new low at 0.9837, still above the 0.98 support line (discussed last week). The pair then climbed back up, crossed parity but closed at 0.9930 exactly at the support line.
Looking up, 0.9977 is the immediate resistance line, after working as such in past weeks, and despite being broken in the past week. The obvious line of parity continues to be a strong line of resistance.
Beyond parity, 1.0140 served as resistance in December and also as support in the past. It is the next important line. Higher, 1.0280 also worked in both directions, being resistance recently.
Above, the next line is    1.05. It capped the pair twice during the summer and is the next minor line of resistance.  The strong 1.0680 capped the pair during July and August, for more than one day in each attempt to break higher.
Even higher, 1.0750 was a swing high during May and also the limit  of a long-term range in 2009. The last line is, 1.0850, which was also a swing high back then.
Looking down, Dollar/Cad stands exactly at 0.9930, which was the low line in 2010 and now turned into a pivotal line.
Significant support below is found at 0.98, which was a line of strong support back in 2008. It's followed by 0.97, which had the same role at the time. Every week, the pair dips a little bit lower. This is likely to slow towards 0.98.
I remain bearish on USD/CAD.
The edging up in oil prices, and the improvement in the US economy help the Canadian dollar, which also enjoys a healthy job market.
Further reading: