New Zealand's Rate decision is the major event this week. Here's an outlook for the events in New  Zealand, and an updated technical analysis for MZD/USD.
New Zealand  retail spending rose in November by 1.5% thanks to cars and fuel, while core sales declined for a second month by 0.2% due to lower food prices. Consumers are more interested in debt reduction and the rebuilding of savings than spending.
NZD/USD daily chart with support and resistance lines on it. Click to enlarge: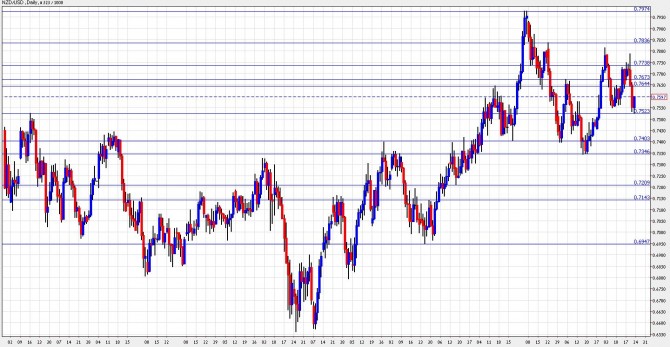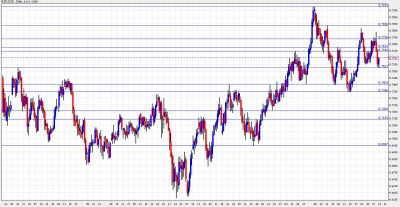 Credit Card Spending: Wednesday 2:30.  Credit Card Billings in November were 3.8% higher than a year earlier, following 4.6% rise for the October year, which was the highest annual growth rate since March suggesting consumers remain cautious after a surge in spending before a rise in the government sales tax.A similar figure is expected now.

World Economic Forum (WEF) Annual Meetings: Wed-Sat. WEF annual meetings are held in Davos and attended by central bankers, prime ministers, finance ministers, trade ministers, and business leaders from over 90 countries. The World Economic Forum has offered its annual evaluation of the economic situation around the globe pointing to three major problems: macroeconomic imbalances between the increasing wealth and influence of emerging economies and high levels of debt in advanced economies. Risks of illicit trade, organized crime and corruption and the gravest of all is food and water problem where Crop production cannot keep up with the predicted rise in demand. Most meetings are open to the press and officials usually talk with reporters throughout the day. Comments from central bankers and other influential officials can create significant market volatility.

Rate Decision Wednesday: 20:00. The Reserve Bank of New Zealand left its official cash rate on hold at 3.0%. No great rate hikes are expected within the next two years. Although continued household and business caution suggests current low interest rates are having a less stimulatory effect than in the past. The same rate is expected to be maintained. The same Rate is expected to be maintained.
* All times are GMT.
NZD/USD Technical  Analysis
After another surge, and a break above 0.7736 (mentioned last week), the kiwi plunged lower. It found support only at the historic line of 0.7523 before closing at 0.7597.
Looking down, strong support appears at 0.7523, that was a peak a long time ago, and provided support for the kiwi just now. Below this strong line, 0.74 is yet another strong line of support, after cushioning a fall a few months ago.
When 0.74 was finally broken, it was followed closely by 0.7350 – which is now of high  importance  as well.  Below, 0.7210 was a stepping stone for the kiwi on the way up and now provides support.
Even lower, 0.7140 was a resistance line in July and also in August, and now works as support. The last line for now is 0.6950, which was the lowest line in 6 months.
Looking up, 0.7644 provides immediate resistance – it slowed the fall of NZD/USD. Just above it, 0.7673 is another minor line of support.
Above, 0.7738 is a minor line – it provided support at the beginning of November.  Higher, 0.7975 was the 2010 high and serves as strong resistance, just under the round number of 0.80.
Even higher, 0.81 was an important resistance level back in 2008, and it's followed by the all-time high of 0.8214.
I remain bearish on NZD/USD.
Despite food inflation which supports the commodity-oriented economy, the weakness in Australia together with the local weakness, push the currency lower.
Further reading: