The fist round of the presidential elections in France resulted in a minor victory for Hollande over incumbent Sarkozy. This was widely expected, yet looking deeper into the results leaves room for a lot of uncertainty towards the second round.
EUR/USD reacted with a Sunday gap and lost the line it hardly managed to conquer in the late hours of Friday. Will the pair extend the move when more traders return from the weekend?
Euro/dollar is now trading at 1.3188. It closed at 1.3218 on Friday and opened lower, The break above the 1.3212 was seriously doubted due to the late hour, and now it seems like a false break indeed.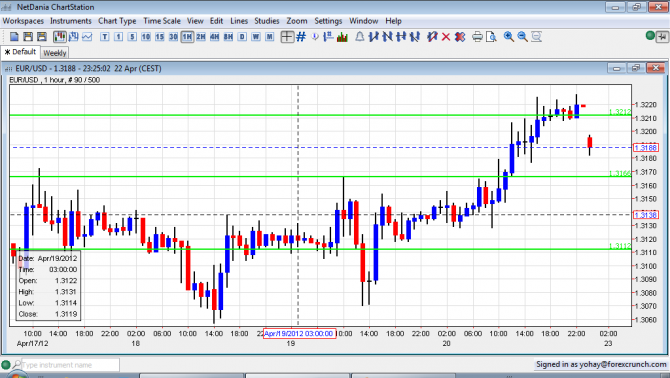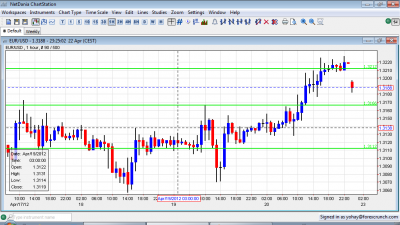 Support is found at 1.3165, which capped the pair twice last week, and then by 1.3110. For more on the euro, see the euro to dollar forecast.
French president Nicolas Sarkozy is the first incumbent president to lose the first round. With 75% of votes counted, he is second to the main opposition candidate Françios Hollande of the socialists.
Extreme right wing candidate Marine Le Pen eventually surprised with nearly 20% of the vote, while extreme left candidate  Jean-Luc Mélenchon got only around 11%.
So can the extremes balance the picture between the main candidates? If so, it leaves a lot of uncertainty. But this is far from clear.
Mélenchon and another leader of a left wing party immediately called their supporters to vote for Hollande. The right wing parties aren't quick to call their voters to rally for Sarkozy. Polls suggest that many of them will stay at home in the May 6 runoff.
Sarkozy is considered more pro market, while Hollande is on the opposite side. Both pledged to cut the deficit, but they differ in speed and details: Sarkozy wants more entitlement cuts while Hollande leans more to taxation.
See more  French Presidential Elections and the Euro