GBP/USD was in a strong down trend this week falling to 1.6320 support and bottomed at 1.6280. The pair was affected by negative news from the UK as well as an interest rate drop from EZ. Cable declined below support at 1.6575 to continue its selloff, then the pair was consolidating in a tight range around 1.6460 and eventually broken out of there. GBP/USD found support near 1.6280 and may at least temporary rebound from there to resistance at 1.6460. The pair developed this week POC around 1.6460 and VA in range of 1.6420-1.6640. VAL at 1.6420 is expected to be first resistance to consider next week. A rise above 1.6420 will open the way to POC at 1.6460. This resistance can also limit the retreat on the upside and bring more bearishness to 2014 Low at 1.6260.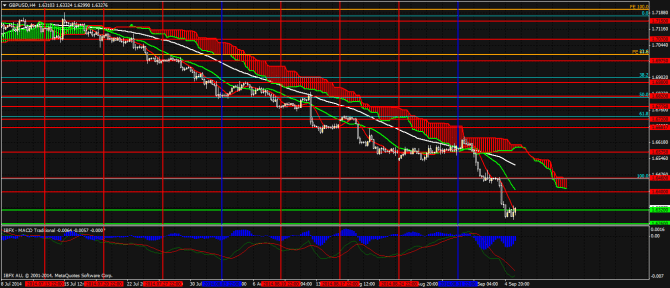 On the upside, GBP/USD may find support at 1.6280 and rebound to first resistance at 1.6420 its weekly VAL. If the resistance mentioned above is broken, next target will be weekly POC around 1.6460. In case of an advance above, the pair is expected to target 1.6575. If the pair rises above this resistance, the way to 1.6720 will be open. A jump above 1,6720 will signal GBP/USD climbing as high as 1.6770. If this resistance is broken, the cable will probably soar to 1.6820. An advance above 1.6820 will open the way for further rise to 1.6880 next. A rise above this resistance will pave the road to monthly July VAL around 1.6975. If the pair climbs above 1.6975, this will set 1.7070 resistance for test next.If the pair climbs above the resistance mentioned above cable will probably target 1.7130-50 next.If GBP/USD soars above 1.7150 it will try to test recent high around 1.7200. The rise above 1.7200 will probably mean GBP/USD is going to target 1.7500.
On the downside, GBP/USD is in a strong downtrend furher bearishness is very likely. This week the pair has broken strong support at 1.6400, so the first target now is at 1.6260, this year Low. A plunge below this support will open the way to next target near 1.6000-50. If GBP/USD plunges below there, down target will probably continue to 1.5850.
Guest post by Dmytro Nest of NestFX