The US is gaining jobs at a solid and steady pace, but the salaries are lagging behind, with average hourly earnings rising at only 2% y/y. There is a lag between a return to GDP growth and job growth, and between job growth and salary hikes. In the current cycle, this has been extraordinarily slow and painful.
But is it about to end? After talking about the correlation between employment and wage hikes and also noting the optimistic ADP Workforce Vitality Index, here is another figure that could show a rise.
The  Employment Cost Index is  a lagging quarterly indicator compared to the fresh Non-Farm Payrolls report that appears just after the month ends. It is also overshadowed by other figures and reported in Q/Q figures, therefore somewhat distracting us from the bigger picture which is seen in the y/y look.
And this is the picture, from the  Federal Reserve Bank of Saint Louis: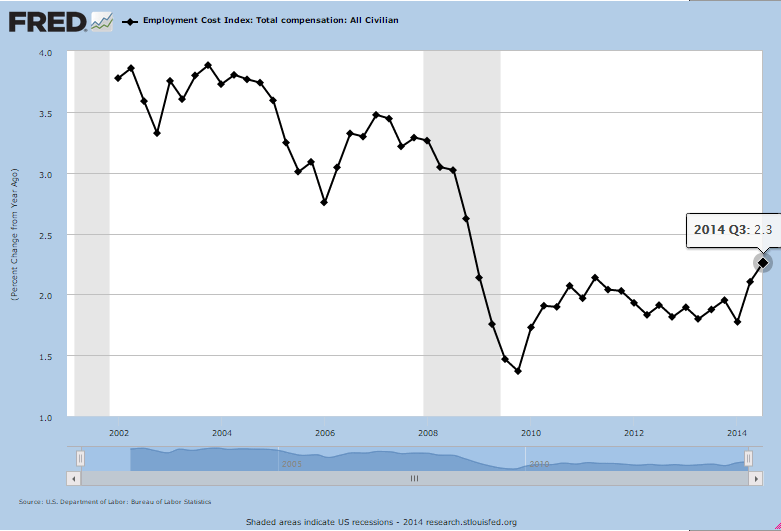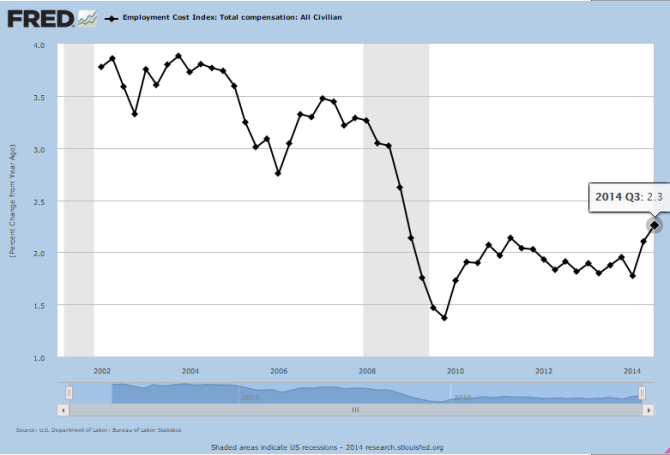 The Year over year employment cost index has risen by 2.3% in Q3 2014, the highest since Q4 2008, when the global financial crisis was raging.
The graph above looks at "All Civilian".  Other measures such as the one for the private sector are showing similar levels.This is still far from the 3-4% levels seen before the crisis, but certainly moving forward.
When do I get a raise?
Is this enough? Not yet.  We would need to see  at least another quarter to see that it's not a one off, and we would to see wages rising in the Average Hourly Earnings in the Non-Farm Payrolls report.
When do people upgrade their salaries?
When they change a job: people usually switch jobs for an upgrade also in their salary. The "Quits" rate is high according to the latest JOLTs report and the ADP  Vitality Index showed that wages are rising 5.32% q/q when changing jobs.
In the turn of the year: Many companies hold annual review talks with their employees towards the end of the year, and salary hikes, if granted, are seen in the wake of the new year: in January's payroll.
We will probably not see any exciting news about wages in  October's NFP report, but by February's job report, that is released in early March, we can already expect a more significant move in wages, that would  already show that the Fed is behind the curve in some measures. The Fed is still a dovish institution.
The Fed has a dual mandate of price stability and full employment and the measure that combines both inflation and jobs is stuck.
But if wages begin rising, the Fed could hike in March.