The Bank of Japan chose to maintain its ultra-easy policy on Friday.
The Federal Reserve chose to keep interest rates unchanged on Wednesday.
Investors await the upcoming testimony of Federal Reserve Chair Jerome Powell to Congress.
Today's USD/JPY forecast is bullish. On Monday, the dollar rose slightly as investors continued to digest the outcomes of many central bank meetings held the previous week. Of notable significance was the decision by the Bank of Japan to maintain its ultra-easy policy. This has contributed to the vulnerability of the yen. 
-If you are interested in forex day trading then have a read of our guide to getting started-
As widely anticipated, the Bank of Japan, on Friday, opted to maintain its short-term rate target of -0.1% and a 0% cap on the 10-year bond yield in its yield curve control policy. The Bank of Japan's commitment to its ultra-easy policy has significantly impacted the yen's overall fragility in the foreign exchange markets.
Another major event last week was the Federal Reserve's decision to keep interest rates unchanged on Wednesday. However, the central bank hinted at the possibility of future rate hikes to curb inflationary pressures. This stance has caught the attention of market participants who are closely monitoring the trajectory of US monetary policy.
Looking ahead, market focus is anticipated to shift towards the upcoming testimony of Federal Reserve Chair Jerome Powell to Congress later in the week. Analysts and investors eagerly await Powell's remarks as they anticipate a potentially hawkish stance.
Notably, since the conclusion of the recent central bank meeting, several Federal Reserve officials have already expressed a more hawkish tone. Consequently, there could be a shift in the central bank's monetary policy approach.
USD/JPY key events today
Today will likely be a slow session for USD/JPY as the US observes a public holiday. Furthermore, investors don't expect important economic releases from Japan.
USD/JPY technical forecast: Bulls seem ready to go beyond 142.00.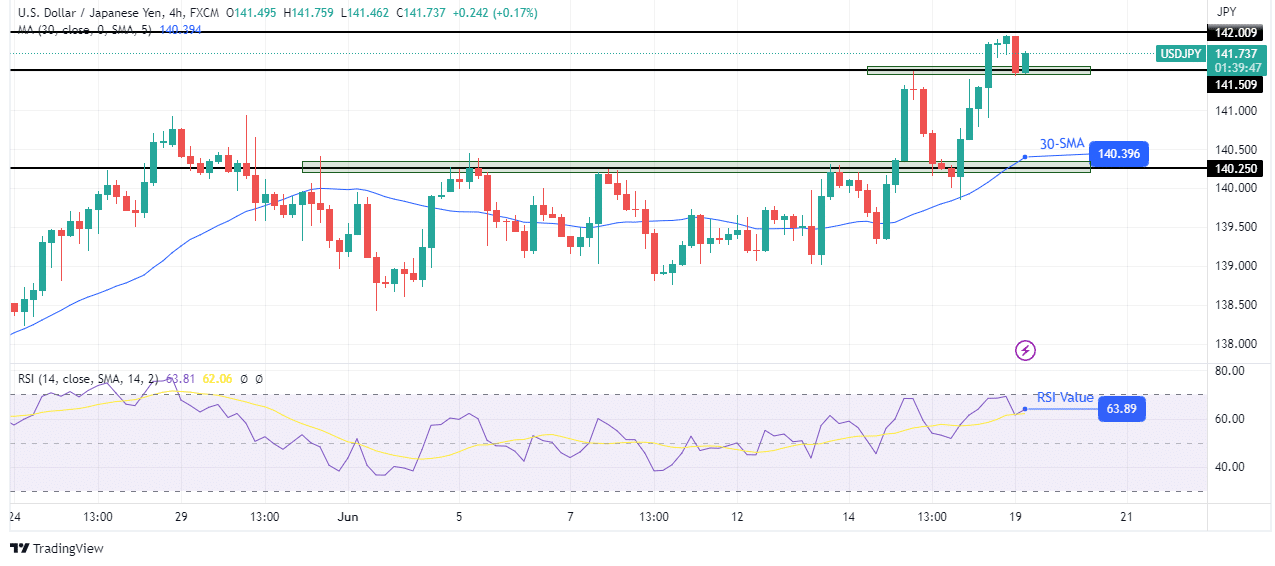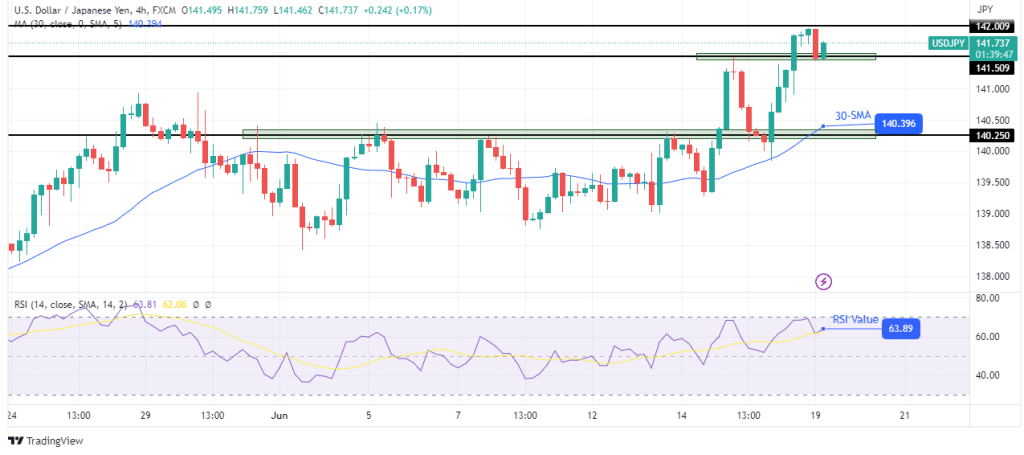 The bullish bias for USD/JPY strengthened after the price broke above the 141.50 resistance level. This is because the price made a new high, pushing farther away from the 30-SMA. Moreover, solid bullish momentum exists, with the RSI trading above 50.
-Are you looking for the best AI Trading Brokers? Check our detailed guide-
After the pair hit fresh highs near 142.00, the price returned to retest the 141.50 level as support. After that, the bulls have returned and seem prepared to challenge the recent highs at 142.00.
Looking to trade forex now? Invest at eToro!
67% of retail investor accounts lose money when trading CFDs with this provider. You should consider whether you can afford to take the high risk of losing your money.