Investors bet on a further increase in dollar yields
Some market participants anticipate that Japanese authorities will step in at the 150 level.
The BOJ is not allowing domestic yields to increase sharply.
In today's USD/JPY forecast, a slightly bullish sentiment emerges as the Japanese yen shows signs of weakening. It briefly reached 150 per dollar. This occurred as investors bet on a further increase in dollar yields. At the same time, some anticipated that Japanese authorities would step in to influence the markets. 
-Are you interested in learning about the forex signals telegram group? Click here for details-
Meanwhile, the ongoing risk of the Israel-Hamas conflict expanding into a broader regional crisis had the markets on edge. Israeli air strikes hit Gaza early on Monday, and the US deployed additional military assets to the region. 
Elsewhere, US Treasuries remained relatively calm as investors prepared for US GDP data later in the week. Ten-year yields hovered around 4.98%, briefly surpassing 5% last week following remarks by Fed Chair Jerome Powell. He suggested that the strong US economy and tight labor markets justify tighter financial conditions. 
Notably, the yen reached 150.14, a level last observed on October 3. At the time, some suspected that the Bank of Japan (BOJ) had intervened to nudge it toward the stronger side of 150.
Additionally, there was speculation that the BOJ might adjust its yield-curve policy band at an upcoming policy review. However, it has also demonstrated its intention to prevent domestic yields from increasing sharply. Yields decreased Friday after the BOJ announced additional loans to encourage financial institutions to purchase JGBs.
USD/JPY key events today
The pair will likely keep hovering near 150 as traders do not expect any major events from the US or Japan.
USD/JPY technical forecast: Price caught between 30-SMA support and 150.00 resistance.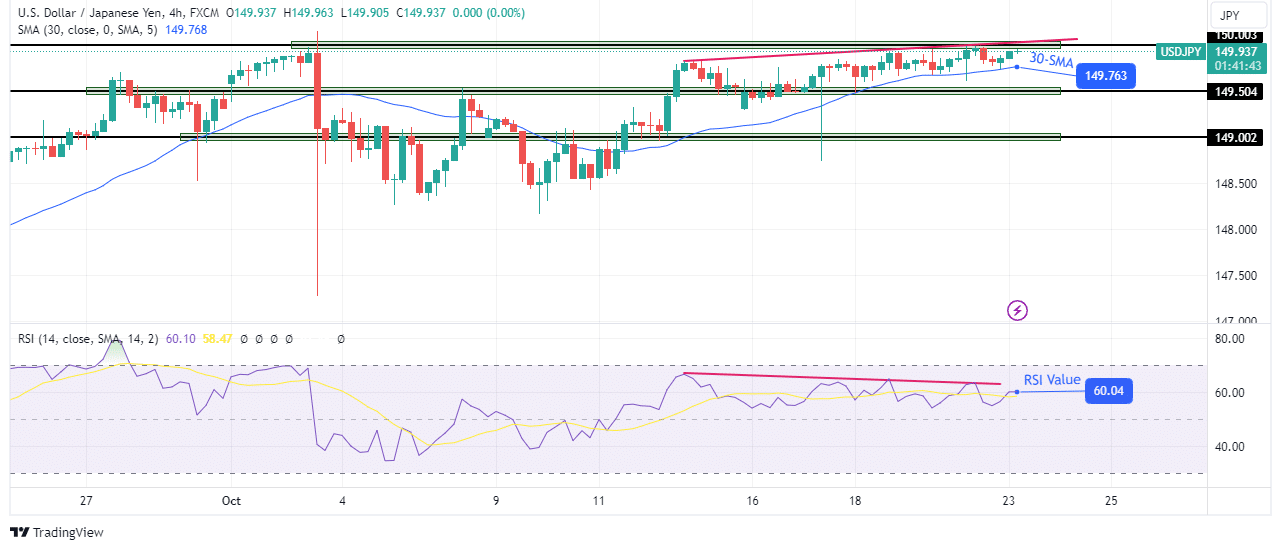 USD/JPY oscillates between the 30-SMA support and the 150.00 key resistance level. The range gets tighter with time, meaning the price will likely soon break out above or below. Currently, the bias is bullish as the price sits above the 30-SMA and is making higher highs. However, the RSI shows weakness in bullish momentum. 
-Are you interested in learning about forex indicators? Click here for details- 
There is a slight bearish divergence between the RSI and the price that might lead to a bearish takeover. The price will likely break below the 30-SMA and the 149.50 if the divergence plays out. On the other hand, if bulls regain strength, the bullish trend will continue above 150.00.
Looking to trade forex now? Invest at eToro!
68% of retail investor accounts lose money when trading CFDs with this provider. You should consider whether you can afford to take the high risk of losing your money