Inflation data and GDP are the major events this week. Here's an outlook for the Canadian events, and an updated technical analysis for the Canadian dollar.
Canadian economy is highly reliant upon the US. Without a strong U.S. recovery it's going to be hard for Canada to improve the trade balance and it's going to be even harder with a strong currency. U.S. is buying the smallest share of Canada's shipments abroad since November 1982. Are we to expect the BOC to intervene in the market?
USD/CAD daily chart with support and resistance lines marked. Click to enlarge: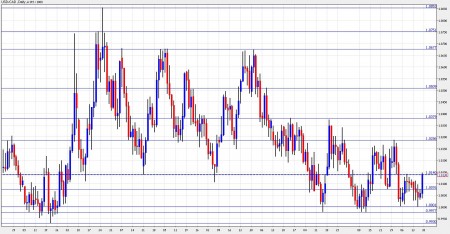 Let's start:
Wholesale Sales: Monday, 13:30. Canadian domestic economy continues to grow despite mounting headwinds from abroad that are restraining exporters and manufacturers. Wholesale trade rose 0.4 per cent to $44.8 billion in September, much better than the 0.3 per cent decline anticipated. Wholesale trade inventories increased for the fifth time in six months, rising 0.5 per cent to $53 billion in September. Wholesale trade is expected to grow by 0.8% this time.
Inflation data: Tuesday, 12:00. Core consumer price index, which excludes the 8 most volatile items, rose by a seasonally adjusted 0.4% in October, after rising 0.2% in September after analysts had expected a mere 0.1% increase. The same with CPI, which includes more volatile food and energy costs, rose more-than-expected, increasing by 0.4% in October, after rising by 0.2% in September while the forecasts predicted 0.2% rise. Core CPI is expected 0.3% rise and CPI 0.4% rise.
Retail Sales: Tuesday, 13:30. Canadian retail sales rose 0.6% for the fourth consecutive month in September after analysts had expected a 0.7% gain indicating consumer spending is recovering after rough months. The largest increase was due to motor vehicle and parts dealers, who saw sales rise 1.2 %. 0.5% rise in Retail Sales is expected now.
GDP: Thursday 13:30. GDP by industry declined 0.1 percent in September after rising 0.3% in August contrary to 0.1% rise expected by analysts. The main reason for this drop is a decline in exports and lower investment in housing. The domestic economy is improving but export is being hurt by the strong dollar and the weak recovery in the U.S. A rise of 0.3% is predicted now.
* All times are GMT.
USD/CAD  Technical  Analysis
The Canadian dollar's trading was very choppy. USD/CAD dropped as low as parity and rising back up, closing at 1.0138, just under the 1.0140 line mentioned last week.
Looking up, 1.0140 capped the pair for another week. It also worked as support earlier in the year. Above, 1.0280 remains a strong line of resistance.
Above, the 1.0380 line is a very strong resistance line after stopping USD/CAD from  rising several  times in recent months, and is still far. The next line is    1.05 which capped the pair twice during the summer and is the next minor line of resistance.
Even higher, the strong 1.0680 worked as resistance in July and in August, for more than one day in each attempt to break higher.  The next levels are still far – 1.0750 was a swing high during May and also the limit  of a long-term range in 2009. The last line is, 1.0850, which was also a swing high back then.
Looking down, minor support is found at 1.0075, which served as support a few weeks ago. Below, USD/CAD parity proved to be strong support, for a second week in a row.
Below and very close, 0.9975  cushioned the pair's fall in the past two months and now works as support. It's immediately followed by the year-to-date low of 0.9930.
Further lines below were last seen in 2008: 0.98 and 0.97. Reaching these levels depends a lot on  oil prices.
I remain neutral on the Canadian dollar.
While the Canadian fundamentals are OK, and this will probably be seen now as well, the US dollar's strength is likely to erase any gains of the loonie.
Further reading:
Want to see what other traders are doing in real accounts? Check out Currensee. It's free..