Significant events await the loonie traders this week with the Ivey PMI and Unemployment Rate. Here's an outlook for the Canadian events, and an updated technical analysis for USD/CAD.
USD/CAD daily chart with support and resistance lines marked. Click to enlarge: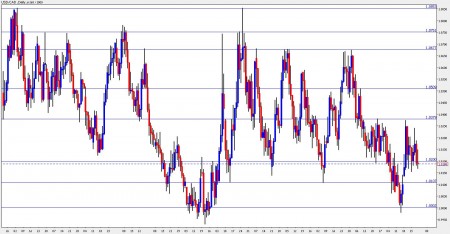 The  Canadian dollar rose at the end of the week after the  reports showed that the  economies of  Canada and  the  US expanded, boosting the  demand for  the  higher-yielding currencies when Canada's gross domestic product increased by  0.3% percent in  August following  0.1% decline in  July. Will this week's events further boost the loonie? Let's start:
Ivey PMI: Thursday, 15:00. The Canadian dollar increased its value following the release of Ivey Purchasing Managers Index or PMI report for September.The Ivey Purchasing Managers Index soared to 70.3 from 65.9 in August jumping more than expected in September suggesting the recovery is well underway. A smaller but still encouraging rise of 69.7 is expected now.
Employment data: Friday, 12:00. Canada's labor market decreased jobs for the second time in three months with 6,600 fewer jobs in September than in August, but the country's unemployment rate still managed to surprise by edging down a tenth of a point to eight per cent. The number of unemployed Canadians declined by 17,900 last month, but Canada still had 355,600 more workers unemployed in September 2010 than in October 2008, prior to the economic crisis. Unemployment is expected to remain 8.0% with a 10.1K increase in the job market.
Building Permits: Friday, 13:30. Canada's new building permits dropped 9.2% in August Canada's new building permits fell more than expected in August, as a drop in requests to construct non-residential property outweighed a rise in demand for condominiums. However since Building Permits tend to be highly volatile the overall picture is not so bad though it does show a slowdown in construction in the Canadian housing sector. A 3.4% rise is expected now.
* All times are GMT.
USD/CAD  Technical  Analysis
USD/CAD struggled at first with 1.02 (mentioned in last week's outlook) and then made a run up to 1.0339 before falling back to 1.02 and closing at 1.0188, lower than last week.
Looking up, 1.02, which was the 2009 low, provides immediate yet weak resistance. The 1.0380 line is a very strong resistance line on the upside. It capped the pair several times in recent months, and it was left untouched in the past week.
Above, 1.05 held the pair twice during August and is a tough line..  Higher, the stubborn 1.0680 served as resistance in July and in August, for more than one day in each attempt to break higher.
And above 1.0680, 1.0750 was a swing high during May and also the limit  of a long-term range in 2009. Even higher on the upside, 1.0850, which was also a swing high in May.
Looking down, the bottom of 1.01 in August serves as initial and serious resistance. USD/CAD parity is a very strong line of resistance below. USD/CAD couldn't hold on to it. The year-to-date low of 0.9930 is the next support line.
In case of a blowout QE program in the US, further levels below are 0.98 and 0.97.
I am neutral on USD/CAD.
The improvement in GDP offsets the relatively weaker data that we've seen recently. Apart from the FOMC meeting in the US, employment figures, that disappointed last time.
Further reading:
Want to see what other traders are doing in real accounts? Check out Currensee. It's free..