Hillary Clinton gave a solid performance in the first presidential debate, while Trump couldn't keep up and did not  lacked any "presidential" style. Instant polls  gave Clinton a 2:1 victory on the question: who won the debate?  This was not totally unexpected  but anything can happen in 90 uninterrupted  minutes. A few punchlines such as saying she  prepared for the debate and is ready for the presidency trumped her opponent which battled the moderator and seemed angry.
Markets usually prefer a Republican pro-business and pro-market candidate. However, Trump is anti-trade  and very unpredictable, while Clinton is mainstream. Clinton Continuation vs. Donald Disruption. The tightening of the polls towards Trump was worrying in recent weeks. And while full results of the debate impact will be seen in polls only on Thursday onwards, the  polls rating the debate and the analysts give a clear verdict. And markets are cheering.
Here is the instant poll on the debate: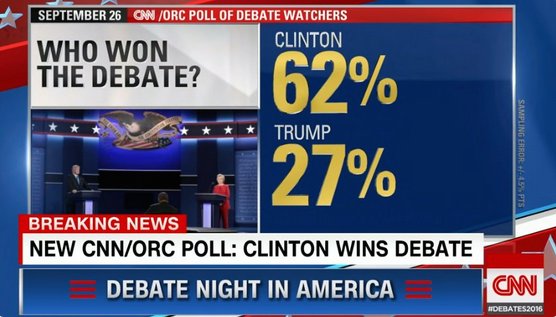 USD/JPY was getting close to 100 last night, and it is now touching 101. The yen is a safe-haven currency and at the moment, there's no need to run to the hills.
Also, the Mexican Peso enjoyed a big (or "bigly") rise. There has been some negative correlation between the currency of the southern neighbor and Trump, who  talked about building a wall between the countries.
Here is the dollar/yen chart. We explained why it could gain before the debate, and see the outcome afterward.