EUR/USD  went up and down in a narrow range while global stocks suffered amid ongoing concerns about Italy, Brexit, and trade. The highlight of the upcoming week is the all-important ECB decision. Will Draghi drag the euro lower? Here is an outlook for  the highlights of this week and an updated technical analysis for EUR/USD.
Italy extended its climbdown and offered olive branches to the European Commission. While the move was welcomed by Brussels, an agreement on the budget seems hard to come by. Final PMI's for November were OK, stopping their previous falls. German data also stabilized for a change. Brexit continues having some effect on the common currency. The government seems unlikely to pass the Brexit deal in Parliament and the uncertainty weighs. The Summit between Donald Trump and Xi Jinping was hailed as a success but Washington and Beijing differed on the details. When China aligned its commentary to comments to those of the White House, markets cheered, but the arrest of the Huawei's co-founder's daughter sent stocks plunging again. EUR/USD seemed more resilient than before to the moves.
EUR/USD daily chart with support and resistance lines on it. Click to enlarge: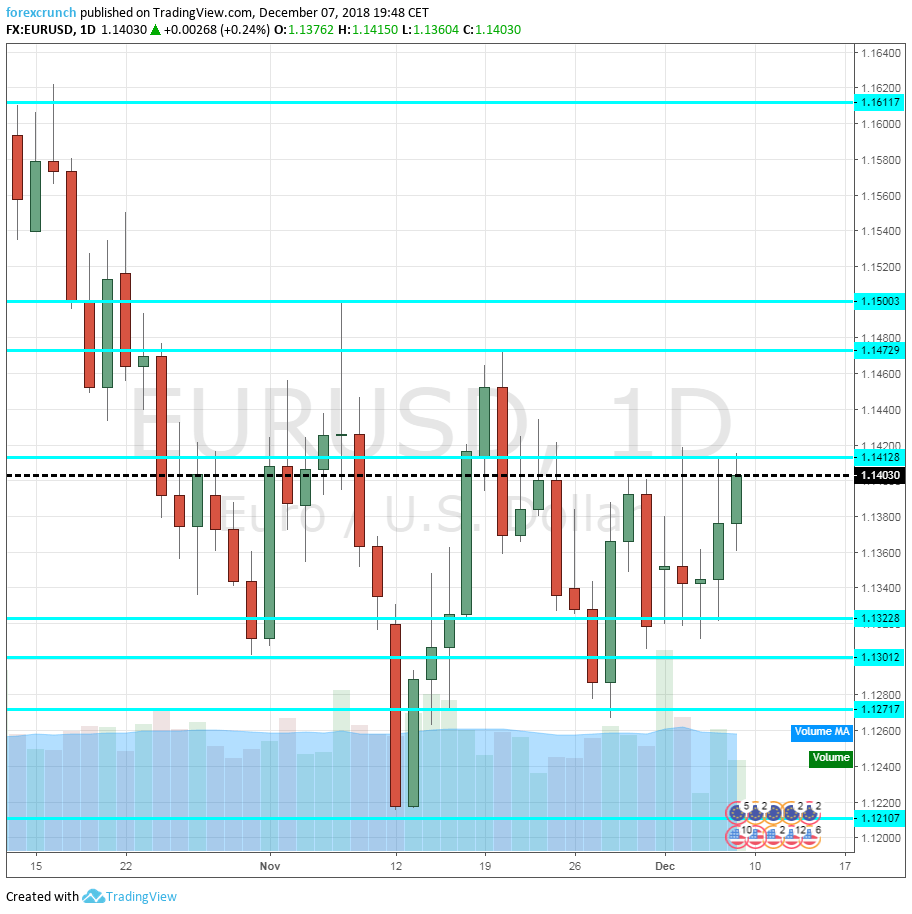 German Trade Balance: Monday, 7:00. Germany's export machine props up its broad trade surplus. However, this surplus is off its highs in recent months, standing at 17.6 billion euros in September. The data for October is due now and expectations stand at 17.2 billion.
Sentix Investor Confidence: Monday, 9:30. The survey of 2,800 investors and analysts disappointed in November with yet another drop, this time to 8.8 points. The positive number reflects optimism, but this optimism is shrinking. A slide to 8.4 is on the cards.
French Final Private Payrolls: Tuesday, 6:30. The second-largest economy in the euro-zone has seen protests in recent weeks, fueled by a proposed diesel tax but also related to the not-so-low unemployment. The initial figure for Q3 showed an increase of 0.2% in total employment. The final number will likely confirm it.
German ZEW Economic Sentiment: Tuesday, 10:00. The 300-strong survey of German analysts and institutional investors remained at the low ground in November, at -24.1 points. The negative number indicates pessimism looking forward. A similar figure is due for November. A score of -25 is projected. The all-European figure is forecast to dip from -22 to -23.2 points.
Industrial Production: Wednesday, 10:00. Despite being published after the German and French figures, the overall numbers for the euro-zone still tend to surprise. Output dropped by 0.3% in September and the report for October will likely point to a bounce. An increase of 0.2% is projected.
German Final CPI: Thursday, 7:00. The preliminary read of monthly consumer prices in November in the largest economy showed a minor increase of 0.1%. The final report will likely confirm it.
French Final CPI: Thursday, 7:45. France saw a drop in prices last month according to the first read. The slide of 0.2% will likely be confirmed in the final read.
ECB rate decision: Thursday: decision at 12:45, press conference at 13:30. The European Central Bank is set to end its bond-buying scheme at the end of the year. The upcoming decision will likely confirm this move. The ECB's QE program runs at a monthly rate of €15 billion / month from October. The Frankfurt-based institution also pledged to keep interest rates at low levels through the summer of 2019. However, recent economic figures have disappointed. The German and Italian economies contracted in Q3, core inflation is not going anywhere fast, and forward-looking PMI's are stagnant. President Mario Draghi may express some pessimism and perhaps hint that the ECB will push back the first rate hike towards the end of next year or even to 2020. The ECB will also publish fresh forecasts for growth and inflation and may downgrade some of the data points. Draghi's tone will be critical to the reaction of the euro.
Flash PMI's: Friday, 8:15 for France, 8:30 for Germany, and 9:00 for the euro-zone. Markit's forward-looking surveys for November have shown some stability after earlier drops. We will now receive the preliminary figures for December. France had a score of 50.8 points in its MAnufacturing Purchasing Managers' Index in November, barely above the 50-point threshold that separates expansion from contraction. A score of 50.7 is expected. The services sector was better off with Services PMI standing at 55.1 points. A slide to 54.8 is expected. Germany had a score of 51.6 in manufacturing and it is expected to tick down to 51.7 points. Germany's services PMI stood at 53.3 last month and 53.3 is expected. The euro-zone as a whole had a score manufacturing PMI score of 51.8 points with 51.9 now projected. The euro-zone services PMI stood at 53.1 points and the same score is expected now.
* All times are GMT
EUR/USD Technical Analysis
Euro/dollar was trading in a limited range throughout the week and failed to reach 1.1430 mentioned last week.
Technical lines from top to bottom:
1.1650 was a swing low in late August and is very closely followed by 1.1615 which played a pivotal role.
1.1500 is a very round level and also capped the pair's advance in early November. 1.1475 was a high point in mid-November. 1.1415 capped EUR/USD in early December.
1.1325 was a low point in mid-November. 1.1300 is a round number that held the pair in mid-August and late October |double-bottom) and also held the pair down in June 2017. 1.1270 served as support late in November.
1.1215 is the low point it reached in November.  Lower, we are back to levels last seen in 2017. 1.1110 was a low point back in June. 1.1025 was a stubborn cap back in May 2017.
I am bearish on EUR/USD
The economic situation in the euro-zone is worse than in the US. Draghi may be encouraged by rising wages, but inflation and growth rate going nowhere fast. Despite the expected end of QE, a dovish message will likely send the pair down.
Our latest podcast is titled  Are stocks free falling or is it a buying opportunity?
Follow us on Sticher or iTunes
Further reading:
Safe trading!