EUR/USD  managed to edge a bit higher but it certainly wasn't easy in a week that saw the greenback attempt to recover. What's next for the pair? The upcoming week features a testimony from ECB President Draghi and a mix of many economic indicators.   Here is an outlook for  the highlights of this week and an updated technical analysis for EUR/USD.
The euro-zone economies grew by 0.6% in Q4 2017, ending a great year for the currency bloc. This is the preliminary report. Headline euro-zone slid to 1.3% in January, but core inflation finally ticked up back to 1% y/y. Both figures were expected. In the US, the jobs report came out above expectations, 200K jobs gained and wages rising 2.9% y/y. It came on top of a slightly more hawkish Fed decision and helped the dollar in its recovery attempts, which were certainly met with resistance by the euro.
[do action="autoupdate" tag="EURUSDUpdate"/]
EUR/USD daily chart with support and resistance lines on it. Click to enlarge: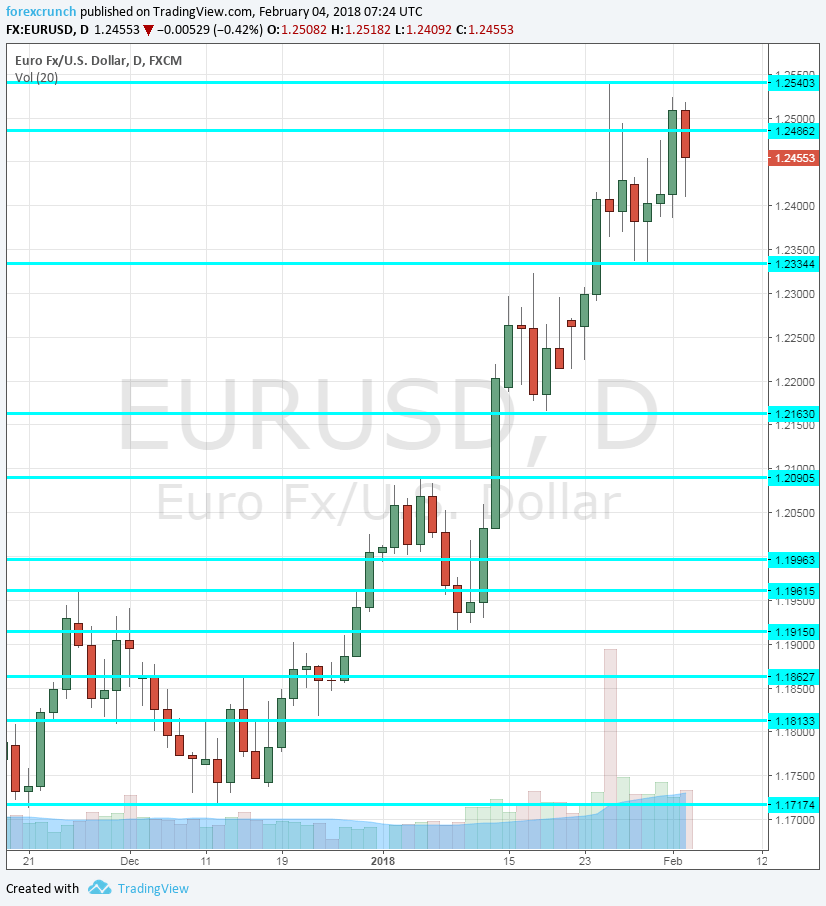 Services PMI: Monday, 8:15 for Spain, 8:45 for Italy, final French figures at 8:50, final German numbers at 8:55, and the final euro-zone outcome at 9:00. According to Markit's purchasing managers' index for Spain, the services sector had OK growth in December, with a score of 54.6 points. The number for  January is expected to rise to 55.2 points. Italy, the euro-zone's third-largest economy, is projected to see a small increase from 55.4 to 56.1 points. According to the preliminary figure for France, the services sector's score stood at 59.3 in January. Germany lagged behind with 57 points and the euro-zone had 57.6 points. These three preliminary numbers will likely be confirmed in the final read.
Sentix Investor Confidence: Monday, 9:30. The 2800-strong survey has shown a gradual increase in investor sentiment. After a score of 32.9 points in January, a score of 33.2 points is expected for February.
Retail Sales: Monday, 10:00. The volume of retail sales jumped by 1.5% in November and is expected to fall in December bny 1.1%. We already have the numbers from the main countries, which point to a slide.
Mario Draghi talks: Monday, 16:00. The President of the European Central Bank will testify in front of the European Parliament and will present the ECB's annual report. A wide array of topics will be of interest to markets: the recent inflation developments which remain subdued, upbeat growth figures and of course, the exchange rate. Draghi often moves the euro.
German Factory Orders: Tuesday, 7:00. The euro-zone's locomotive has seen factory orders slip by 0.4% in November, in this often volatile indicator. A bounce back is on the cards: 0.6% in December.
Jens Weidmann talks: Tuesday, 9:00. and Thursday, 8:45. The President of the German central bank, the Bundesbank, will be speaking in Frankfurt in two separate events. If Weidmann supports ending the QE program in September, it will be no surprise, as he is a known hawk. Yet if he hints that his views are gaining traction within the Governing Council, that would be news.
Retail PMI: Tuesday, 9:10. Markit's forward-looking survey for the retail sector has been gradually moving upwards, reaching a score of 53 in December. Another small rise is possible in January.
German Industrial Production: Wednesday, 7:00. Similar to the factory orders figure, Germany's industrial production rose in November, by a surprisingly strong 3.4%. And also here, a downwards correction is forecast: 0.4%.
French Trade Balance: Wednesday, 7:45. The continent's second-largest economy has chronic trade deficits. The deficit widened to 5.7 billion euros in November. A narrower deficit of 4.8 billion is on the cards now.
German Trade Balance: Thursday, 7:00. Contrary to France, Germany has a very wide trade surplus, something that keeps the euro bid. After enjoying a surplus of 22.3 billion in November, a drop to 20.4 billion is on the cards now.
ECB Economic Bulletin: Thursday, 9:00. The ECB publishes the data it used in its last rate decision two weeks after the event. The document provides a deeper dive into the considerations of the central bank and usuallly echoes the sentiment. We can expect more upbeat comments on growth and employment with caution about inflation.
French Industrial Production: Friday, 7:45. France saw industrial outptut slide by 0.5% in November, and a bounce back with 0.3% is on the cards for December.
:* All times are GMT
EUR/USD Technical Analysis
Euro/dollar initially struggled with 1.2490, mentioned last week. It then wobbled around those levels.
Technical lines from top to bottom:
1.2725 is high up in the sky but worth mentioning. 1.2537 is the peak in late January 2018 that didn't hold for a long time.
1.2490, just below the round level of 1.25, capped the pair in late January as well. 1.2345 provided support to the pair in early February.
More serious support is at the round number of 1.23, which capped the pair several times in January 2018.  1.2165 is a swing low after the move.
The 2017 peak of 1.2090 remains important.  1.20 is the obvious round level and also worked as resistance in September.
1.1950 was the high level seen in November and a stepping stone towards 1.20.  1.1860 capped the pair in August and in October while working as support in September.
1.1820 worked as a cushion to the pair in late November and works as weak support.  1.1760 served as a cushion in November and also played a role beforehand.
I turn from bullish to bearish on EUR/USD
While EUR/USD managed to end another week on the upside, it is beginning to lose momentum. The excellent US jobs report is not fully priced in. Draghi may have a better chance at preventing the euro from rising.
Follow us on Sticher or iTunes
Further reading:
Safe trading!