EUR/USD  had yet another excellent week, rising to higher ground on the US dollar weakness and Draghi's unsuccessful jawboning. What's next? The upcoming week features all-important GDP and inflation numbers. Here is an outlook for  the highlights of this week and an updated technical analysis for EUR/USD.
The ECB left the rates unchanged and will take its time with announcing the next steps in its QE program. ECB President Mario Draghi mentioned the exchange rate but his complaints were feeble  allowing the euro to rise and shine. He seemed to have more criticism about Mnuchin's comments than any jawboning of his own. Mnuchin, the US Treasury Secretary, said that "a weak dollar is good for the US", adding fuel to the US dollar sell-off fire. His comments were somewhat taken out of context and his boss, President Trump, later supported a strong dollar. Nevertheless, a variety of reasons sent the dollar lower and the euro certainly took advantage of it and for good reasons. Euro-zone PMIs and two key German surveys showed expectations for strong growth also in 2018.
[do action="autoupdate" tag="EURUSDUpdate"/]
EUR/USD daily chart with support and resistance lines on it. Click to enlarge: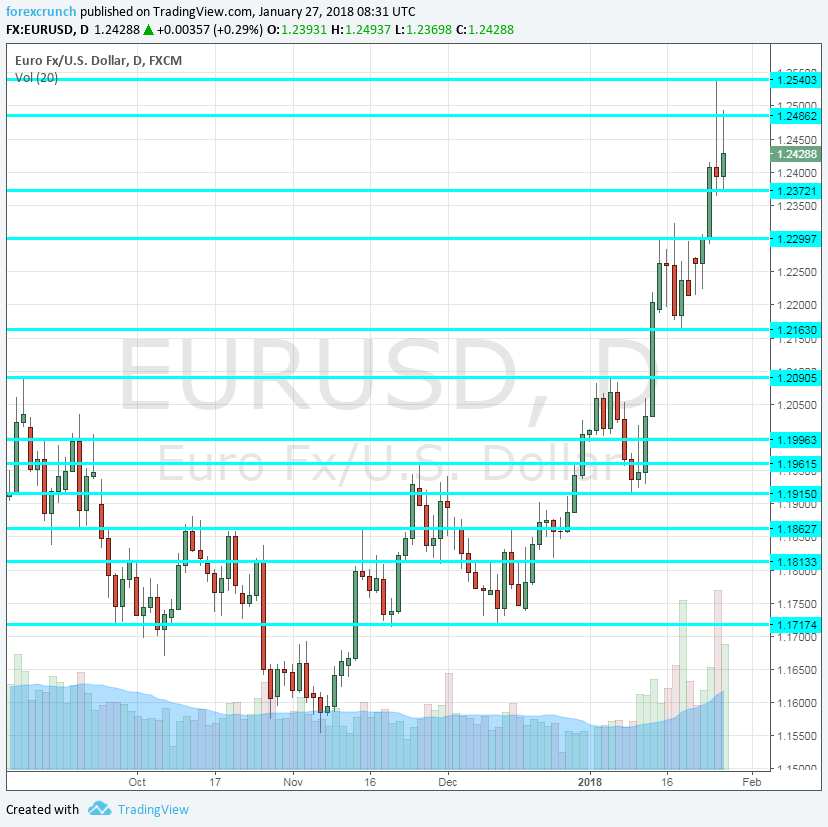 German Import Prices: Monday, 7:00. Prices of imported goods feed into consumer prices. With a strengthening euro during December, it will be interesting to see if import prices fall. They remained flat in November. A rise of 0.3% is on the cards now.
French GDP: Tuesday, 6:30. The second-largest economy in the euro-zone has enjoyed robust growth in Q3: 0.6% q/q, in line with the euro-zone average. We now get the first estimate for Q4. A growth rate of 0.5% is forecast.
French Consumer Spending: Tuesday, 7:45. French consumers were on a roll in November, with consumption up 2.2%. Did they continue this shopping spree around Christmas? A much more moderate increase of 0.4% is projected.
Spanish GDP: Tuesday, 8:00. The Spanish economy continued enjoying rapid growth in Q3, with 0.8%, above the euro-zone average. The first release for Q4 will provide an insight into any potential slowdown due to the political conflict around Catalonia. A slightly slower growth rate of 0.7% is predicted.
Flash GDP: Tuesday, 10:00. The very first estimate of GDP growth for Q4 does not consist of the biggest country: Germany. Nevertheless, the publication will certainly have an impact, especially as this is the first overview of 2017 as a whole. The euro-zone grew by 0.6% in Q3. A repeat of the same growth rate is estimated for Q4.
German CPI: Tuesday: the German states publish their numbers throughout the morning and the all-German number is published at 13:00. Price development in Germany shapes the numbers for the whole euro-zone that are published on the following day. Month over month, prices rose by 0.6% in December. A big monthly drop of 0.5% in January is expected to counter the price rises in December.
German Retail Sales: Wednesday, 7:00. German consumers increased their spending in November: a jump of 2.3% was seen. Like in France, the question is the same: did they go on a Christmas shopping spree? A slide of 0.4% is on the cards now.
French CPI: Wednesday, 7:45. The second-largest economy saw a monthly rise of 0.3% in prices in December, meeting expectations at the time. A slide of 0.3% is forecast.
Spanish CPI: Wednesday, 8:00. After seeing high inflation in 2016, prices moderated in 2017. In December, Spain reported an annual rise of 1.1% in headline CPI. We will now get the figures for January, just before the all-European release. Yet another drop to 0.9% y/y is forecast for January.
German Unemployment Change: Wednesday, 8:55. The German labor market continues growing nicely and the number of those out of work is falling. The drop was quite pronounced in November, with a slide of 29K. A slightly more modest fall of 20K is on the cards for December.
CPI Flash Estimate: Wednesday, 10:00. After the ECB continued expressing concern about inflation, we will get fresh data for January. Back in December, prices rose by 1.4% y/y and core CPI remained under 1% at 0.9%, causing worries that higher inflation is still soft. Headline inflation is expected to slow down to 1.3% y/y while core inflation is projected to accelerate to 1% after many months of disappointments.
Manufacturing PMIs: Thursday morning: 8:15 for Spain, 8:45 for Italy, the final French number at 8:50, final German figure at 8:55 and the final read for the euro-zone at 9:00. Markit's forward-looking PMI for Spain's manufacturing sector stood at 55.8 in December, below expectations but still above the 50-point threshold that separates growth from contraction. A similar score of 55.7 is expected. Italy had a score of 57.4 points and a minor rise to 57.7 is expected now. According to the initial read for January, France's score was 58.1 points, Germany had 61.2, and the euro-zone had a score of 59.6 points. The final read for these three numbers is expected to confirm the flash estimates.
Spanish Unemployment Change: Friday, 8:00. After a long period of drops in the unemployment rate, we learned that Spain suffered a small rise: 16.6% in Q4 2017. We will now get the change in the number of the jobless for January. After a big drop of 61.5K in December, a rise of 50.3K is on the cards now.
PPI: Friday, 10:00. Producer prices surprised to the upside in November by rising by 0.6%. This implies higher inflation in the pipeline. A more moderate number is likely now: 0.4%.
* All times are GMT
EUR/USD Technical Analysis
Euro/dollar started off the week by maintaining the 1.2215 to 1.23 levels (mentioned last week). It then shot to much higher ground.
Technical lines from top to bottom:
1.2725 is high up in the sky but worth mentioning. 1.2537 is the peak in late January 2018 that didn't hold for a long time.
1.2490, just below the round level of 1.25, capped the pair in late January as well.
1.2370 served as support after the big surge. More serious support is at the round number of 1.23, which capped the pair several times in January 2018.
1.2165 is a swing low after the move.  The 2017 peak of 1.2090 remains important.
1.20 is the obvious round level and also worked as resistance in September.  1.1950 was the high level seen in November and a stepping stone towards 1.20.
1.1860 capped the pair in August and in October while working as support in September.  1.1820 worked as a cushion to the pair in late November and works as weak support.  1.1760 served as a cushion in November and also played a role beforehand.
I remain bullish on EUR/USD
The euro-zone economies are doing well and we will get a reminder now. The ability of the ECB to talk down the euro is very limited. The US is doing well as well, but the dollar has already some kind of a correction and the trend remains intact.
Follow us on Sticher or iTunes
Further reading:
Safe trading!