EUR/USD posted slight losses for a third consecutive week. The upcoming week features the ECB rate decision and December PMIs. Here is an outlook at the highlights and an updated technical analysis for EUR/USD.  
Final German CPI confirmed the initial estimate of 0.5%. The ECB released the minutes of its December meeting. Policymakers said that the bank stood ready to provide further stimulus to the eurozone economy in order to boost inflation, which remains well below the ECB target of 2 percent.
It was a busy week in the U.S. and key consumer releases were mixed. Retail sales, the primary gauge of consumer spending, were positive in December. The headline reading improved to 0.3%, up from 0.2% a month earlier. Core retail sales impressed with a gain of 0.7%, above the estimate of 0.5%. The strong numbers were a result of a late-holiday shopping spree by consumers. Consumer inflation has been losing ground and remains below the Federal Reserve target of 2.0 percent. The downturn continued in December. CPI slowed to 0.2%, compared to 0.3% a month earlier. Core CPI dipped to 0.1%, down from 0.2%.
EUR/USD daily chart with support and resistance lines on it. Click to enlarge: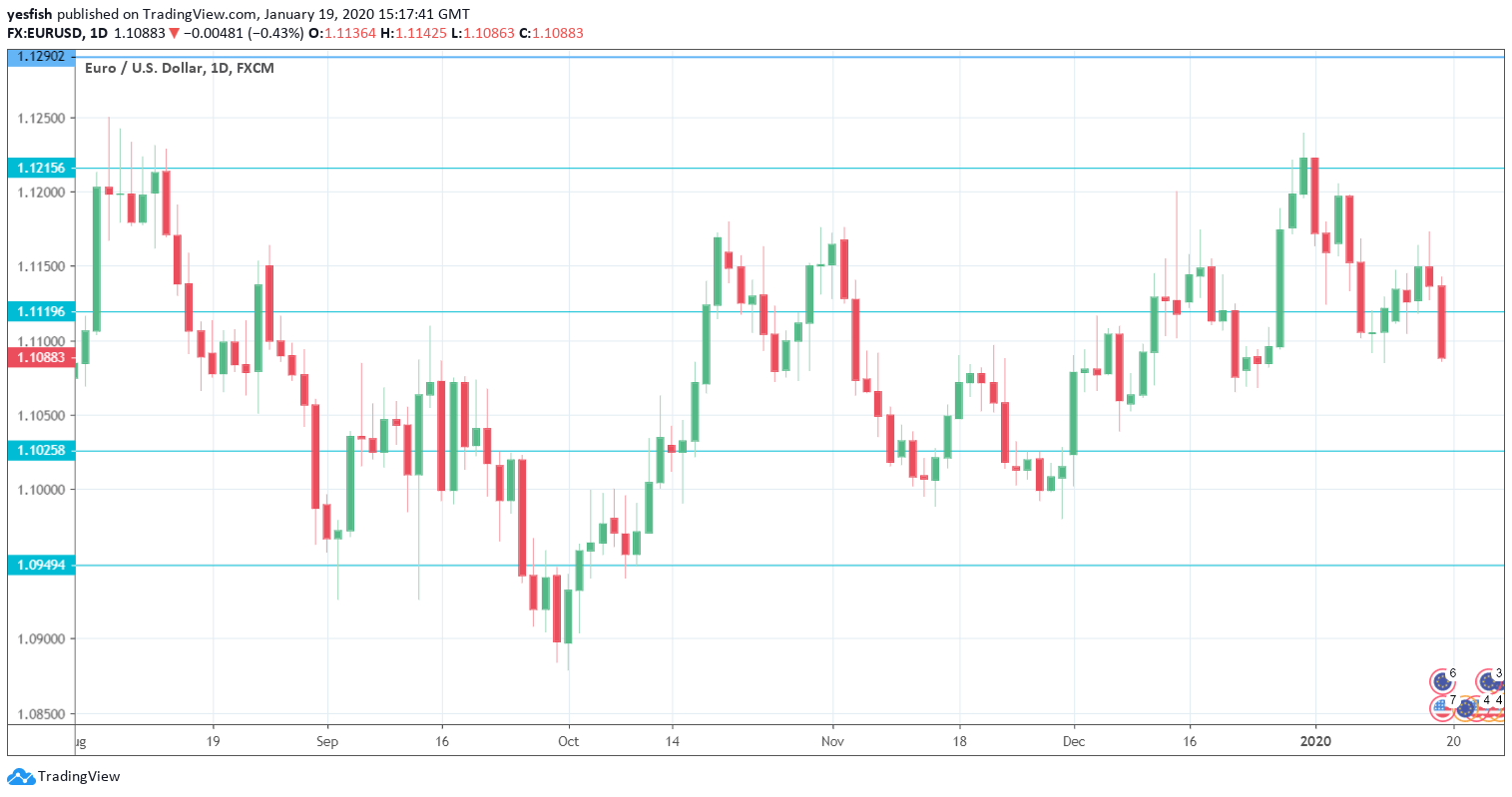 German ZEW Economic Sentiment: Tuesday, 10:00. After an extended streak of declines, investor confidence jumped in December to 10.7 pts. This figure easily beat the estimate of 1.1 pts. A reading above zero indicates optimism. The upward swing is expected to continue in January, with an estimate of 15.2 pts. The all-European index is projected to rise to 16.3, up from 11.2 in the previous release.
ECB Rate Decision: Thursday, 12:45. The ECB Minimum Bid Rate has been pegged at 0.00% since March 2016 and no change is anticipated at the upcoming meeting. Analysts will be combing through the rate statement, looking for any hints with regard to future monetary policy.
Consumer Confidence: Thursday: 15:00. The eurozone consumer remains pessimistic about economic conditions. The index has been steady and is expected to come in at -8 for a second straight month.
PMIs: Thursday: 7:00. Monday, 8:15 for France, 8:30 for Germany, eurozone number at 9:00. These are the initial releases for services and manufacturing PMIs. The services PMIs continue to point to expansion in Germany, France and the eurozone. The manufacturing sector is in worse shape, as the German and eurozone manufacturing PMIs pointed to contraction (44.6 and 46.9, respectively). French manufacturing PMI was almost unchanged, at 50.5 pts.
EUR/USD Technical analysis
EUR/USD ended the week with losses, falling to a low of 1.1086 in the Friday session. This was the pair's lowest level since December 26th.
Technical lines from top to bottom:
1.1390 has held firm in resistance since June.
1.1290 was last tested in early July. 1.1215 is next.
1.1119 remains relevant. Currently, it is an immediate resistance line.
1.1025 (mentioned  last week) is protecting the symbolic 1.10 level. 1.0925 is next.
1.0829 has held in support since April 2017.
1.0690 is the final support level for now.
.
I am bearish on EUR/USD
EUR/USD has posted losses for three straight weeks. The U.S economy is in much better shape than that of the eurozone, so we could see the euro drop toward the 1.10 level, which has psychological significance.
Follow us on  Sticher  or  iTunes
Further reading:
Safe trading!