EUR/USD posted slight gains but remains below the symbolic 1.10 line. This week's key events are German inflation and the service and manufacturing PMIs. Here is an outlook at the highlights and an updated technical analysis for EUR/USD.
German and eurozone final for manufacturing PMIs both came in below the 50-level, pointing to contraction. The German release was especially worrisome, falling to just 41.7, pointing to sharp contraction. Eurozone CPI dipped to 0.9%, as inflation levels remain well below the ECB target of approximately 2%. German and eurozone releases came in at 51.4 and 51.6, respectively, pointing to stagnation in the services sector.
U.S. numbers continue to point to a slowdown in the economy. The ISM Manufacturing PMI for September pointed to contraction for a second straight month. The Services PMI pointed to expansion, but slipped to 52.6, its lowest reading since August 2016. Employment data also disappointed. Nonfarm payrolls came in at 136 thousand, shy of the forecast of 145 thousand. Wage growth fell to 0.0%, down from 0.4% a month earlier. The unemployment rate fell to 3.5%, its lowest rate since 1969.
EUR/USD daily chart with support and resistance lines on it. Click to enlarge: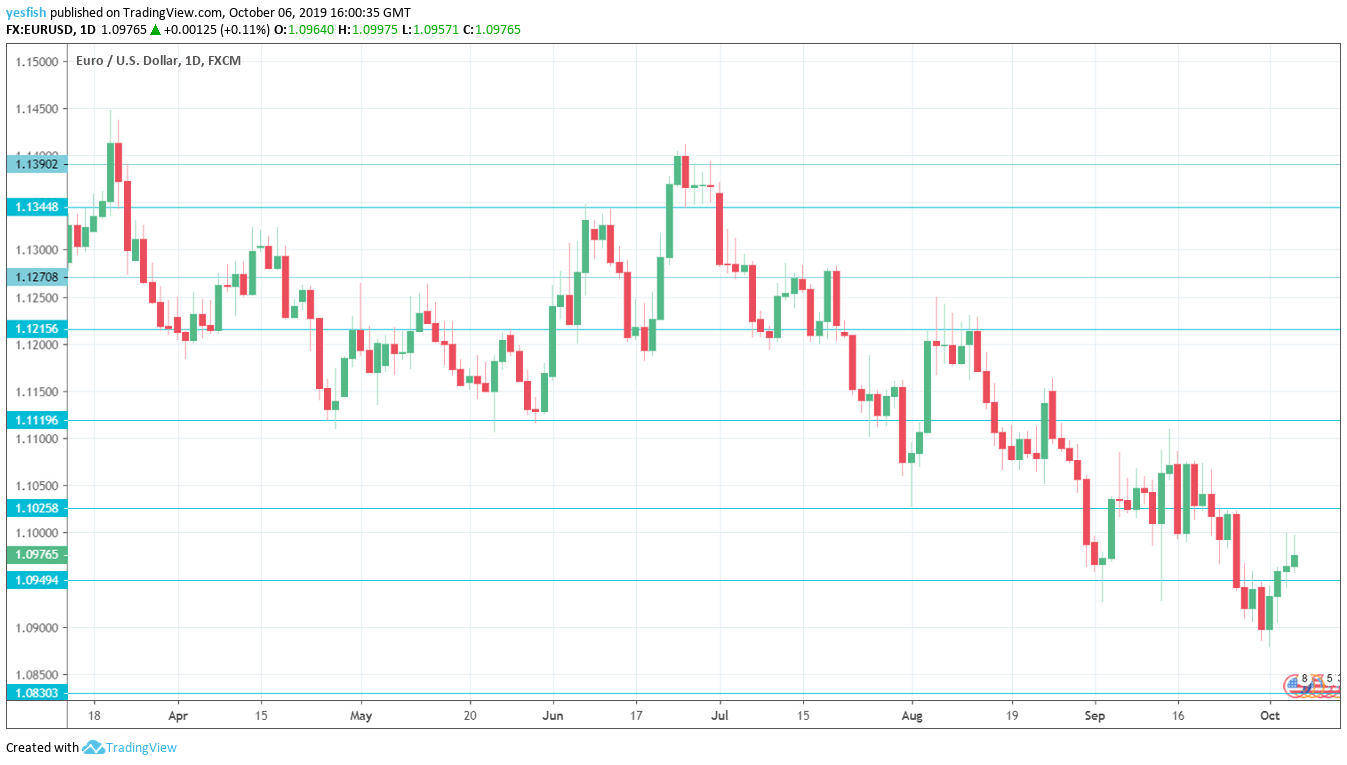 Germany Factory Orders: Monday, 6:00. Factory orders disappointed in July, with a decline of 2.7%. This missed the estimate of 1.5%. The August estimate stands at -0.4%.
Sentix Investor Confidence: Monday, 8:30. Investor confidence remains mired in negative territory, pointing to pessimism. The September release came in at -11.1 and the forecast for October stands at -12.9.
German Industrial Production: Tuesday, 6:00. Industrial production has sputtered, with three declines in the past four months. The estimate for August is -0.2%.
French Trade Balance: Tuesday, 6:45. France suffers from trade deficits, and posted a July release of EUR -4.61 billion. The deficit is expected to drop slightly in August, with an estimate of EUR  -4.23 billion.
German Trade Balance: Thursday, 6:00. Germany enjoys continuous trade surpluses. In July, the trade surplus rose to EUR 20.2 billion, above the estimate of EUR of 18.8 billion. The forecast for August stands at EUR 19.4 billion.
ECB Minutes: Thursday, 11:30. Investors will be keeping a close eye on the ECB minutes, which will provide details of the September policy meeting. A dovish message from policymakers could weigh on the euro.
German Final CPI: Friday, 6:00. German consumer inflation fell by 0.2% in August, only the second decline so far this year. The September release is expected to confirm the initial release of 0.0%.
EUR/USD Technical analysis
Technical lines from top to bottom:
We begin with resistance at 1.1390. This is followed by 1.1345.
1.1290 has held in resistance since the first week of July.
Close by, 1.1270 was a double-bottom in December 2018.
1.1215 is the next resistance line.
1.1119 (mentioned last week) is next.
1.1025 has held in resistance since September 23.
1.0950 is an immediate support line.
1.0829 has held in support since April 2017.
1.0690 is the final support level for now.
I remain bearish on EUR/USD
The eurozone continues to struggle and the euro remains below 1.10, as sentiment towards the euro remains weak. Soft global conditions have hampered the manufacturing sector in Germany and the rest of the bloc.
Follow us on Sticher or iTunes
Further reading:
Safe trading!
Get the 5 most predictable currency pairs