An Easter effect? After CPI leaped in April, it fell back in May. Headline inflation is down to 1.4%, slightly below 1.5% expected. More importantly, core inflation dips under 1% and reaches 0.9%. We are back to the previous levels. The unemployment rate did  provide a positive surprise with 9.3%, better than 9.4% expected.
EUR/USD is stable at 1.1180.
The euro-zone was expected to report a slowdown in inflation. Headline CPI carried expectations for 1.5% after 1.9% seen in April. Core inflation was predicted to slip from 1.2%, the highest since 2013, to 1% in May.
Early indicators from Germany, France, and Spain all pointed to even lower figures, as the actual data missed expectations. The euro-zone also publishes the unemployment rate for April, which  was projected to slide from 9.5% to 9.4%.
The data is critical towards the ECB decision next week. The ECB President  remained cautious: while he is optimistic on growth, Mario Draghi did express worries about the developments in inflation.  According to some reports, the  ECB is likely to upgrade its assessment in the upcoming meeting, seeing risks as balanced instead of tilted to the downside.
Here is the EUR/USD chart. Support awaits at 1.1160, followed by 1.1120. Resistance is at 1.1266.
More:  EUR/USD: In The Midst Of Pricing Higher Valuation & Higher Range – NAB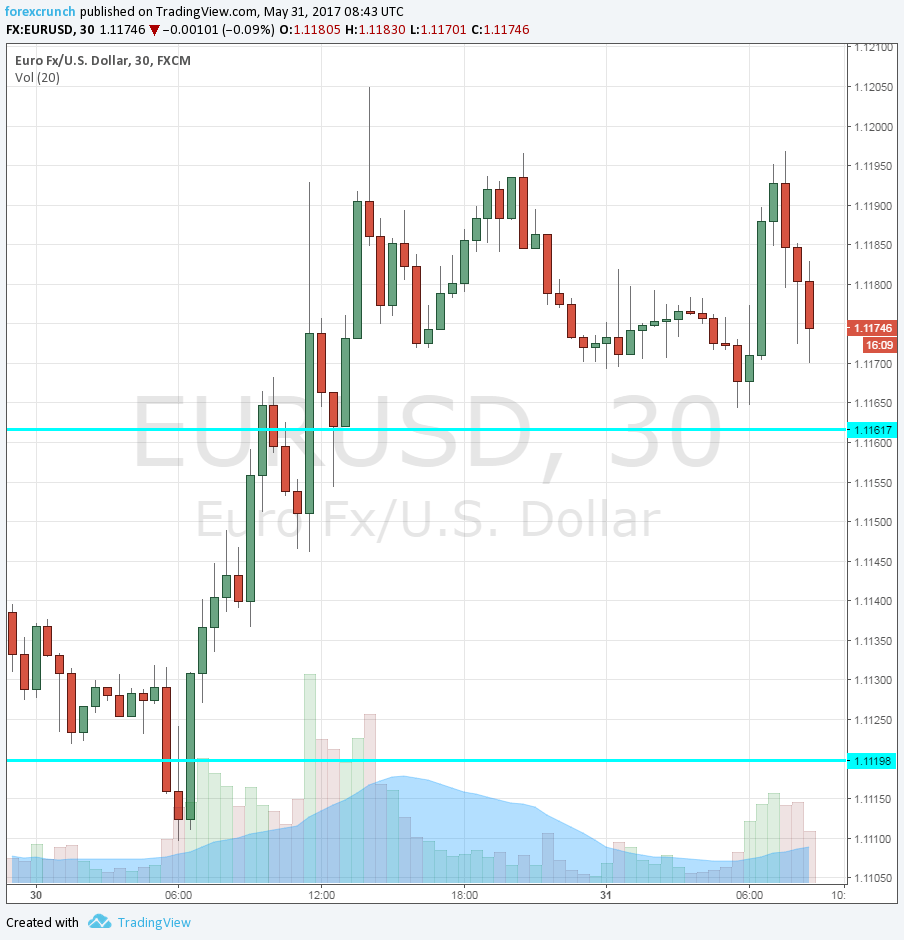 Earlier today, German retail sales missed expectations with a drop of 0.2% against +0.4% expected. On the other hand, Germany's labor market looks good: yet another slide of 14K after 15K last time.