Euro/Dollar had another positive week, but it failed to break above the important long term resistance line. Also the short term trends show an exhaustion. Will it turn down?
EUR/USD began a strong upwards move on last week's Non-Farm Payrolls but couldn't break the resistance line. These moves came on top of US weakness and not on an improvement in Europe. I already wrote about these issues earlier this week. Now let's look at another technical aspect.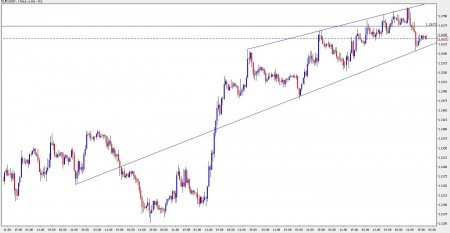 Looking at the hourly chart, we can see a rising uptrend channel that accompanied the Euro in the past week. This can be seen in the graph. The top of this uptrend channel was challenged more than 3 times, and is very clear. As the Euro climbed upwards, it closely followed this top border.
The bottom border of this line was approached three times. While the pair stayed away from this line during most of the week, it closed at 1.2639, quite close to it. Together with the failure to making a convincing break above 1.2672 (which was the peak on May 21st) and settling at the bottom of the uptrend channel, this shows again that EUR/USD is out of air.
Apart for the regular events that are expecting us (detailed in the Euro dollar forecasts), there's a very important one-time event on July 23rd – results of the bank stress tests. This will determine how the European banks are dealing with the debt crisis, the big issue looming over the Euro-zone in the past few months.
Ready to connect with real Forex traders? Currensee is the first Forex trading social network.