The EUR has extended it's recovery during the North American afternoon, as "risk" has returned to the market following Monday's sell-off. Wall Street rallied as well. FED Chair Bernanke spoke today, but he said the same thing to the House that he said to the Senate. Good economic data out of the US seemed to fuel the equity markets and when they move, the EUR moves as well.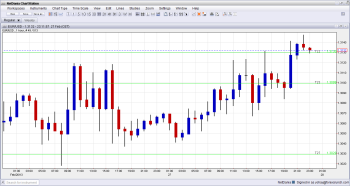 I guess good US economic news, trumps the nonsense going on politically in Italy. At least for the time being.
The reason for the late comments has to do with the EUR close. We tested 1.3145, and have not backed away too much.
The Far East equity markets should take the lead from the DOW, so we could see a test overnight of the 1.3180 resistance level. Of course, if we fail early, traders will test the 1.3110 support, but the market feels a bit "bid" as we all head home.
More: Forex Analysis: EUR/USD Approaches Head-and-Shoulders Downside Target
Get the 5 most predictable currency pairs