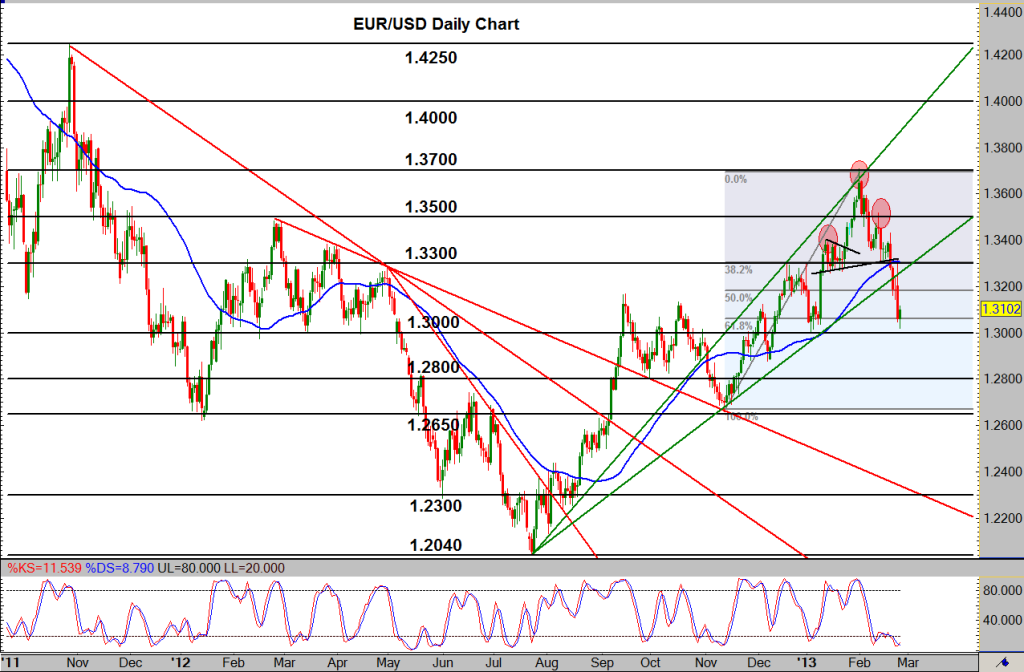 EUR/USD (daily chart) as of February 26, 2013 has approached key downside support around the 1.3000 price region after the substantial plummet yesterday. With further bearishness, price is also nearing the head-and-shoulders price target around the 1.2900 level on a possible trend reversal. In the process, the pair has also broken down below a key uptrend support line extending back to the July 2012 1.2041 low. The current bearish turn of events was foreshadowed by the head-and-shoulders reversal pattern that formed within the past few months, with its left shoulder around 1.3400, its head around 1.3700, and its right shoulder around 1.3500.
The breakdown below the pattern's neckline last week presaged a potential change to the strong bullish trend that had been in place for the prior six months. The substantial drop of the last several trading days confirmed the topping pattern, with the potential for further bearishness to come. With price now fluctuating above key 1.3000 support, this level is the trigger point for a potential downside continuation. If price breaks below this 1.3000 level, downside objectives reside first around the noted 1.2900-area head-and-shoulders target, and then further down around the key 1.2800 and 1.2650 support levels.
James Chen, CMT
Chief Technical Strategist
City Index Group
Forex trading involves a substantial risk of loss and is not suitable for all investors. This information is being provided only for general market commentary and does not constitute investment trading advice. These materials are not intended as an offer or solicitation with respect to the purchase or sale of any financial instrument and should not be used as the basis for any investment decision.
Get the 5 most predictable currency pairs