After a strong comeback, the Euro faces important surveys in Germany among many indicators. Here's an outlook for the European events and an updated technical analysis for EUR/USD – which hasn't broken above important resistance, not yet.
Apart from the regular indicators, the European finance ministers are meeting at the beginning of the week. The headlines that they'll create will rock the Euro, especially those regarding the debt crisis.
EUR/USD daily chart with support and resistance lines marked. Click to enlarge: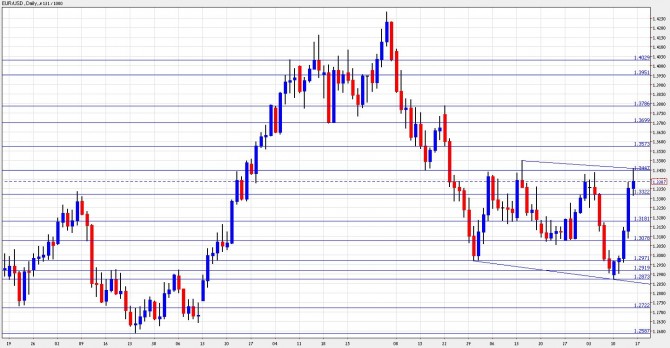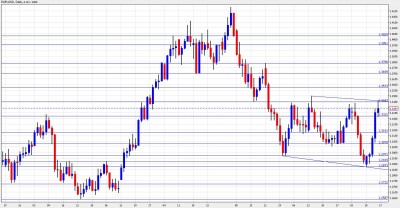 German ZEW Economic Sentiment: Tuesday, 10:00. This all-important survey of analysts and institutional investors has recovered in the past two months, rising above 0 – meaning optimism. Another small rise is predicted now, from 4.3 to 6.3 points, showing higher hopes. The less important all-European figures is likely to score 17.3 points.
Current Account: Wednesday, 9:00. Europe's current account deficit is expected to slightly squeeze, from 9.8 to 9.3 billion, in line with a rising surplus in Germany's trade balance.
German PPI: Thursday, 7:00. Prices rises are accelerating in Europe, and this is seen also in producer prices, which are expected to rise by 0.5% this time, higher than 0.2% that was reported last month in the Euro-zone's largest economy.
ECB Monthly Bulletin: Thursday, 9:00. This big bunch of statistical reports from the central bank contains also an overview of the current situation as well as an outlook for the future, and tends to shake the Euro. It's expected to show some optimism now.
Consumer Confidence: Thursday, 15:00. This official figure from Eurostat disappointed with a drop to -11 last month. Another drop is expected now, to -12. This is a survey of 2000 consumers.
German Ifo Business Climate: Friday, 9:00. The second major German survey for this week has exceeded expectations in the past year. It's now expected to tick up from 109.9 to 110. Due to the large size (7000 respondents), this draws a lot of attention, and rocks the Euro, no matter the outcome.
Belgian NBB Business Climate: Friday, 14:00. Despite coming from a small country, this survey is a good indicator of the whole Euro-zone. After many negative months, the past two months have been surprisingly good and positive, showing optimism. Another rise is predicted, from 3.1 to 4.3 points this time.
EUR/USD Technical Analysis
After opening lower, with a Sunday gap, Euro/Dollar made an impressive recovery and surged higher. It didn't manage to cross the important 1.3440 line (mentioned last week) and eventually closed at 1.3387.
Looking up, 1.3440 is the all important resistance line. It also served as support in November and just capped the pair for he third time in the past two months.
Above, 1.3573 was a minor line of support, and now works as minor resistance. Higher, 1.37 served as support and is another minor line of resistance now.
1.378 was a peak before the big fall in November and is important resistance now. 1.3950 was a pivotal line when EUR/USD was trading higher in the summer. The last line for now is 1.4030, which capped the pair in September and also worked as support earlier in 2010.
Looking down, minor and immediate support is found at around 1.3325, which was a peak in August and later worked in both directions. Below, 1.3180, was important support during December.
Stronger support is found at 1.3080, which held th pair before the recent collapse. 1.2970 was a bottom in November and is another important support line.
Lower, 1.2920 is a minor line, followed by the recent bottom of 1.2870, also a minor line. More important support is found at 1.2722, which worked in both directions during the summer, and 1.2587, the lowest level in 6 months.
There are more levels further below and above, but they're far now. Note the wide downtrend channel marked on the graph.
I remain bearish on EUR/USD.
Despite the impressing comeback, the basic problems in the Euro-zone haven't really been resolved, and important resistance hasn't been broken. I see 5 reasons to doubt the Euro rally.
This pair receives great reviews on the web. Here are my picks:
Gregor Horvat discusses selling the pullbacks in EUR/USD.
Andriy Moraru marks technical levels and sees the pair falling.
Kathy Lien marks the Euro's points of resistance.
Casey Stubbs discusses the Euro's comeback.
James Chen sees the Euro as the strongest currency in the past week.
TheGeekKnows writes a review of the past week looks forward.
Further reading: