The Euro found it hard to remain in high ground in a very volatile week, that included also the Non-Farm Payrolls. The upcoming week consists of 7 events that will move the currency. Here's an outlook for the European events, and an updated technical analysis for EUR/USD.
Inflation is probably less of a problem – Jean-Claude Trichet that triggered the recent rally also stopped it. This was the main theme in the past week, apart from the Egyptian crisis. What will the upcoming week bring?
EUR/USD daily chart with support and resistance lines on it. Click to enlarge: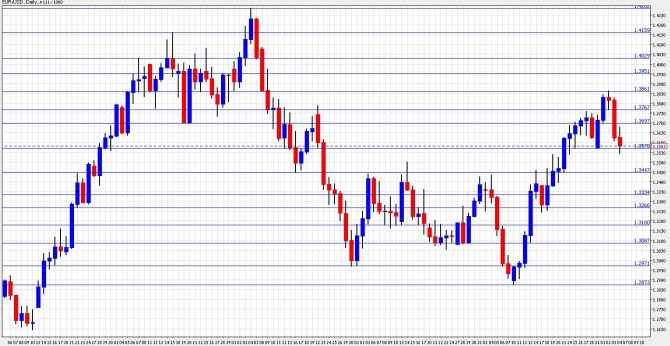 Sentix Investor Confidence: Monday, 9:30.  This survey of 2800 analysts and investors is rising slightly slower than expected, but is still improving. It's expected to rise once again from last month's 10.6 points.
German Factory Orders: Monday, 11:00. Europe's largest economy enjoyed a leap in the total value of orders from factories. After rising by 5.2%, orders will probably rise at a slower pace.
German Industrial Production: Tuesday, 11:00. This second industrial figure complements the previous one. In contrary, production dropped by 0.7% last month, correcting from a previous rise. A small rise is predicted now.
German Trade Balance: Wednesday, 7:00. After peaking with a surplus of over 15 billion euros, a squeeze was seen in Germany's surplus. It's now estimated to rise from last month's 11.8 billion.
French Industrial Production: Thursday, 7:45. Europe's second largest economy enjoyed healthy and steady growth in industrial output -2.3%. A rise of under 1% is expected now.
ECB Monthly Bulletin: Thursday, 9:00. This release of statistical figures is what the ECB members see before making their rate decision. We'll get to see what brought the ECB to keep it's tone about inflation unchanged, and when a rate hike can be seen.
French Non-Farm Payrolls: Friday, 7:45. This quarterly update is a very solid indicator, hardly moving, but usually disappointing. The amount of jobs rose by only 0.1% in Q3, after a faster Q2. The last quarter of 2010 will probably see a faster growth in jobs.
* All times are GMT.
EUR/USD Technical Analysis
The roller coaster week began with a ride upwards. After trading in a high range between 1.3760 to 1.3860, Euro/Dollar fell and closed just above the 1.3576 line (mentioned last week). At the end of the week, the Euro hardly moved.
Looking down, 1.3576 is an important support line, working as such in the past two weeks. It also served as such in November.  The next line remains important – 1.3440, which was a very stubborn peak in the past three months now returns to be a line of resistance.
Below, 1.3334,  a peak during the summer, is a minor support line. It's followed by 1.3267, another minor line, that was holding the pair several times in the past.
Lower,  important support is found at 1.3180, which provided support during December. It's followed by 1.3080, that prevented a full during the same period of time.
Even lower, 1.2970 was the bottom reached in November and is the next line. The last line for now is 1.2870, which is the lowest level in 5 months, reached only two weeks ago, before the impressive recovery. There are more lines further below, but they're too far now.
Looking up,the first resistance  is found at 1.37. This was a stubborn support line during October, and now switched to resistance.. Above, 1.3786, which was a peak in November, is a minor line now.
Above, 1.3860 is now stronger resistance, after serving  as support when the Euro was trading higher. 1.3950 is already a more important line, after serving as a pivotal line.
Higher, 1.4030, just over the round number of 1.40, served in both directions during September and October, and also beforehand. It's a tough line.
Above, the peak of 1.4160 is another minor line before 1.4280 that is the highest level in a year and is still in the distance.
I remain bearish on EUR/USD.
The main reason for the Euro's rise, Trichet's inflation warning, is now gone. European debt issues are still significant, with Greece and Ireland closer to default / restructuring.
Further reading: