The rate decision towards the end of the week is the main European event in the upcoming week, after the common currency settled on higher ground. Here's an outlook for the European events and an updated technical analysis for EUR/USD.
EUR/USD daily graph with support and resistance lines on it. Click to enlarge: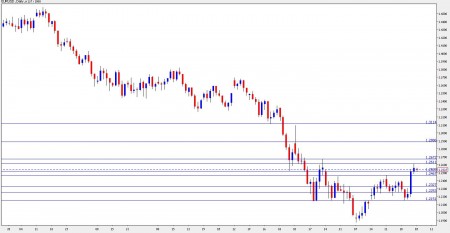 It will be interesting to hear Trichet's comments in the ECB Press Conference after the rate announcement. Will he express fear of a double dip recession? His words usually move the markets. Let's start:
Sentix Investor Confidence: Published on Monday at 8:30 GMT. This survey of 2800 analysts and investors turned positive 3 months ago, but this proved to be a temporary jump – it returned to negative, meaning pessimism. The score is expected to remain at around last month's score: -4.1 points. Actual: -1.3.
Retail Sales: Published on Monday at 9:00 GMT. The volume of sales was very disappointing last month, as it dropped by 1.2% instead of rising. It's important to note that in the last 8 months, this figure was always revised later to the upside. A small rise is expected this time. Actual: 0.2%
Final GDP: Published on Wednesday at 9:00 GMT. After Europe officially emerged out of recession in Q3, its economy stalled in the Q4 of 2009. The initial and second releases for Q1 of 2010 showed a small growth rate of 0.2%. This will probably be confirmed this time. There are usually no surprises here. The next quarters are expected to be worse.
German Factory Orders:  Published on Wednesday at 10:00 GMT. Europe's largest economy had an excellent performance according to this indicator – growth rates of 5% and 2.8% in the past two months. Will the German factories continue carrying the whole Euro-zone?
German Industrial Production: Published on Thursday at 10:00 GMT. Also this figure, similar to the previous one, is great. Growth rates exceeded expectations in the past two months, and this trend is expected to continue, although a rise of 4.3% that occurred two months ago, isn't expected now.
Rate decision: Published on Thursday at 11:45 GMT. Jean-Claude Trichet is expected to leave the Minimum Bid Rate unchanged for another month. The European issues prevent a rate hike, and while inflation is picking up, it still isn't a threat – there are deeper issues.
EUR/USD Technical Analysis
The Euro began the week with a small rise and then a fall to test the critical support line of 1.2150. After bouncing and struggling with 1.2250, EUR/USD made a leap, crossed the 1.2330 line and broke 1.2460. From there came another break to peak at 1.2611 (a new minor line that didn't appear last week) before the pair fell to support around 1.2520.
The pair now trades between 1.2520 and 1.2611. Above, 1.2670 is already a stronger line that held the pair in mid-May, in a failed attempt to recover. A break above this line will send the pair towards 1.2880 which was a support line back last year. This is followed by 1.3110, which supported the pair and quickly switched its role at the beginning of May.
Looking down, 1.2460 continues to be a relevant line. A fall below this line will indicate further weakness. Lower, the 1.2330 line ("Lehman levels"), is a minor support line.
1.2250 is the next minor support line, and its followed by 1.2150 – a very strong line that worked in both directions.
I remain neutral on EUR/USD.
Troubles in the US pushed the Euro higher, but when there's trouble all over the world, this is usually better for the dollar. After the NFP shocker, the markets will probably slow down this week.
This pair receives excellent reviews on the web. Here are my favorites:
Michael Storm, on Casey's site, analyzes many pairs and has an interesting analysis for EUR/USD.
Andrei provides pivotal lines for the major pairs and also shares my general sentiment.
Piphut analyzes the Euro bulls.
TheGeekKnows reviews the week and looks forward.
Further reading:
Ready to connect with real Forex traders? Currensee is the first Forex trading social network.