Euro/dollar  had a very exciting week around the European summits. It managed to climb back up to the previous range. Will it stay there? The upcoming week features the first rate decision by Mario Draghi, as well as other important indicators. Here is an outlook for the European events, and an up dated technical analysis for EUR/USD.
The European leaders went far by agreeing on a 1 trillion EFSF fund, a 50% Greek haircut and also on Italian reforms. Together with nice US growth, the markets were in a euro-phoria mode on Thursday, that faded out only a bit during Friday. Will the rally resume, or is the move over?
Update: The announcement about a referendum in Greece pushed the euro much lower. Also the unchanged policy by the Fed contributed to the weight on the euro. Update Thursday, 14:25 GMT: Greek referendum uncertain again, but the rate cut in the euro-zone came to some as a surprise and hit the euro. Also the talk of a mild recession weighs on the pair. Update: there are at least 3 reasons for the late drop of the euro, which remained in the range it fell to at the beginning of the week, and stayed there.
EUR/USD daily graph with support and resistance lines on it. Click to enlarge: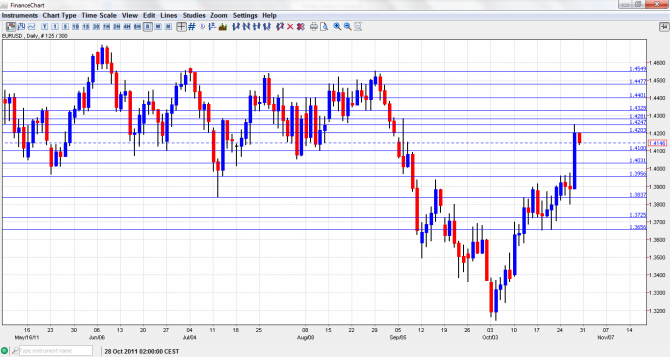 German Retail Sales: Europe's largest economy has seen a very disappointing plunge in sales volume during August – 2.9%. A small rise will likely correct some of this downfall in September in this important consumer indicator.
CPI Flash Estimate: Monday, 10:00. The surprising rise to a pace of 3% last month surprised many, and was one of the reasons that Trichet didn't cut the rates in his last decision. A drop towards the previous pace of around 2.5% is likely now and may pave the way for a rate cut.
Unemployment rate: Monday. 10:00. The unemployment rate in the euro-zone remains very stable: around 9.9% to 10% for many months. Another month of 10% is likely now. Note that there are big gaps between member states, with Spain being the unfortunate leader with around 20%.
German Unemployment Change: Wednesday. 10:00. Germany enjoyed drops in the number of unemployed people for 9 consecutive months, with a stronger drop of 26K last month. A smaller drop is likely now, but the situation remains very good for Europe's locomotive.
Final Manufacturing PMI:  Wednesday, 9:00. According to the initial release, activity in the manufacturing sector has dropped to its lowest level in over two years. The score of 47.3 points, in contraction zone, will probably be confirmed now.
Rate decision: Thursday, 12:45. This is the first rate decision of the new president Mario Draghi after 8 years of Jean-Claude Trichet. While Draghi will not want to be seen as loose given Italy's reputation, the deteriorating conditions in the euro-zone will likely trigger a 0.25% cut. A rate cut was already discussed in the previous meeting. Draghi's first press conference, held at 13:30 GMT, will definitely trigger a lot of volatility.
Final Services PMI: Friday, 9:00. Also Europe's services sector has seen the worst score in over two years: 47.2 points according to the preliminary number. A confirmation is predicted now.
PPI: Friday, 10:00. After a drop in euro-zone producer prices last month (0.1%), a small rise is on the cards now. A big surprise is needed for this publication to impact the markets after the rate decision.
German Factory Orders: Friday, 12:00. Two months of significant drops in orders have raised worries. Last month's 1.4% drop will likely be followed with a small rise.
* All times are GMT.
EUR/USD Technical Analysis
The pair ticked up at the beginning of the week, but was clearly capped by the 1.3950, mentioned  last week. It then managed to break higher in an impressive manner and closed at 1.4146.
Technical lines from top to bottom:
We start from a much higher point this week. 1.4550 was a peak in August and also back in June, and is strong resistance in the distance. 1.4477 is a minor line which capped the pair temporarily in August.
The round number of 1.44 is another minor line, after holding the pair down in July. More significant support appears at 1.4335, which was support during during August.
1.4282 was the peak in November 1.4282 and played an important role afterwards as well. It is closely followed by 1.4250 which was the peak just now and also when the euro was climbing earlier in the year.
1.42 was a minor line of resistance in May and is immediate resistance. The next round number of 1.41 provided support in July and is immediate support.
1.4030 is already a strong line, just above the round number of 1.40. It worked in both directions, and especially as support.  1.3950 was a notable bottom during May and also beforehand. It capped the pair during October before the break.
1.3838, which was a swing low a few months ago and was later tested on a failed recovery attempt, is now somewhat  weaker.  1.3725 worked as support several times in October and is now of higher importance.The double bottom of 1.3650 seen in October replaces 1.3630 and is a strong line of support.
I am bearish on EUR/USD
It is hard to have a bearish sentiment after the very impressive rally after the EU Summit. The leaders delivered more than expected, although also this plan falls short. Chinese participation in the EFSF, implementation of Italian reforms, speed of bank recapitalization and triggering of CDS remain open questions.
In addition, the continent's economic weakness is also a burden. On the other side of the Atlantic, things are improving. This currently triggers risk rallies which help the euro, but this might change as well, espeically
If you have interest in a different way of trading currencies, check out the  weekly binary options setups, including EUR/USD, GBP/JPY and more.
Further reading: