The  Brexit / Bremain vote  is upon us,  with wide ranging implications. Here are the expected moves according to BTMU:
Here is their view, courtesy of eFXnews:
The opinion polls that had a clear momentum in favour of 'Leave' over recent weeks have indicated a shift with weekend opinion polls showing support has shifted back in favour of 'Remain'. As can be seen in the 'Poll of Polls' by 'whatukthinks.org' adjusted to give a larger weighting to telephone polls, the result is set to be incredibly close. So what if the 'Leave' campaign is successful on Thursday and the UK does indeed vote to leave the EU? The most obvious first reaction will be seen in the foreign exchange markets.
We have for some time indicated a wide 1.3000-1.5000 trading range for GBP/USD covering the 'Remain-Leave' scenarios. Admittedly, writing now, we would have assumed GBP/USD would have been trading close to or a little under 1.4000 rather than at 1.4700, which makes us believe  the scope for the downside after a Brexit vote is much greater than the scope for the upside after a vote to remain.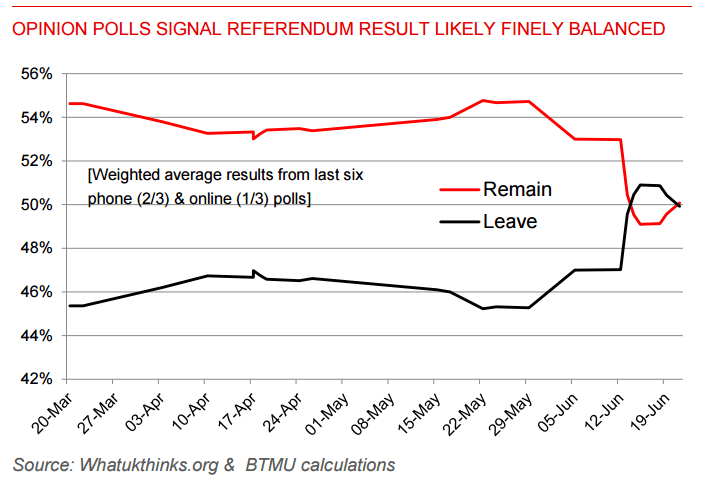 So we maintain our view in terms of the range for GBP/USD and would expect after a one-month period for GBP/USD to trade close to the 1.3000 level on 'Leave' and close to 1.5000 on 'Remain'.
For EUR/GBP we would expect much less pound depreciation given the negative implications for the EU and the potential for other countries to follow the UK's lead. Perhaps the currency most susceptible to volatility beyond the pound would be the yen.
USD/JPY could quickly fall below the 100.00 level, resulting in another big lurch lower in GBP/JPY, which is already close to 20% lower since Brexit risk came into focus last December.
For lots  more FX trades from major banks, sign up to eFXplus
By signing up to eFXplus via the link above, you are directly supporting  Forex Crunch.