GBP/USD  showed some downward movement  but ended the week  unchanged, closing at 1.4925. The final  week  of 2015 has just  two  events on the schedule. Here is an outlook on the major events moving the pound and an updated technical analysis for GBP/USD.
In the US, Final GDP for the third quarter posted a gain of 2%, very close to the estimate. Housing numbers disappointed, and durable goods were weak, but within expectations.
[do action="autoupdate" tag="GBPUSDUpdate"/]
GBP/USD graph with support and resistance lines on it. Click to enlarge: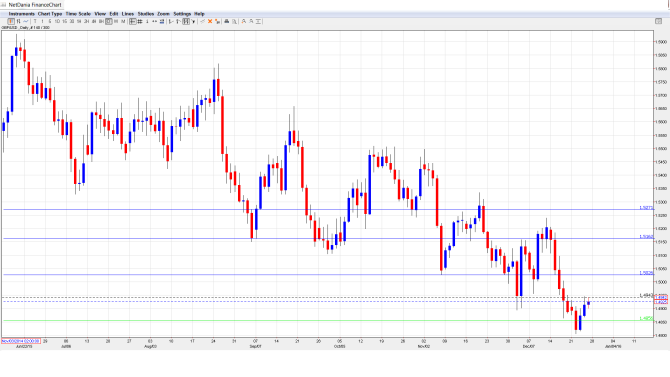 Nationwide HPI: Wednesday, 7:00.  This housing inflation indicator provides a snapshot of the health of the activity of the UK housing sector. The index slipped to 0.1% to November, well off the estimate of 0.5%. The markets are expecting a turnaround in December, with an estimate of 0.4%.
Housing Equity Withdrawal: Thursday, 9:30. New home-secured loans decreased in the  second quarter, dropping by GBP 10.9 billion, better than the estimate of GBP 12.5 billion. The  markets are expecting a decrease of GBP 10.5 billion in  Q3.
* All times are GMT
GBP/USD Technical Analysis
GBP/USD opened the week at 1.4906 and quickly touched a  low  of 1.4805. The pair then recovered and climbed to 1.4945, as resistance held at 1.5026 (discussed last week).  GBP/USD closed the week at 1.4925.
Live chart of GBP/USD: [do action="tradingviews" pair="GBPUSD" interval="60″/]
Technical lines from top to bottom
1.5269 was a cap in November.
1.5163 is the next resistance line.
1.5026  held firm  as the pound was unable to make much headway last week.
1.4856 is an immediate support line. It has remained intact since April.
1.4752 is the next support level.
1.4601 was an important cap in December 2001. It is the final support line for now.
I am  neutral  on GBP/USD.
Last week was uneventful for the pair, and the pattern could continue over the Christmas holiday. Any choppiness this week will be primarily due to thin trading.
Our latest podcast is titled The Fed Awakens, and what's next?
Follow us on Sticher or on iTunes
Further reading: