The British pound  gained about 150 points  last week, closing at 1.5232. This week's highlights are Manufacturing Production and the BOE Inflation Report. Here is an outlook on the major events moving the pound and an updated technical analysis for GBP/USD.
UK PMIs all improved in January, boosting GBP/USD. As expected, the BOE made no changes to QE or the benchmark interest rate. In the US, PMIs  were lukewarm, and a  superb NFP report  was not enough to prevent sharp losses by the dollar.
[do action="autoupdate" tag="GBPUSDUpdate"/]
GBP/USD graph with support and resistance lines on it. Click to enlarge: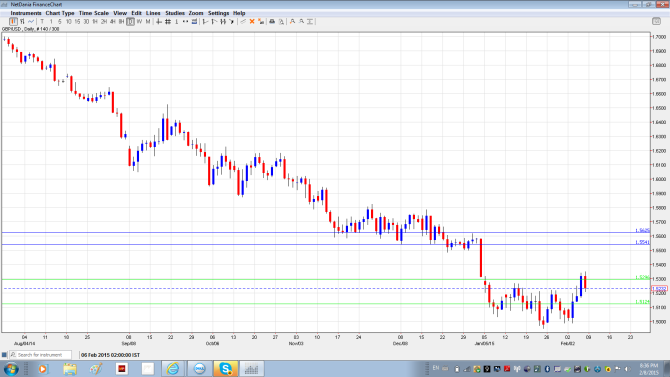 BRC Retail Sales Monitor: Tuesday, 00:01. This indicator measures retail sales in BRC shops and precedes the official retail sales release. In December, the indicator declined 0.4%, marking a 3-month low.
Manufacturing Production: Tuesday, 9:30.  This is a key event and can have a strong impact on the movement of GBP/USD. The indicator posted a gain of 0.7%, beating the forecast of 0.4%. The markets are bracing for a softer reading in December, with the estimate standing at 0.3%.
NIESR GDP Estimate: Tuesday, 15:00. This monthly indicator helps analysts GDP, which is published only once each quarter. The indicator has been very steady and posted a gain of 0.6% in December. No significant change is expected in the upcoming release.
30-year Bond Auction:  Wednesday, Tentative. The yield on 30-year bonds has been falling steadily since September. The yield at the December auction came in at 2.70%.
RICS House Price Balance: Thursday, 00:01.  This minor event measures the percentage of surveyors who reported price increases. The indicator has been losing ground since mid-2014 and dropped to 11% in December, which matched the forecast.
BOE Inflation Report: Thursday, 10:30. This is a key event which can have a strong effect on the movement of GBP/USD. With inflation indicators continuing to point downward, the report will be under close scrutiny.
Construction Output: Friday, 9:30. This minor indicator continues to struggle, having posted three declines in the past four readings. The November reading came in at -2.0%, well off the estimate of +1.3%. The markets are expecting a strong turnaround in December, with an estimate of 2.6%.
CB Leading Index: Friday, 14:30. This index, based on 7  economic indicators,  has posted three consecutive declines. Will the indicator return to positive territory in the upcoming reading?
* All times are GMT
GBP/USD Technical Analysis
GBP/USD opened the week at 1.5084  and dropped to a low of  1.4989, as the pair tested support at 1.5008 (discussed last week). The pair then reversed directions, climbing to a high of 1.5352. GBP/USD closed the week at 1.5232.
Live chart of GBP/USD:
[do action="tradingviews" pair="GBPUSD" interval="60″/]
Technical lines from top to bottom
With the pound posting strong gains, we begin at higher levels:
1.5625 has held firm since late December.
1.5539 is the next resistance line.
1.5416 was an important support line in June 2013, at which time the pound broke through and continued to slide and fell below the 1.49 line.
1.5290 was tested  and starts the week as weak resistance. It  could face pressure early in the week.
1.5114 has switched to a support role following strong gains by the pound.
1.5008 continues to see action. It was tested early in the week.
1.4813 marked the start of a pound rally in July 2013 that saw GBP/USD climb above 1.61.
1.4752 is the final support level for now. It has held firm since May 2009.
I am  neutral on GBP/USD.
US employment numbers have been positive, allaying concerns that the economy might not be strong enough to withstand a rate hike later in the year. Expectations for a rate hike in the UK are muted, as inflation remains on a downward trend. Last week's PMIs point to continuing expansion of the UK economy.
In our latest podcast, we do an Aussie Analysis, Greek Grindings and Oil Optimism.
Further reading: