GBP/USD  posted gains  for a  third straight week, closing  at  1.4454. This week's highlight is CPI. Here is an outlook on the major events moving the pound and an updated technical analysis for GBP/USD.
The Federal Reserve  issued a very dovish policy statement and lowered its projections of rate hikes in 2016,  weakening the US dollar. The pound also received a boost from UK Claimant  Change, which  sparkled with a sharp drop of 18.0  thousand, much lower than expectations.
[do action="autoupdate" tag="GBPUSDUpdate"/]
GBP/USD graph with support and resistance lines on it. Click to enlarge: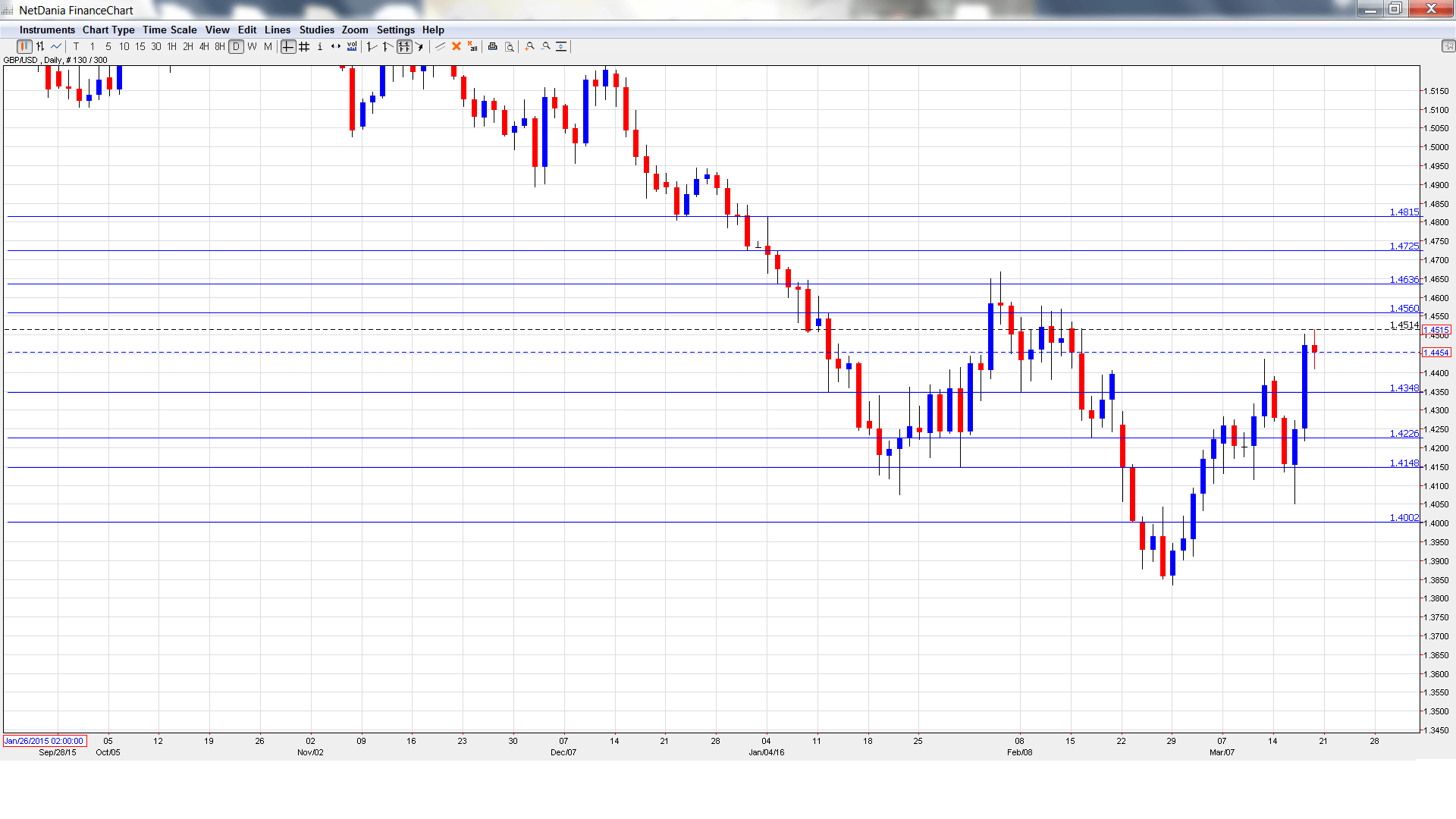 Rightmove HPI: Monday, 00:01. This housing inflation indicator provides a snapshot of the level of activity in the UK housing sector. The  index was unexpectedly strong in February, posting a gain  of 2.9%. This marked its strongest reading in 8 months.
CBI Industrial Order Expectations: Monday, 11:00. The index continues to post sharp declines, pointing to deep pessimism amongst manufacturers. The indicator came in at -17 points in February, well short of the forecast of -11 points. The markets are braced for another sharp decline, with the estimate standing at -13 points.
CPI: Tuesday, 9:30. CPI is the primary gauge of consumer inflation and should be treated as a market-mover. The index has been creeping higher in recent readings, and edged up to 0.3% in January, matching the forecast. The upward swing is expected to continue in February, with an estimate of 0.4%.
PPI Input: Tuesday, 9:30. This manufacturing inflation index has looked dismal, posting three straight declines. The markets are expecting better news in February, with an estimate of 0.4%.
Public Sector Net Borrowing: Tuesday, 9:30. The indicator posted a surplus in January of GBP 11.8 billion, its first surplus in six months. The markets are anticipating a return back to a deficit in February, with a forecast of GBP 5.4 billion.
RPI:  Tuesday, 9:30. RPI includes housing costs, which are excluded from CPI. The index has been rising since the end of 2015, and the January reading improved to 1.3%, within expectations. Another gain of 1.3% is the estimate for the February report.
Retail Sales: Thursday, 9:30. Retail Sales is a key gauge of consumer spending and an unexpected reading can have a sharp impact on the direction of GBP/USD. The indicator rebounded in January with a sharp gain of 2.3%, well above the estimate of 0.8%.
CBI Realized Sales: Thursday, 11:00. This indicator softened significantly in February, posting a gain of 10 points. This was well short of the estimate of 16 points. Will we see a rebound in the March report?
* All times are GMT
GBP/USD Technical Analysis
GBP/USD opened the week at 1.4378. The pair  dropped to low of 1.4051 and then reversed ground, climbing to a high of 1.4514, as resistance held firm at 1.4562  (discussed last week). GBP/USD pair closed the week at 1.4455.
Live chart of GBP/USD: [do action="tradingviews" pair="GBPUSD" interval="60″/]
Technical lines from top to bottom
We begin with resistance at 1.4815. This line was last tested in January.
1.4725 is next.
1.4635 has been a resistance line since early February.
1.4562 held firm in resistance last week.
1.4346 is an immediate support level.
1.4227 is next.
1.4148 was a cushion in late January.
The  round number  of 1.40 is the final support line for now. It was last breached in March 2009.
I am  bearish on GBP/USD.
The  pound has  impressed in  March, raising the possibility of a correction this week due to profit taking. US fundamentals remain stronger than the UK, and although the Fed did not make a move in March, the bias remains towards tightening. This monetary divergence favors the US dollar.
In our latest podcast we  digest the dovish Fed
Follow us on Sticher or on iTunes
Further reading: