Cable is under the cosh: the pair trades at 1.4640 after  already hitting a low of 1.4622. These levels were last seen in June 2010, when the UK economy was doing much worse than it is doing today.
Here are three reasons behind the fall:
Election uncertainty: This was always a dark cloud above the pound, but things are far from improving. The most recent polls show a tie between incumbent PM Cameron's conservative party and challenging Labour. It gets worse as both parties are far from reaching an absolute majority. Coalition governments make it harder to rule. And, we have recently seen a strengthening of the Scottish SNP. A Labour-SNP coalition is probably the worst outcome for markets.
FOMC Minutes: From the US side, we have learned that in March, some members of the central bank want to see a hike in June.  Having hawks on the board is not news, and the meeting was held well before the bad NFP report. When this report came out, we heard from Fed officials that it would  impact the next decisions. The minutes seem like an excuse to buy dollars.
Weak British data: Industrial output and manufacturing production came out weaker than expected. It was not a disaster, but it gave the pound the last strike, especially as it was already vulnerable due to the dollar's strength and the elections: worse economic data weakens the chances of Cameron to win, and markets don't like that. Also yesterday's trade balance disappointed.
What's next for the pound? It could get worse before it gets better. Once a new government is formed, things will probably calm down. But  there's enough time between now and May 7th, and the actual formation of a government.
More:  GBP: April Is The 'Cruelest' Month, Then A Turn – Goldman Sachs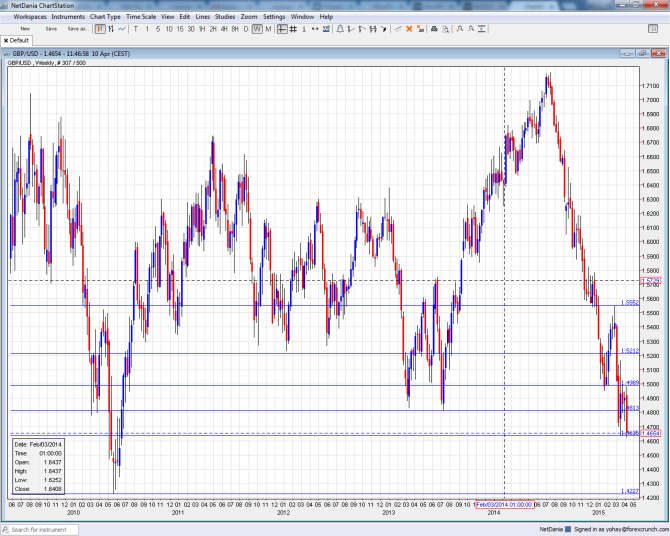 In this  week's podcast, we  discuss:  USDown or greenback comeback? And also touch other topics:
Subscribe to Market Movers on iTunes